"Mirrored Spaces" is a double album of premiere recordings of works by composer colleagues that eschews stylistic agendas in favor of a balanced program in which contrasting aesthetics are in dialogue with each other. Tracing back to a 2008 performance entitled "Experiments in Co-Composition" at The Tank, a NYC venue that hosted many new music events in the early 2000s, the album includes three works from that concert alongside several others composed more recently, many in the same spirit of collaboration. "Mirrored Spaces" frames the entire project, as an album and piece title, but also as a jumping off point for relationships between pieces. Featuring music by American composers Orianna Webb, John Link, Kyle Bartlett, Douglas Boyce, Ryan Streber, Ethan Wickman, Christopher Bailey, and myself, as well as overseas composers Dalia R. With (Lithuania), Sergio Kafejian (Brazil), Karin Wetzel (Switzerland), and Sidney Corbett (Germany), the release is geographically and sonically diverse.
The album is loosely organized around a metaphorical exploration of mirrors within a musical context and how that relates to the properties of the classical and electric guitar, electro-acoustic music, structure and material, programmatic and historical relationships, alternate tunings, and microtonality. Kyle Bartlett's Kurtag-esque Aphorisms, placed throughout the recording like a series of recurring monologues, and Dalia Raudonikyté With's Primo cum lumine solis both wordlessly translate literary sources into poignant sonic miniatures. Ethan Wickman's Joie Divisions and Douglas Boyce's Partita engage with historical tradition as a filter through which we hear contemporary material. The movements of Mirrored Spaces were written in a responsorial fashion with composer Orianna Webb -- the process manifesting itself both in terms of our creative reactions to the material supplied by the other, but also a recontextualization of equal-tempered material written in standard tuning within a quarter-tone alternate tuning.
Read More
Four electro-acoustic works each demonstrate a different relationship between the electronics and the acoustic instrument. Karin Wetzel's Amorphose 2 for guitar and live electronics (Phillip White performs the electronics part), unfolds largely as a meditation around central pitches created by an unorthodox scordatura as sixteen cues generate various delays and processes of the guitar, at times shadowing the performer, and at others asserting a life of their own. John Link's Like Minds can be seen as an extension of Mario Davidovsky's work in electro-acoustic music; Davidovsky established symbiotic but independent relationships between electronics and instrumentalist; Link toys with obscuring the boundaries altogether. São Paulo based Sergio Kafejian's From Scratch engages with similar aesthetic issues, but the sonic language of both parts are drawn from a rarefied vocabulary of extended techniques on the guitar including scratches, percussive sounds, and slides, and the extensive use of a plastic ruler grinding along the strings. Christopher Bailey's Arc of Infinity places the guitar inside a sonic house of mirrors comprised of three "virtual instruments": bell-like sounds, a "dirty sampler" composed out of guitar notes from recent recorded repertoire, and flanged/delayed/filtered sounds.
The three works for electric guitar on "Mirrored Spaces" share the common link of exploring alternate tunings, while the Corbett and Streber both filter classical guitar technique through the unique characteristics of its amplified cousin. In Ryan Streber's Descent, the guitar is tuned similarly to a cello (C-G-D-A-B-E), and played through two amplifiers in a journey from a high to low tessitura, and from a clean to a distorted sound. Sidney Corbett's Detroit Rain Song Graffiti is a tone painting capturing an uneasy calm in one of America's most fraught cities, and calls for the 6th string to be tuned to a low E-flat , opening up resonant voicings to a set of uncommon sonorities. Lippel's Scaffold was written as a transitional structured improvisation; electric guitars on stands are in tunings used in Mirrored Spaces and Descent, and a third guitar is in a quasi-stepwise tuning while an ebow sustains pitches that are adjusted with the tuning pegs. Loop pedals and a pre-recorded file entering at the end create a wash as the piece moves from one tonal center to another. The live recording of Scaffold from The Tank 2008 performance is included here as an audio time capsule, placing the album in the context of the performance that planted the initial seed for the project.
– D. Lippel
Produced by Daniel Lippel
Recording engineer: Ryan Streber for all tracks (oktavenaudio.com), except Ethan Wickman's Joie Divisions, recorded by Stephen Krause
Recording locations: Mirrored Spaces: Oktaven Audio (Yonkers) on 11.19.11; Descent: Sweeney Auditorium (Smith College) on 1.9.09; Joie Divisions: University of Texas at San Antonio on 10.1.14; Scaffold: recorded live at The Tank (279 Church Street, New York) on 9.25.08, coda recorded at Oktaven Audio (Mt. Vernon) on 11.28.18
All other tracks recorded at Oktaven Audio (Mt. Vernon): Detroit Rain Song Graffiti 3.16.17; From Scratch 12.16.17; Amorphose 2 11.11.18; Like Minds 12.27.2018; Arc of Infinity 2.14.19 and 2.27.19; Aphorisms 5.13.2019 and 7.12.19; Partita 5.14.19 and 7.12.19; Primo cum lumine solis 8.12.19
Editing: Ryan Streber, except Christopher Bailey (Arc of Infinity) and Sergio Kafejian (From Scratch)
Assistant editing: Charles Mueller (Wetzel, Wickman, Webb, Bartlett, Boyce, With, Link), Hansdale Hsu (Wickman), Edwin Huet (Bartlett), Teng Chen (Corbett)
Session producers: Orianna Webb/Ryan Streber (Mirrored Spaces), Christopher Bailey (Arc of Infinity), John Link (Like Minds), Sergio Kafejian (From Scratch), Ethan Wickman (Joie Divisions), Peter Gilbert/Ryan Streber (Primo cum lumine solis), all other tracks Ryan Streber
Editing producers: Christopher Bailey/Daniel Lippel (Arc of Infinity), John Link/Daniel Lippel (Like Minds), Sergio Kafejian/Daniel Lippel (From Scratch), all other tracks Daniel Lippel
Design and layout: Marc Wolf, marcjwolf.com
Cover/back photos: Janke Laskowski, unsplash.com/@janke
Liner Notes: Daniel Lippel
All works are heard in their premiere recordings, except Descent which was released on Ryan Streber: Concentric (New Focus FCR155) and Primo cum lumine solis, which was released in a different recorded version on Dalia Raudonikytė With: Solitarius (New Focus FCR186)
Daniel Lippel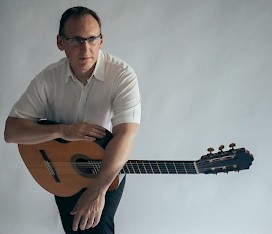 Guitarist Dan Lippel, called a "modern guitar polymath (Guitar Review)" and an "exciting soloist" (NY Times) is active as a soloist, chamber musician, and recording artist. He has been the guitarist for the International Contemporary Ensemble (ICE) since 2005 and new music quartet Flexible Music since 2003. Recent performance highlights include recitals at Sinus Ton Festival (Germany), University of Texas at San Antonio, MOCA Cleveland, Center for New Music in San Francisco, and chamber performances at the Macau Music Festival (China), Sibelius Academy (Finland), Cologne's Acht Brücken Festival (Germany), and the Mostly Mozart Festival at Lincoln Center. He has appeared as a guest with the St. Paul Chamber Orchestra and New York New Music Ensemble, among others, and recorded for Kairos, Bridge, Albany, Starkland, Centaur, and Fat Cat.
http://www.danlippel.com
Karin Wetzel
Karin Wetzel was born in Berlin in 1981 and studied composition and music theory with Claus-Steffen Mahnkopf and Gesine Schröder at the University of Music and Theatre Leipzig. Her compositional output encompasses works for solo instrument, ensemble, orchestra, electroacoustic works, and installations. Her compositions have been performed by such musicians and ensembles as Ensemble Modern, Johannes Kalitzke, Ensemble Proton Bern, Ensemble SoloVoices, and at such festivals as the Archipel Festival Geneva, Primavera en la Habana, ICMC Athens, cresc... Biennale für moderne Musik Frankfurt Rhein-Main, MATA Festival and Tage für neue Musik (New Music Days) Weimar.
http://karin-wetzel.de/
Kyle Bartlett
Kyle Bartlett was born in Los Angeles and grew up in rural Arkansas. She is a founding member of the esteemed new music collective counter)induction, and many of her major works have been written for the ensemble. In addition to c)i, most recently her music has been performed by the Prism Saxophone Quartet (US), Oerknal (NL) and E-MEX (DE).
http://kylebartlett.com/
Orianna Webb
Orianna Webb's music has been described as "abound[ing] in urgent and mysterious detail"(Cleveland Plain Dealer). Her work has been recognized with honors and commissions from the American Academy of Arts & Letters, the Fromm Foundation, ASCAP, the American Music Center, SCI, and the International Alliance for Women in Music. Orianna lives in Queens, NYC.
http://foolfactory.com/annaWEBSITE/
Ryan Streber
Ryan Streber is a composer and audio engineer based in New York City whose works have been performed in the United States and abroad by artists and ensembles such as The American Composers Orchestra, The Lucerne Percussion Group, The Juilliard Orchestra, The New Juilliard Ensemble, Flexible Music, Line C3 Percussion Quartet, ACME, Boston Conservatory, Gemini Youth Orchestra, Fountain Chamber Ensemble, and many others. His most orchestral work, Arcuare, was read by The ACO in its 2007 Underwood New Music Readings. Other recent works include Shadow Etudes for counter)induction, the string quartet Repexus II commissioned and premiered by ACME, solo pieces for guitarist Daniel Lippel, percussionist Haruka Fujii, and cellist Sumire Kudo, as well as ensemble compositions for the Boston Conservatory Saxophone Ensemble and BoCo Wind Ensemble, Bacchae Fragments for 12 percussionists which was commissioned by the Lucerne Festival Academy's percussion ensemble, and the new music collective counter)induction of which he is a member.

Besides composing concert music, Ryan has scored two short films, designed sound for over a dozen theatrical productions in and around New York, played electric guitar and percussion in bands, and collaborated with other artists in music and multi-media performances and recordings ranging from pop and rock to experimental and jazz.

As an audio engineer and producer, Ryan co-owns and operates Oktaven Audio in Yonkers, NY. He has worked with numerous artists and ensembles on hundreds of live and studio recording projects, including CDs released on the New Focus, Kairos, Tzadik, Naxos, New Amsterdam, Mode, Innova, Hot Cup, Albany, Carrier, CAG, New Dynamic, Bridge, GM, Rune, Centaur, Neuma, Capstone, and Arabesque labels.

Ryan received his BMA with Distinction and MMA from The Juilliard School, studying composition with Christopher Rouse and Milton Babbitt. He served as the director of Juilliard's Composers Forum and coordinator for the composition department from 2005 to 2012, and he has also taught composition in the school's Evening Division. He is a recipient of the ASCAP Morton Gould award and Juilliard's Palmer Dixon prize.

Born in 1979 in Rochester, NY, Ryan currently resides in Yonkers, NY.
http://www.ryanstreber.com
Dalia Raudonikytė With
Dalia Raudonikytė With was a composer, pianist, and educator. Born in Vilnius, Lithuania, she also lived in Oslo and New York City. Her catalogue includes works for solo instruments to symphonies and from chamber ensembles to electro-acoustic composition. Her music has been performed across Europe, Russia, and the United States, including at the Oslo International Church Music Festival, Bergen International Festival in Norway, MATA Festival, and New York Electronic Art Festival. Dalia R. With was the recipient of several grants and fellowships from the Ministry of Culture of the Republic of Lithuania, Norwegian Music Funds, Norwegian Society of Composers, and Arts Council Norway.
https://www.mic.lt/en/database/classical/composers/raudonikyte/
John Link
John Link (b. 1962) is a composer and writer based in New York City. His music has been commissioned and performed throughout the United States and in Japan, and is recorded on the New Focus Recordings, Bridge Records, and 60x60 labels. His scholarly writings on the American composer Elliott Carter (1908-2012) have appeared in journals in the United States, Italy, and the U.K. including Tempo, Sonus, the Journal of the Society for American Music, Chicago Review, and Music and Letters. He is currently a Professor in the Music Department at William Paterson University.
Sergio Kafejian
Sergio Kafejian obtained his Master Degree from Brunel University (London), PhD from UNESP and is currently developing continued Postdoctoral Research at São Paulo State University (USP). He is the recipient of several composition prizes including the Bourges International Electroacoustical Music Contest (1998 and 2008), Concurso Ritmo e Som (1994 and 1998), Gilberto Mendes Contest for Orchestra (2008) and FUNARTE Classical Composition Prizes (2008 and 2014). His professional output consists of instrumental and electroacoustic compositions as well as pedagogic projects involving contemporary improvisation, composition and performance.
Sidney Corbett
Born in 1960 in Chicago, Sidney Corbett has mainly been active in Europe since 1985. He is an artist outside the boundaries of the "new music" mainstream whose stance is nonetheless explicitly contemporary. Corbett's work draws upon a broad range of sources, both musical and extra-musical, including literature and the visual arts and engages philosophical and theological questions. A strong sense of lyricism and complexly overlaid rhythmic pulsations are characteristic of his music. Since 2006, Corbett is Professor of Composition at the University of Music and Performing Arts Mannheim and is also the director of the local Forum for New Music.
https://www.sidneycorbett.com/
Douglas Boyce
Douglas Boyce writes chamber music that draws on Renaissance traditions and modernist aesthetics, building rich rhythmic structures that shift between order, fragmentation, elegance, and ferocity. Regarding A Book of Songs (2006, in process), the Washington Post wrote "[they] can only be described as drop-dead beautiful. Easily the most captivating works on the program, these songs of love and death are extraordinarily well written and insightful." Regarding La Déploration, (2016) Corinna da Fonseca-Wollheim wrote that "...the violinist, cellist... and clarinetist... spread out throughout the crypt. Against vaporous harmonics and ghostly fragments of Renaissance music played by the strings, [a] warm, clear clarinet announced itself as very much alive as it sashayed in and out of blues territory and laughed in the face of their mournful keening."
Ethan Wickman
Described as a "composer of facility and imagination, the kind to whom both performers and audiences respond" (The New York Times), composer Ethan Wickman's music has been performed by soloists and ensembles in venues in the U.S. and around the world. He has received grants and commissions from the Barlow Endowment, Meet the Composer and the American Composers Forum among others and his works have been performed by such ensembles as the Aspen Concert Orchestra, the Avalon String Quartet, the Soli Ensemble, the Newton Symphony, the Gryphon Trio, Flexible Music, and Zeitgeist, and by many performers at venues such as Carnegie Hall, the Kennedy Center, and at universities and concert halls both domestic and international. Formerly on the faculties of Indiana University-South Bend and the University of Wisconsin- Eau Claire, he is Associate Professor of Music at the University of Texas at San Antonio.
https://www.ethanwickman.com/
Christopher Bailey
Born outside of Philadelphia, PA, Christopher Bailey turned to music composition in his late 'teens, and to electroacoustic composition during his studies at the Eastman School of Music, and later at Columbia University. He is currently based in Boston, but frequently participates in musical events in New York City. His music explores a variety of musical threads, including microtonality, acousmatic and concrete sounds, serialist junk sculpture, ornate musical details laid out in flat forms, and constrained improvisation. Recent commissions include "Empty Theatre" for piano and string orchestra, commissioned for a portrait concert of his music as part of the Sinus Ton Festival in Magdeburg, Germany (October 2014); a chamber-music version of Mergurs Ehd Ffleweh Bq Nsolst, ostensibly a field recording of denizens of the planet Mercury, featured on MATA's 2013 festival in New York City; "Composition For S#1††¥ Piano, Drum Samples, Concrete Sounds, and Processing", for the Allen Strange Award of the Washington Composers Forum; and Harvest Kitchen, commissioned by Harvestworks in New York City; and "Out Of", written for Marylin Nonken.He was a 2nd-Prize recipient in the Seoul 2005 International Composers Competition in Korea (Timelash); Balladei (for piano and 'tape') was a finalist at the Earplay competition in 2007; Sand (an interactive computer-music composition) won a mention at Denmark's 2007 Infinite Composing interactive computer-music competition; Walking Down the Hillside at Cortona, and Seeing it's Towers Rise Before Me (for 2 pianos tuned to 19-tone-equal-temperament) won a mention in the 2009 Salvatore Martirano Competition at the University of Illinois. Previous awards include prizes from BMI, ASCAP, and the Bearns Prize.
http://www.christopherbaileymusic.com/