Grammy winning ensemble Third Coast Percussion releases their newest recording of two landmark works by acclaimed French composer Philippe Manoury. Manoury's work is aligned with the modernist French tradition as articulated by Pierre Boulez; his music is imbued with values shared with the world of research and marked by ambitious instrumental challenges. His work has been particularly informed by his expertise in electro-acoustic composition and real-time interaction between acoustic instruments and computer generated sounds. In these two remarkable acoustic pieces, Le Livre des Claviers and Metal, Manoury explores the rich world of tuned keyboard percussion instruments, a category he broadens to include low pitched Thai gongs and a fascinating set of six homemade instruments called sixxen, originally imagined by pioneer Iannis Xenakis. Xenakis specified some sonic parameters for sixxen, but gave no specific instrument designs. Notably, pitch is not a fixed parameter in the design specifications for sixxen, so it is up to the performers to build instruments that create an engaging pitch landscape. The sixxen works, therefore, are shaped by Manoury's compelling rhythmic writing and elegant sense of contour, and a listener might be tempted to muse on ways the piece would sound different, or the same, with another set of sixxen. While Xenakis' use of these instruments was somewhat brutal, in Manoury's hands, they also display a ritualistic, ethereal side, sounding occasionally like clanging church bells from the worship house of an exotic theology. Two movements for thai gongs and marimbas, a marimba duo, and a vibraphone solo represent the rest of Le Livre des Claviers, containing precise, demanding music that nevertheless avoids the kind of dramatic resistance often associated with writing of this complexity. The dynamic between the rigors of the mallet percussion movements of Le Livre des Claviers and the sixxen movements amounts to a kind of refraction of Manoury's vision through a distorting lens, particularly as it pertains to pitch. Present throughout all of these movements and in Metal (his expansion on the potential of sixxen after writing Le Livre) is a natural, unencumbered flow underlying Manoury's phrases, even in the most virtuosic passages. This is, of course, a testament to Third Coast's well documented expertise, but also suggests that an affect of detached effortlessness may be shared with or influenced by his work in the realm of computer music. Perhaps it is consistent with Manoury's role as a researcher — he observes and creates phenomena with a carefully cultivated balance of detachment and wonder.
Produced by Third Coast Percussion
Session Producers: Robert Dillon (track 4), Peter Martin (track 2), Michael Lewanski (tracks 1, 3, 5, 6, 7)
Engineer: Dan Nichols
Assistant Engineer: Jim Schram
Editing, Mixing, and Mastering: Dan Nichols
Third Coast Percussion is: Sean Connors, Robert Dillon, Peter Martin, David Skidmore
Addtional guest performers on this recording:  Owen Clayton Condon, Gregory Beyer, Ross Karre
Recording Location and dates: Northern Illinois University Recital Hall, January 5, 2011 (track 4); January 10, 2011 (track 2); January 26-27, 2011 (tracks 1, 3, 5, 6); January 13-14, 2013 (track 7)
Edited and Mixed at Aphorism Audio
Art and Design: Sonnenzimmer LLC
Liner Notes: Robert Dillon
Publishers: Le Livre des Claviers AMPHION Éditions Musicales 1988 (ASCAP); Métal Editions DURAND 1995 (ASCAP)
This album is made possible in part by a grant from The French-American Fund for Contemporary Music, a program of FACE with major support from the Cultural Services of the French Embassy, SACEM, Cultures Frances, and the Florence Gould Foundation. Additional support comes from a VCUarts Faculty Research Grant.
Third Coast Percussion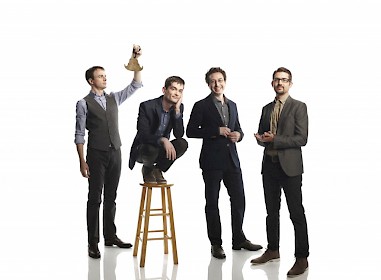 Third Coast Percussion is a Grammy Award-winning, artist-run quartet of classically-trained percussionists hailing from the great city of Chicago. For over ten years, the ensemble has forged a unique path in the musical landscape with virtuosic, energetic performances that celebrate the extraordinary depth and breadth of musical possibilities in the world of percussion. The ensemble has been praised for "commandingly elegant" (New York Times) performances, the "rare power" (Washington Post) of their recordings, and "an inspirational sense of fun and curiosity" (Minnesota Star-Tribune). The four members of Third Coast are also accomplished teachers, and since 2013, have served as ensemble-in-residence at the University of Notre Dame's DeBartolo Performing Arts Center. Third Coast Percussion has commissioned and premiered over 40 new works, including music by Augusta Read Thomas, Donnacha Dennehy, Glenn Kotche, Lei Liang, Chris Cerrone, and Gavin Bryars.
Third Coast Percussion is: Sean Connors, Robert Dillon, Peter Martin, David Skidmore
Philippe Manoury
Philippe Manoury (born 1952, Tulle) is regarded as one of the most important living French composers and a forerunner in the field of live electronics. His work as a composer and researcher at IRCAM in Paris included collaboration with mathematician Miller Puckette on the development of Max/MSP, a widely-used programming language for interactive live electronics. Manoury has held teaching positions for the Ensemble Intercontemporain, Conservatoire de Lyon, Festival d'Aix-en-Provence, and Académie Supérieure de la Haute École des Arts du Rhin, and served as Composer-in-Residence for the Orchestre de Paris and the Scène nationale d'Orléans. He is professor emeritus of the University of California San Diego where he taught composition from 2004 to 2012, and has held his own academy of composition as part of the Festival Musica in Strasbourg since 2015. Manoury was named Officer of Arts and Letters by the French Ministry of Culture, and is a member of the honorary committee of the French- German Fund for Contemporary Music/Impuls Neue Musik and the Berlin Academy of Arts.