Composer Wang Lu's debut full length recording opens with a sonic portrait of a late afternoon in the life of a Chinese city park, with pre-recorded sounds of conversations layered on top of ephemeral gestures in a mixed instrumentation ensemble. It is the perfect opening of a recording featuring the music by an artist whose ears and mind are always observing the interface between life and music with openness and wonder. Wang Lu is wonderfully adept at painting a scene through sound, using several small gestures that heard together add up to a unique world unto themselves. The ensemble writing that follows in the subsequent movements of Urban Inventory, performed here by the recently formed Third Sound Ensemble, is both virtuosic and also often tongue in cheek, displaying a refreshingly dry sense of humor. We hear more interspersed "found sounds" from the Chinese urban environment, creating an expressive world that is both quotidian but also indicative of endearment and a touch of nostalgia. Wailing, written for and performed by the Holland Symfonia, is a bombastic work for orchestra that is indicative of Wang Lu's colorful approach to orchestration. She employs glissandi and pitch smears liberally, evoking the "wails" of Northern Chinese peasants mourning a funeral and celebrating a wedding (the wails are the same despite the drastic contrasts between events). This piece is characteristic of a hierarchy in Wang Lu's music — she favors expressive gesture that communicates narrative and shape over the overt projection of calculated compositional techniques. However, Backstory, written for Alarm Will Sound, seems to subvert the tendency in her music to project narrative and "plot", instead providing the suggestion of contrasting sections of material rubbing against each other, holding out the possibility of being fleshed out in a more substantial way in another work (perhaps one entitled "Story"?). Cross-Around, written for Nouvel Ensemble Moderne, is a musical portrait of human intersection and mystical connection. On Cloud Intimacy, Wang Lu explores the murky realm of internet dating. By quoting the "Tristan chord" from Wagner's "Liebestod" within the piece and including the sounds of cell phone notifications and visual gestures of "swiping" left or right on someone's profile picture, Lu pits a purist notion of romantic love against our utilitarian, sometimes impersonal contemporary online reality. The instrumental writing in this mixed ensemble sextet dips into the world of "downtown" extended techniques, with screeching saxophone passages, electric guitar whammy bar shakes, and long clarinet smears and glissandi. past beyond for Ensemble Intercontemporain opens with a technique heard in some of the other pieces on the disc reflecting Wang Lu's interest in imbedding linguistic tendencies into instrumental writing, or as she describes, "expanding speech-like properties of rhythm and contour into more heavily massed textures." These quasi-spoken passages are balanced with sections inspired by Tibetan and Thai ritual incantations, gongs, and cymbals. The result is a ritualistic texture that blends very human and otherworldly sounds. Wang Lu's music is dynamic, colorful, and expressive, drawing from influences that reflect her background without being defined by them. Hers is an important compositional voice for the current generation of artists shaping the contemporary music scene, and this recording is a pivotal document of her recent work for ensembles.
Cover Design: Polly Apfelbaum, Dan Cole
Package Design & Layout: Marc Wolf
Recording, Editing and Mixing: Ryan Streber (Urban Inventory), Jim Moses (Cloud Intimacy), LinderVox Sound, Rob Boullion (Backstory), Martha de Francisc (Cross-Around)
Tracks 1-5 recorded at Oktaven Audio, Mt. Vernon, NY, 9.30.2017
Track 6 recorded live on 9.11.2010 at the Gaudeamus Festival, Holland
Track 7 recorded live on 7.27.2017 at Mizzou International Composers Conference, Columbia Missouri
Track 8 recorded live on 11.26.2010 at Le NEM Forum 2010, Montreal, Canada
Track 9 recorded at Martinos Auditorium, Granoff Center, Brown University, Providence, RI, on 2.26.2017
Track 10 recorded live on 10.4.2012 at Centre Pompidou, Paris, France
Mastering and Editing: Jim Moses
Executive Producer: Wang Lu
Assistant Producers and Advisors: Anthony Cheung, Daniel Lippel
All music copyright Wang Lu. All rights reserved.
Alarm Will Sound:
Erin Lesser, flute
Christina Robinson, oboe
Bill Kalinkos, clarinet 
Elisabeth Stimpert, clarinet 
Michael Harley, bassoon
Philip Browne, horn
Sam Jones, trumpet
Michael Clayville, trombone
John Orfe, piano
Chris Thompson, percussion
Matt Smallcomb, percussion
Yuki Numata Resnick, violin 
Courtney Orlando, violin 
Nadia Sirota, viola
Stefan Freund, cello
Miles Brown, bass
Le NEM:
Jocelyne Roy, flute
Normand Forget, oboe
Mark Bradley, clarinet 
Simon Aldrich, clarinet 
Michel Bettez, bassoon
Jocelyn Veilleux, horn
Lise Bouchard, trumpet
Angelo Muñoz, trombone
Jacques Drouin, piano
Julien Grégoire, percussion
Alain Giguère, violin 
Johanne Morin, violin 
Brian Bacon, viola
Julie Trudeau, cello
Yannick Chênevert, bass
EIC
Sophie CHERRIER, flute, piccolo 
Emmanuelle OPHÈLE, flute, piccolo
Didier PATEAU, oboe
Philippe GRAUVOGEL, oboe
Alain DAMIENS, clarinet
Alain BILLARD, clarinet
Paul RIVEAUX, bassoon
Pascal GALLOIS, bassoon, contrabassoon 
Jean-Christophe VERVOITTE, horn
Jens McMANAMA, horn
Jean-Jacques GAUDON, trumpet 
Antoine CURÉ, trumpet
Benny SLUCHIN, trombone
Jérôme NAULAIS, trombone
Jérémie DUFORT, tuba
Samuel FAVRE, percussion
Vassilena SERAFIMOVA, percussion
Victor HANNA, percussion
Géraldine DUTRONCY, piano
Frédérique CAMBRELING, harp
Diégo TOSI,violin
Hae-Sun KANG, violin
Jeanne-Marie CONQUER, violin
Odile AUBOIN, viola
Grégoire SIMON, viola
Pierre STRAUCH, cello
Eric-Maria COUTURIER, cello
Nicolas CROSSE, contrabass
Wang Lu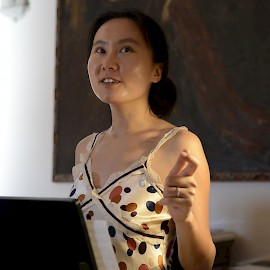 Composer and pianist Wang Lu (born 1982, Xi'an, China) writes music that reflects a very natural identification with influences from traditional Chinese music, urban environmental sounds, linguistic intonation and contours, and freely improvised traditions, through the prism of contemporary instrumental techniques and new sonic possibilities. She is currently an Assistant Professor of Music at Brown University, after receiving her doctoral degree in composition at Columbia University and graduating from the Beijing Central Conservatory of Music. Wang Lu's works have been performed internationally, by ensembles including the Ensemble Modern, Ensemble Intercontemporain, Alarm Will Sound, Minnesota Orchestra, American Composers Orchestra, Orchestre National de Lille, Holland Symfonia, Shanghai National Chinese Orchestra, Taipei Chinese Orchestra, Musiques Nouvelles, Le Nouvel Ensemble Moderne, International Contemporary Ensemble, Third Sound, Curious Chamber Players, Ensemble Pamplemousse, Argento, and Momenta Quartet, among others. Her most recent works have been written for the Stony Brook Contemporary Chamber Players, violinists Miranda Cuckson and Jennifer Koh, and pianist Joel Fan. Wang Lu received the Berlin Prize in Music Composition (Spring 2019 residency) and was a 2014 Guggenheim Fellow. She won the first prize at Le Nouvel Ensemble Moderne's Young Composers Forum in 2010 and shared the Tactus International Young Composers Orchestra Forum Award in 2008. She was selected for a Tremplin commission by IRCAM/Ensemble Intercontemporain in 2010 and the International Composition Seminar with the Ensemble Modern in 2012, and has also received two ASCAP Morton Gould awards. Her music was programmed on festivals such as the 2014 New York Philharmonic Biennial, MATA Festival, Cresc. Biennale in Frankfurt, Gaudeamus Music Week, Tanglewood, Cabrillo Music Festival, Beijing Modern, Pacific and Takefu festivals in Japan, Mostly Mozart, Aspekte Festival in Salzburg, Mizzou International Composers Festival, and the Havana New Music Festival. She has also been a resident at the Civitella Ranieri Foundation. Collaborations have included an installation at Brown University's Cohen Gallery with artist Polly Apfelbaum and an evening of poetry and music with Ocean Vuong.