John Aylward's chamber opera Oblivion grapples with issues of remembering, destiny, and self-knowledge. His score for four voices, viola, cello, double bass, electric guitar and electronics is beguiling and mysterious, accompanying the opera's protagonists through a labyrinthine journey loosely based on Dante's Purgatory but taking cues from Joseph Campbell and a range of other historic and modern philosophers and theologians. Ultimately, Aylward has created a piece that teems with existential wonder and pathos.
Musically, Aylward's language is grounded in a harmonic palette indebted to Olivier Messiaen and Henri Dutilleux, with an instrumentation that skews towards the low register so as to entertain possibilities of unique spectral timbres. There is a strong presence of certain versatile intervallic constructions in the chordal language, particularly all-interval tetrachords that often hint at octatonic collections that Aylward often filters into whole-tone fragments. Aylward uses large scale polyrhythm and rhythmic displacements, indicative of Christophe Bertrand's orchestrations, to expand sections, creating a kind of spectral undulation of a single harmony, as heard in the opening of Scene 1. Aylward uses electronics primarily atmospherically, fashioning ambient spaces within which action of the voices and ensemble unfolds.
The Prologue opens with exactly such material: a foreboding windscape out of which the ensemble comes to life with anxious starts. Ponticello gestures and harmonics in the strings along with a chorus-effected electric guitar set the haunting scene beautifully. The first scene finds the first of the two protagonists, the First Wanderer (baritone Tyler Boque), coming upon the lair of an enigmatic Hunter after wandering in the wilderness. The Wanderer's disorientation is captured in the halting vocal part and the juxtaposed material in the ensemble. A bound man lurks in the corner, characterized by the Hunter as dangerous. Scene 2 introduces the Second Wanderer (soprano Nina Guo) who is also disoriented and unsure of how she arrived at the Hunter's lair. Aylward captures the characters' befuddlement by virtuosically intertwining spoken and sung texts with angular figures in the instruments.
Read More
Scene 3 finds the two Wanderers processing all they've taken in from such an otherworldly landscape. Their dialogue unfolds over woozy glissandi and delicate trills. Throughout the piece, Aylward sets these philosophical ruminations off by stripping down the instrumentation. We hear a recitative-like duo between soprano and electric guitar in the middle of this scene, or, later, a duet between viola and baritone. Through Scene 4, Aylward continues to deftly use the ensemble to press the momentum forward as the Bound Man transforms into a King and promises the Wanderers salvation if they follow him and vanquish the Hunter. The King's arias here are dramatically underscored with virtuosic contrabass writing that is rarely heard in operatic settings.
The action in the plot pauses in Scene 5 as the Wanderers come to terms with their plight, and observe how the journey has transformed their understanding of themselves and each other. Aylward paints their evolving comprehension with pensive harmonies and timbres that evoke an intimate and personal melancholy. The final scene unleashes much of the previous scenes' pent-up energy with emphatic tutti accents as the Wanderers and the King confront the Hunter. Aylward's setting of the rhetorical sparring, as the characters accuse each other of deception, has a classic operatic feel to the vocal counterpoint. These climactic four-way interactions are set with dense orchestrations of swooping glissandi, chordal swells, and technically masterful ensemble singing.
As the piece ends and the fog lifts, we are left to wonder if the King has in fact duped the First Wanderer. The closing material in the ensemble has an ethereal and disembodied ambience, as if the musical figures themselves are circles in Purgatory. Aylward's hollow Lynchian windscape from the opening returns, a dark echo of a world perhaps bereft. How can we learn the truth of our lives? How do we distinguish reality from illusion, or worse, deception, especially in an era of untruth? What, if any, meaning can we take away from our time on the earth if our understanding is clouded by circumstance and obfuscation? Aylward's opera elegantly raises these questions and ruminates on the enigma, as they are, for the honest among us, unanswerable.
– Dan Lippel
Nina Guo
Soprano Nina Guo is interested in the sounds of recent and ongoing times, and her performance practice includes interpreting notated music, improvising, and collaborating on interdisciplinary projects. As a contemporary music specialist, she has performed with groups like Ensemble Modern, Decoder Ensemble, and ECCE, and has been featured at festivals like Acht Brücken (Köln), Passion:SPIEL at the Deutsches National Theater (Weimar), and Music in Time at Spoleto Festival (Charleston). Nina's personal projects include several duo collaborations. Departure Duo, a contemporary music soprano+double bass duo with Edward Kass, released its debut album 'Immensity Of' on New Focus Recordings in 2022. With artist Leonie Brandner, Nina made MOSSOPERA, a long duration installation opera for two voices, dictaphones, and ceramic resonators. In the last years, radio has become an important part of her practice, and her live comedy variety show, The Entertainment, is hosted by Cashmere Radio (Berlin).
Lukas Papenfusscline
Lukas Papenfusscline is a singer and performance-maker living in New York City. They specialize in medieval and contemporary song, working exclusively in collaborative environments and through the lens of queerness. A sought-after vocalist for concert, opera, and theatre, Lukas also leads a band, mammifères, that adapts music of the past through ethnic chaos. "Olema," the band's first album, explored American folk and "Bestiary" (upcoming) dives into medieval music. Lukas' extensive performance experience has brought them all around the world to legendary venues like the Getty Villa Museum, NYPL's Jefferson Market Library, La MaMa, Théâtre du Châtelet, and the Hirshhorn Museum.
Tyler Boque
Tyler Bouque is a baritone and composer born and raised in Troy, Michigan. As a performer, Bouque specializes in contemporary music, with a repertoire largely comprised of works from the last century. He is a firm believer in directly engaging with composers to realize their compositional visions, and among his repertoire, which spans solo, chamber, and operatic works, are several pieces specifically written for him. As a composer, his interests lie in the intersection of literature, linguistics, theater, and music . Bouque's writing often turns to the "expression beyond language" — that which lies beneath text — as a primary informant. He is currently working on a musiktheater cycle after Dante's Inferno. Also active in music research, Bouque is currently working on a book detailing the history of opera post-1925.
Cailin Marcel Manson
Baritone Cailin Marcel Manson, a Philadelphia native, has enjoyed an international career as an operatic/concert solo- ist, conductor, and master teacher with many organizations, including the Radio-Sinfonieorchester Stuttgart, SWR Sinfonieorchester, Taipei Philharmonic, Bayerische Staatsoper- Münchner Opernfestspiele, Choral Arts Society of Philadelphia, Chamber Orchestra of Philadelphia, Teatro La Fenice, Teatro San Carlo, Konservatorium Oslo, and the Conservatoire de Luxembourg. He has also been a guest cantor and soloist at some of the world's most famous churches and cathedrals, including Notre Dame, Sacré-Coeur, and La Madeleine in Paris, San Marco in Venice, Santa Maria del Fiore in Florence, San Salvatore in Montalcino, Santa Maria Maggiore and San Giovanni in Laterano in Rome, Thomaskirche and Nikolaikirche in Leipzig, and Wieskirche in Steingaden. Cailin has built a sterling reputation over an extensive 20-year career, encompassing both baritone and tenor repertoire, for his exceptional musicianship, keen dramatic instincts, and vocal flexibility. Critics have praised his performances roles as "arresting" and "revelatory," making consistent note of his "ringing projection," "commanding presence," and "ability to bring the internal drama of the music to life."
Laura Williamson
Laura Williamson is a string player in the Boston area. She received a masters degree from New England Conservatory following her undergraduate studies at Vanderbilt University. Her most influential teachers include Aaron Janse, Kathryn Plummer, and Marcus Thompson. Laura can be heard performing around Boston with the Boston Festival Orchestra, Eureka Ensemble, Cape Ann Symphony, and others. Laura teaches private lessons in violin and viola as well as violin ensemble classes and Suzuki Early Childhood Education at New England Conservatory Preparatory School.
Issei Herr
Cellist Issei Herr is committed to a diverse array of music both old and new. A compelling soloist and a dedicated collaborator, Issei performs a scope of repertoire that ranges from the music of Bach, Babbitt, and Berio to Schubert, Schoenberg, and Stravinsky. Issei is a fierce advocate of the music of our time, working closely with living composers to develop emerging repertoire and presenting new works in the context of innovative concert programs.
Greg Chudzik
Greg Chudzik is an active performer across numerous genres on the double bass and electric bass. Currently, he can be seen performing regularly with several new music groups, including Signal Ensemble, Wet Ink Ensemble, and Talea Ensemble. Greg is also a member of several bands, including Empyrean Atlas, Bing and Ruth, and The Briars of North America. He has worked with numerous influential figures in contemporary music, including Steve Coleman, Steve Reich, Brian Ferneyhough, Pierre Boulez, George Benjamin, Helmut Lachenmann, Charles Wuorinen, Alex Mincek and Tristan Perich. Greg's recording credits include playing on the Grammy-nominated "Barcelonaza" by Jorge Leiderman, "Pulse / Quartet" by Steve Reich on Nonesuch records, "Morphogenesis" and "Synovial Joints" by Steve Coleman on Pi Recordings, "No Home of the Mind" and "Tomorrow Was the Golden Age" by Bing and Ruth on RVNG records, the album "Americans" by Scott Johnson (Tzadik records), multiple recordings with Signal Ensemble on New Amsterdam and Mode Records, the album "Grown Unknown" by Lia Ices (Secretly Canadian records), the album "Inner Circle" by Empyrean Atlas, and the album "High Violet" by The National on 4AD records. Greg's debut album "Solo Works, Vol. 1" was released in July of 2015 and features original pieces of music written for bass guitar and electronics.
http://www.gregchudzik.com
Daniel Lippel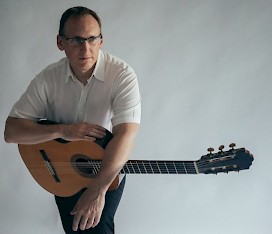 Guitarist Dan Lippel, called a "modern guitar polymath (Guitar Review)" and an "exciting soloist" (NY Times) is active as a soloist, chamber musician, and recording artist. He has been the guitarist for the International Contemporary Ensemble (ICE) since 2005 and new music quartet Flexible Music since 2003. Recent performance highlights include recitals at Sinus Ton Festival (Germany), University of Texas at San Antonio, MOCA Cleveland, Center for New Music in San Francisco, and chamber performances at the Macau Music Festival (China), Sibelius Academy (Finland), Cologne's Acht Brücken Festival (Germany), and the Mostly Mozart Festival at Lincoln Center. He has appeared as a guest with the St. Paul Chamber Orchestra and New York New Music Ensemble, among others, and recorded for Kairos, Bridge, Albany, Starkland, Centaur, and Fat Cat.
http://www.danlippel.com
John Aylward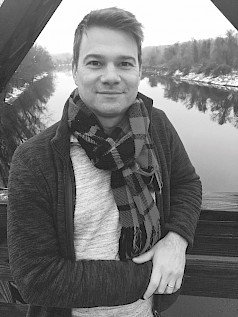 John Aylward has been described by the Boston Globe as "A composer of wide intellectual curiosity" who summons "textures of efficient richness, delicate and deep all at once." His music is influenced by a range of modern and ancient literature and deeply affected by time spent in the deserts of Arizona and New Mexico. These streams of influence have led to a music that considers ancestral concepts of time, appropriations of indigenous cultures into surrealism, impressionism and post-modernism, and the connections between creative mythologies across civilizations.
Aylward's work has been performed internationally by a range of ensembles and soloists, and his own ensemble, Ecce, has served as a laboratory for his larger projects to take shape. Both as a pianist and as a director of the Etchings Festival, Aylward has supported new music of all kinds through commissions and performances.
Awards and fellowships include those from the American Academy of Arts and Letters (the Walter Hinrichsen Award and a Goddard Lieberson Fellowship) the John Simon Guggenheim Foundation, the Radcliffe Institute at Harvard University, the Koussevitzky Commission from the Library of Congress, the Fromm Music Foundation, the Fulbright Foundation, the Deutscher Akademischer Austauschdienst, the MacDowell Colony, the Atlantic Center for the Arts, the Virginia Center for the Creative Arts, First Prize from the International Society for Contemporary Music, and many others.
Aylward holds composition degrees (MFA, PhD) from Brandeis University and a degree in piano performance (BM) from the University of Arizona. John lives in Northampton, Massachusetts, with his wife Kate, and teaches music composition at Clark University.
Tianyi Wang
Born in China, Tianyi Wang is an award-winning composer, conductor, and pianist, whose music vocabulary is diverse and much inspired by subjects beyond music. Tianyi's repertoire spans over solo, chamber, choral, orchestral, electroacoustic, as well as film scoring. His works have been performed by en- sembles and festivals around the globe, including Darmstädter Ferienkurse, Boston Modern Orchestra Project, impuls Festival, Festival Mixtur, Meitar Ensemble, ensemble blank, iNEnesemble, Audiograft Festival, Ashmolean Museum, Ensemble MISE-EN, and many others. He is the winner of 2020 MUSIQA Emerging Composer Commission Competition, 2018-19 New England Conservatory of Music Honors Composition Com- petition, 2018 BMOP/NEC Composition Competition, 2017 Longy Orchestral Composition Competition, and 2016 Sanya International Choral Festival. He is also a recipient of China National Arts Fund in 2017. Tianyi's music has been released by Navona, Ablaze, and Petrichor Records.
Stratis Minakakis
Stratis Minakakis is a composer and conductor whose work engages memory, cultural identity, and art as social testimony; it also explores the rich possibilities engendered by the interaction between arts and sciences. As a composer, he has received commissions from and collaborated with leading performers and ensembles, such as the Grammy award-wining Crossing Choir, Prism Saxophone Quartet, and Partch Ensemble. Other notable partners include saxophonist Don-Paul Kahl, Ensemble du Bout du Monde, pianist Jihye Chang, soprano Nina Dante, flutist Dalia Chin, and cellist Annie Jacobs-Perkins. As a conductor, he has directed numerous ensembles in contemporary repertory, including world premieres by Ken Ueno, Mathew Rosenbaum and John Aylward, and the North American premiere of Sciarrino's Quaderno di Strada. A highly sought-after studio instructor, he has taught in numerous institutions and festivals in the United States and Europe. Deeply committed to music pedagogy, he was awarded the Dean's Award for Distinguished Teaching at the University of Pennsylvania and the Louis Krasner Award for Teaching Excellence at New England Conservatory. Stratis Minakakis studied composition, theory, and piano performance at the University of Pennsylvania, New England Conservatory, Princeton University, and Athenaeum Conservatory. He currently teaches Composition and Music Theory at New England Conservatory.