"Lament/Witches' Sabbath", Mathew Rosenblum's new CD on New Focus Recordings, features four intense and emotionally riveting works that stretch beyond the conventional to explore themes such as migration, loss, memory, and psychological and cultural transformation. Using a variety of tuning systems, Eastern European lament field recordings, ambient sounds, and pre-recorded voices Rosenblum has created music of great emotional intensity that maximizes the expressive power of his chosen materials.
The title track, Lament/Witches' Sabbath, written for the extraordinary clarinet soloist David Krakauer and the Boston Modern Orchestra Project led by conductor Gil Rose, is Rosenblum's most personal piece to date. When he was a child, his grandmother told him the story of how she fled the well-documented 1919 massacre in Proskurov, Ukraine, with six children and pregnant with his mother. Lament/Witches' Sabbath involves the recounting of his family history by incorporating Ukrainian and Jewish lament field recordings, his grandmother's recorded voice, klezmer-tinged clarinet with orchestra, and elements from the last movement of Berlioz's Symphony Fantastique, "Witches' Sabbath." The heart-rending cadences of the Ukrainian laments communicate a communal pain felt through the generations, and contrast the elements of fear and superstition represented in the Berlioz. Krakauer's powerful, klezmer inflected playing plays the role of protagonist, while the ensemble parts cinematically depict dramatic context. Rosenblum's use of microtonality echoes the expressive pitch world of lament singing, eschewing equal temperament in favor of the sound of unfiltered human emotion. The piece is unsettlingly timely -- tackling topics such as migration, loss, memory, and cultural transformation it comes face to face with current debates surrounding these issues. The piece also represents a reconnection between Rosenblum and Krakauer, high school friends growing up in New York City. In placing the laments at the center of an expansive work of new art music, Rosenblum presents this piece both as a cathartic reconciliation with his family's own personal history and a more universal cry of agony for communities who have endured similar persecution.
Northern Flicker, written for the highly versatile percussion soloist Lisa Pegher, is "a pounding showpiece of rhythmic flair" (NY Times) that blends samples of the Yellow-Shafted Northern Flicker together with the driving rhythmic intensity of avant-rock. The work stands out as a foil on this program of powerfully topical pieces, allowing the listener a palette cleansing moment to focus on Rosenblum's deft handling of timbre and syntactically driven phrase structure.
Falling, based on the James Dickey poem of the same name as well as a NY Times article chronicling a flight attendant's unbelievable fall to her death, uses recorded and sung text and microtonality in a manner distinct from Lament/Witches' Sabbath. Far from the anguished wails of the Ukrainian laments, Rosenblum's approach in Falling is one of disembodiment and surreality. Prerecorded material of the plane cabin ambient sounds and a narrator's neutral voice (Dickey) create context and reportage, but the listener is largely insulated from the direct horror of being suddenly thrown into the oxygen-thin air at 30,000 feet. The otherworldly quality of the microtonal pitch language here creates distance between the listener and the events being retold, whereas in Lament, the nuances of microtonal color bring us closer to the humanity of the story. Dedicated to the late composer, Dean Drummond, and commissioned by the Barlow Endowment for Music Composition, Falling is brilliantly performed by the Pittsburgh New Music Ensemble, Kevin Noe, conductor, and Lindsay Kesselman, soprano.
Last Round (Ostatnia Runda) can be heard as a merging of the rhythmic intensity of Northern Flicker with the Eastern European melodic tinge of Lament/Witches' Sabbath. March-like material and descending microtonal sustained passages in the strings lend the work a ritualistic sensibility and simmering intensity. Written for FLUX Quartet and Mantra Percussion and dedicated to the late composer, Lee Hyla, it was described as "impressive," "visceral" and "tribal " by The Pittsburgh Post-Gazette.
Mathew Rosenblum's integration of diverse compositional elements is placed at the service of wide-ranging expressive goals. From the moving setting of his grandmother's flight from persecution to his eerie contextualization of the truly bizarre tragedy of a flight attendant's fatal fall, Rosenblum faces issues deeply personal and profoundly universal with an artistic and humanistic voice that communicates forcefully through his chosen materials.
-D. Lippel and M. Rosenblum
"In A Dark Wood," a documentary film about the making and recording of Lament/Witches' Sabbath, was created by David Bernabo in 2018 and premiered at the JFilm Festival, Pittsburgh (April 30, 2018) and in Europe at the On Art Film Festival, Kraków (August 31, 2018). Filmed in Pittsburgh, New York City, and Boston, the film reminisces on the friendship of Rosenblum and Krakauer while exploring Rosenblum's remembrance of his grandmother and her story of survival. This moving documentary tells a story of the endurance of family, the winding path of friendship, and the craft of composing music. The film can be viewed at:
vimeo.com/ondemand/lament
Lament/Witches' Sabbath recorded at Jordan Hall, Boston, January 24, 2018
Recorded, edited and mixed by Joel Gordon
Peter Atkinson, assistant engineer
Theodore Mook, session producer
Northern Flicker recorded at Systems Two Recording Studios, July 20, 2016
Max Ross, engineer
Mike Marciano, editing and mixing
Mathew Rosenblum, session producer
Falling recorded at Heid Studios, Pittsburgh, July 12-13, 2017
Jim Barr and George Heid, engineers
Herman Pearl (Tuff Sound Recording), editing and mixing
Jim Barr, additional editing and mixing
Mathew Rosenblum, session producer
Last Round (ostatnia runda) recorded at Systems Two Recording Studios, March 25, 2016
Recorded, edited and mixed by Mike Marciano
Mathew Rosenblum, session producer
Mastered by Joel Gordon
Executive Producer: Mathew Rosenblum
All works published by Plurabelle Music Publishing (BMI), Distributed by Subito Music Corporation
This project is supported by funds from the University of Pittsburgh Kenneth P. Dietrich School of Arts & Sciences.
Design & Layout: Marc Wolf (marcjwolf.com)
Cover Photo: Unnamed Road, Verkhovyns'kyi district, Ukraine, by Olena Sergienko, courtesy Unsplash.com
Mathew Rosenblum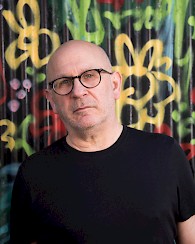 With diverse musical elements derived from classical, jazz, rock, and world music traditions, Mathew Rosenblum's compositions offer "an ear-buzzing flood of sound, rich in unusual overtones" (The Boston Globe), The Pittsburgh Post-Gazette proclaimed that his work Mobius Loop was "richly layered… and that it "shimmered with vibrancy." A wide array of groups have commissioned, performed, and recorded his music such as the Boston Modern Orchestra Project, the Harry Partch Institute, the Pittsburgh Symphony Orchestra, the American Composers Orchestra, the Thailand Philharmonic Orchestra, the Raschèr Saxophone Quartet, the Calmus Ensemble of Leipzig, the Pittsburgh New Music Ensemble, FLUX Quartet, Mantra Percussion, Music from China as well as many others. Using a variety of tuning systems, his work does not live within traditional boundaries, creating a compellingly fresh landscape.
Rosenblum spearheaded the highly successful Beyond: Microtonal Music Festival at The Andy Warhol Museum where his new work, "Last Round (ostatnia runda)" composed for FLUX Quartet and Mantra Percussion was premiered. The Pittsburgh Post-Gazette called it "impressive," "visceral" and "tribal." The New York Times said of the N.Y. premiere of Rosenblum's work, Falling, that it "overshadowed" everything else on the program, it was "rapt, fretful, eerily suspended." George Grella of New York Classical Review stated: "Falling blends electronics, spoken word, and live music more effectively than most other such efforts. The piece compresses foreground and background into a rich, floating mass… the path into the heart of the piece is both clear and infinite."
His works have been performed throughout the United States, South America, Europe, and Asia including at the ISCM World Music Days in Oslo, the Gewandhaus in Leipzig, the China-ASEAN Music Festival in Nanning, the Tonhalle in Düsseldorf, the Bing Theater in LA, Prince Mahidol Hall in Bangkok, Sala Nezahualcóyotl in Mexico City, and at the Sonic Boom Festival, the Kitchen, Merkin Hall, Symphony Space, the Guggenheim Museum, and Miller Theatre in New York City.
In July of 2015 he was a featured composer at the Thailand International Composition Festival. In 2009 he was a Senior Faculty Composer at the June in Buffalo Festival. Other honors include a Guggenheim Fellowship, four Pennsylvania Council on the Arts Music Fellowship Grants, a Heinz Endowments Creative Heights Award, two Fromm Foundation Commissions, a National Endowment for the Arts Music Fellowship Grant, a Barlow Endowment Commission, and a New York Foundation for the Arts Artists Fellowship Grant. He has also received awards and fellowships from the New Jersey State Council on the Arts, the Institute of Contemporary American Music, the Rockefeller Foundation, BMI, the MacDowell Colony, the Djerassi Foundation, the Virginia Center for the Creative Arts, the Hambidge Center, and Yaddo.
He received degrees in composition from the New England Conservatory of Music and Princeton University and is currently Professor of Composition and Chair of the Department of Music at the University of Pittsburgh where he also co-directs the Music on the Edge new music series. His works appear on the MODE, New World Records, Albany, BMOP/sound, Capstone, Opus One, Blue Griffin, and CRI Emergency Music labels and is published by C.F. Peters Corporation and Plurabelle Music (distributed by Subito Music Corporation).
Boston Modern Orchestra Project
The Boston Modern Orchestra Project (BMOP) is the premier orchestra in the United States dedicated exclusively to commissioning, performing, and recording music of the twentieth and twenty-first centuries. Recently hailed as "one of the most artistically valuable [orchestras] in the country for its support of music either new or so woefully neglected that it might as well be" by The New York Times, BMOP was the recipient of Musical America's 2016 Ensemble of the Year award, the first symphony orchestra in the organization's history to receive this distinction.
Founded by Artistic Director Gil Rose in 1996, BMOP has championed composers whose careers span nine decades. BMOP's distinguished and adventurous track record includes premieres and recordings of monumental and provocative new works such as John Harbison's ballet Ulysses, Louis Andriessen's Trilogy of the Last Day, and Tod Machover's Death and the Powers. A perennial winner of the ASCAP Award for Adventurous Programming, the orchestra has been featured at festivals including Opera Unlimited, the Ditson Festival of Contemporary Music with the ICA/Boston, Tanglewood, the Boston Cyberarts Festival, the Festival of New American Music (Sacramento, CA), Music on the Edge (Pittsburgh, PA), and the MATA Festival in New York.
BMOP/sound, BMOP's independent record label, was created in 2008 and has garnered praise from the national and international press; it is the recipient of six Grammy Award nominations and its releases have appeared on the year-end "Best of" lists of The New York Times, The Boston Globe, National Public Radio, Time Out New York, American Record Guide, Downbeat Magazine, WBUR, NewMusicBox, and others.
Gil Rose
Gil Rose is a conductor helping to shape the future of classical music. His dynamic performances and many recordings have garnered international critical praise. In 1996, Mr. Rose founded the Boston Modern Orchestra Project (BMOP), whose unique programming and distinguished performances have earned the orchestra fourteen ASCAP awards for adventurous programming as well as the John S. Edwards Award for Strongest Commitment to New American Music. Also one of the country's most inventive and versatile opera conductors, Mr. Rose founded Odyssey Opera, a new company dedicated to exploring eclectic and overlooked operatic repertoire, in 2013. He led Opera Boston as its Music Director starting in 2003, and in 2010 was appointed the company's first Artistic Director. Mr. Rose serves as the executive producer of the BMOP/sound label, and has led the longstanding Monadnock Music Festival in historic Peterborough, NH, since 2012.
David Krakauer
Widely considered one of the greatest clarinetists on the planet, Grammy and Juno nominated soloist, band leader and composer David Krakauer has been praised internationally as a key innovator in modern klezmer as well as a major voice in classical music.
Major appearances as soloist include the Amsterdam Sinfonietta, Orchestre de Lyon, Dresdener Philharmonie; Baltimore, Detroit, and Seattle Symphonies and the Kronos, Emerson, Tokyo, and Miro String Quartets. Krakauer's latest project, "Breath and Hammer" with renowned South African pianist Kathleen Tagg, re-contextualizes Krakauer's sound by adding electronics and extended techniques to the acoustic duo of clarinet and piano.
Krakauer's discography contains some of the most important clarinet recordings of recent decades, including The Dreams and Prayers of Isaac the Blind (Osvaldo Golijov/the Kronos Quartet/Nonesuch) and The Twelve Tribes (Label Bleu).
Current faculty positions include the Manhattan School of Music, the Mannes College of Music (New School), The Bard Conservatory, and NYU.
Lisa Pegher
Lisa Pegher is an American solo percussionist. In her international career she is known for pioneering percussion as a solo instrument within the orchestral realm and beyond and has been hailed by the New York Times as "Tremendous" by the Boston Globe as "Forcefully balletic" and by New York City's The Glass as "More than just a drummer—an alchemist of time, sound, and space, crafting visceral landscapes that penetrate the ears and mind." Featured in Symphony Magazine as one of the Top Six performers of her generation, Lisa has performed as soloist with numerous orchestras, wind ensembles and chamber groups across the globe. She has given the world premiere performances of numerous percussion concertos composed especially for her by composers such as Richard Danielpour, David Stock, Mathew Rosenblum, Paul Dooley and Brett Dietz. She has been a featured soloist at Lincoln Center's Alice Tully Hall, at NYC's SubCulture as well as numerous concert halls around the world. In her recent premiere of Richard Danielpour's new percussion concerto "The Wounded Healer", she was hailed as " an ideal interpreter of the work; receiving a vigorous ovation" by the New Jersey Star Ledger. In 2017 she premiered a concerto by up and coming composer, Paul Dooley that combines orchestral and electronic dance music with multimedia. The work is said to "reach new heights in percussion music" and called "a wild throw down pitting full-tilt rock-and-roll drums against muscle-flexing symphonic fury" by the press.
Pittsburgh New Music Ensemble
The Pittsburgh New Music Ensemble was founded by Pittsburgh composer, David Stock, in 1976, making it tied for the oldest continually running new music ensemble in the country. PNME has commissioned and premiered over 300 works by composers including John Cage, Ellen Taaffe Zwilich, Michael Daugherty, David Lang, Derek Bermel, Pierre Jalbert, and Kevin Puts.
Using music as the vehicle for larger ideas, PNME commissions, performs, and presents new work, constantly reinventing the concert experience in a relentless pursuit to bring meaningful experiences to the audience. Current Artistic Director, Kevin Noe, assumed that post in 2000 and implemented a new artistic vision that completely transformed the company: incorporating the drama, lighting, sound, and stage design of theatre into an evening - dubbed the PNME "Theatre of Music."
Currently, PNME is undergoing another major transformation, incorporating binaural technology (audience in headphones and experiencing the music in 360°) to increase the intimacy between audience members and performers, and to make each audience member the center of the experience.
PNME is a fixed ensemble (flute, clarinet, violin, cello, piano, percussion, soprano, and bass-baritone) of artists from around the world, chosen through a rigorous audition process. PNME produces an average of 10 concerts each year in Pittsburgh featuring existing contemporary works and new commissions; produces educational programs that provide opportunities to increase knowledge and appreciation of contemporary music; produces recordings of contemporary music; and tours concerts of contemporary music both nationally and abroad.
Kevin Noe
Kevin Noe is the Artistic Director and Conductor of the Pittsburgh New Music Ensemble, and the Director of Orchestras, Musique 21, and Professor of Conducting at Michigan State University. A passionate supporter and promoter of composers, creators, and the arts of our time, Mr. Noe has commissioned and premiered over one hundred works. He has a particular interest in works which employ a variety of art forms including music, dance, theater, film, and visual arts, and he serves regularly as stage director, actor, and filmmaker for a variety of mixed-media, operatic, and theatrical productions.
Mr. Noe has held conducting posts at the University of Texas at Austin, Duquesne University, the National Repertory Orchestra, and the Pittsburgh Opera Center and he works regularly as a guest conductor with a wide variety of ensembles. Noe completed his graduate studies at Rice University in Houston, Texas where he received the prestigious Sally Shepherd Perkins Prize in Music and was awarded the Maurice Abravanel Fellowship as a conductor at the Tanglewood Festival. Mr. Noe's principal conducting teacher was Larry Rachleff, and he also studied conducting with Robert Spano.
A dedicated conducting teacher, Noe's students have held posts at the Lawrence Conservatory, Massachusetts Institute of Technology, Opera in the Ozarks, The Cleveland Orchestra, The Houston Symphony, and The University of Pennsylvania.
Lindsay Kesselman
Hailed by Fanfare Magazine as an "artist of growing reputation for her artistry and intelligence... with a voice of goddess-like splendor" Lindsay Kesselman is a soprano who passionately advocates for contemporary music.
This season Kesselman will have the honor of being the featured singer at John Corigliano's 80th birthday concert celebration at National Sawdust. Other season highlights include her debuts with the North Carolina Symphony and the Charlotte Symphony Orchestra, as well as the 2017 release of Antique Violences on Blue Griffin, featuring Songs from the End of the World by John Mackey, written for Kesselman and chamber winds. Her performance on this recording was praised in Fanfare Magazine: "...Kesselman sings the uncommonly beautiful songs with heart- breaking restraint...."
During the 2015-16 season, Kesselman made her debut with both the Los Angeles Philharmonic and Dutch National Opera in a leading role of a new opera by composer Louis Andriessen entitled Theatre of the World. A live audio recording with the Los Angeles Philharmonic was released on Nonesuch Records in September.
In 2012-2015 she sang with the Philip Glass Ensemble on an international tour of Philip Glass' opera Einstein on the Beach that won the 2013 Laurence Olivier award for Best New Opera Production. Kesselman is also the resident soprano with the Pittsburgh New Music Ensemble. Other recent and upcoming performances include her debut at Carnegie Hall singing Corigliano's Mr. Tambourine Man, premieres of new works for soprano and wind symphony by Robert Beaser and John Mackey, and on Bright Angel and Atonement, recordings of American contemporary music released on the Fleur de Son Classics label.
Kesselman holds degrees in voice performance from Rice University and Michigan State University.
https://www.lindsaykesselman.com/
FLUX Quartet
The FLUX Quartet, "one of the most fearless and important new-music ensembles around" (Joshua Kosman, The San Francisco Chronicle) "who has brought a new renaissance to quartet music" (Kyle Gann, The Village Voice), has performed to critical acclaim in venues of all sorts, from Carnegie's Zankel Hall and Kennedy Center, to influential art institutions such as EMPAC, The Kitchen, and the Walker Art Center, to international music festivals in Australia, Europe, and the Americas. It has also premiered new works on numerous experimental series, including Roulette, Bowerbird, and the Music Gallery. Strongly influenced by the irreverent spirit and "anything-goes" philosophy of the fluxus art movement, violinist Tom Chiu founded FLUX in the late 90's. The quartet has since cultivated an uncompromising repertoire that follows neither fashions nor trends, but rather combines yesterday's seminal iconoclasts with tomorrow's new voices. Alongside late 20th-century masters like Cage, Feldman, Ligeti, Nancarrow, Scelsi, and Xenakis, FLUX has premiered more than 100 works by many of today's foremost innovators, including Michael Byron, Julio Estrada, David First, Oliver Lake, Alvin Lucier, Marc Neikrug, Matthew Welch; the group has also performed with many influential artists, including Thomas Buckner, Ornette Coleman, Joan La Barbara, Wadada Leo Smith, Henry Threadgill, and many more. The group's discography includes recordings on the Cantaloupe, Innova, Tzadik, and Cold Blue Music labels, in addition to two critically acclaimed releases on Mode Records that encompass the full catalogue of string quartet works by Morton Feldman. The two volumes feature String Quartet No. 1 and String Quartet No. 2 -- seminal large- scale late works by the iconic composer. FLUX's radio credits include WNYC's New Sounds and Soundcheck, WFMU's Stochastic Hit Parade, and NPR's All Things Considered
The spirit to expand stylistic boundaries is a trademark of the FLUX Quartet, and thus the quartet avidly pursues projects with genre-transcending artists working in mixed media. These artistic synergies have led to an acclaimed recording with experimental balloonist Judy Dunaway, collaborations with choreographers Pam Tanowitz and Shen Wei, and the 3-D video work Upending with digital art-ensemble, OpenEnded Group. Most recently, FLUX appeared both on film and the soundtrack of River of Fundament, the latest work by visionary artist Matthew Barney and composer Jonathan Bepler.
As part of its mission to support future musical pioneers, FLUX actively commissions, and has been awarded grants from the American Composers Forum, USArtists International, Aaron Copland Fund, and the Meet-The-Composer Foundation. FLUX also discovers emerging composers from its many residencies and workshops at colleges, including Wesleyan, Dartmouth, Williams, Princeton, Rice, and the College of William and Mary.
Mantra Percussion
Committed to honoring the past and expanding the future of percussion music, Mantra Percussion brings to life new works for percussion by living composers, collaborates with artists from diverse genres and styles, and questions what it means to communicate music with percussion instruments. Mantra Percussion has been engaging new audiences by challenging the standard concert format through evening-length events that look toward a grander artistic vision. They have commissioned over forty works since forming in 2009, performing in concerts and festivals around the world.