Contents May Differ was commissioned by and written for bass clarinetist Pat O'Keefe. The title refers to the sometimes unexpected world of sound contained in an instrument, once you--so to speak--open the box. In this case, I am opening the box of sound with the aid of electronic amplification. The use of multiple microphones allows for intense magnification and dissection of the bass clarinet's palette of sound, revealing beautiful spectra that often go unheard if you are more than a few inches from the instrument, let alone in the audience. -Scott L. Miller
Petals (2013) is a work drawn from an ongoing collaboration between dancers Paul Matteson and Jennifer Nugent, and composer Ted Coffey. We began to imagine co-making while performing Story/Time (2012) with Bill T. Jones. Petals explores unities of shared compositional and choreographic processes, to some degree irrespective of material. The music is presented in three scenes, each treating quite different sonic materials, developed in response to three very different compositional 'problems'. These range from tests of information-rich syntactic endurance, to making lemonade out of a lemony improvisation, to relating species of early digital sound to glo-fi. All keyed in my imagination to the sublime movement of two of the finest modern dancers in the world. -Ted Coffey
Metal Works is a suite of five pieces for piano and electronics that are tied together with a series of electro-acoustic interludes. Each movement draws inspiration from a concept of metal (be it scientific, poetic, or historic). In preparing this piece I spent time collecting metallic sounds, visiting industrial environments, and deep listening to the percussive and resonant aspects of metallic objects. The piano, with its tightly wound metal strings, becomes a resonant cavity in which I can translate concepts such as luster, torsion, and corrosion into the sonic medium. Here you are presented with the first two of five movements and their accompanying interludes. I thank Kathleen Supove for taking on this piece and would like to give my deep gratitude to the ASCAP/SEAMUS Student Commission for helping make this first installment of Metal Works possible. -Nina C. Young
Read More
In no-input mixing, a performer controls an audio mixer by creating and manipulating feedback loop without the external sound source. With proper patching and some practice, the no-input mixer becomes powerful and expressive electronic instrument. This piece uses such instrument to narrate the following story: I am a taco on a journey to a man's digestive system, and this is what I heard inside the bowel. -Joo Won Park
time, forward explores my visions of time and the stretching of time through augmenting the sounds of a piano with live electronic processing. The performer often has the liberty to control the duration of the resonance of each sonority, both reacting to and controlling the electronics. The title, time, forward, describes such interaction and the resulting momentum in the music. -Chin Ting Chan
John Nichols III's compositions often draw from spiritual sources, as is the case with the composition featured on this volume, GATES, completed in 2013. The title refers to the gates of Jerusalem; from events described in the book of Nehemiah. The title also suggests the use of noise gates. This composition is honored with awards such as First Prize in the 2014 ASCAP/SEAMUS Student Composer Commission Competition, First Prize Absolute in the electroacoustic category of the International Composition Competition "Citta di Udine" and First Prize in the WOCMAT International Phil Winsor Electroacoustic Music Young Composers Awards. -John Nichols III
Solis-EA is loosely inspired by the novel Stillaset Brandt, by the Norwegian author Pedr Solis. Having created several other pieces that are tightly connected with the main (unnamed) character in the novel, Solis-EA is more concerned with the author himself, his unusual and dichotomous life, and his mysterious disappearance (or tragic end, depending on which biographer you read). This piece is dedicated to Ryan Packard. -Per Bloland
Patrick O'Keefe
Pat O'Keefe is co-artistic director and woodwind player for the contemporary music ensemble ZEITGEIST, based in St. Paul, Minnesota. Pat has performed and recorded with noted new music groups, including SONOR in San Diego, the California E.A.R. Unit, the Cleveland New Music Associates, and Ensemble Sospeso in New York, as well as the San Diego Symphony and the Augusta Symphony. He is currently the clarinet instructor at the University of Wisconsin-River Falls.
Ted Coffey
Ted Coffey makes acoustic and electronic chamber music, sound art, and songs. His work has been presented in concerts and festivals across North America, Europe and Asia. He is Associate Director of the Virginia Center for Computer Music and Associate Professor of Music at the University of Virginia, where he teaches courses in composition, music technologies, critical theory, and pop.
Kathleen Supové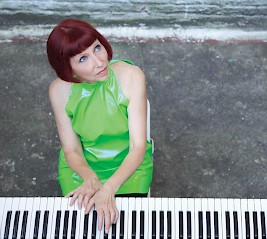 Kathleen Supové is one of America's most acclaimed and versatile contemporary music pianists, constantly redefining what a pianist/keyboardist/performance artist is in today's world. Ms. Supové annually presents a series of solo concerts entitled The Exploding Piano. Through her numerous and varied commissioning projects, including The Debussy Effect, she has been a vital force in creating stunning, important works for the late 20th and early 21st century piano repertory. The Exploding Piano also uses electronics, theatrical elements, vocal rants, performance art, staging, and interdisciplinary collaboration. In 2012, Supové received the John Cage Award from the ASCAP Foundation for "the artistry and passion with which she performs, commissions, records, and champions the music of our time."
http://www.supove.com
Joo Won Park
Joo Won Park (b. 1980) is an Assistant Professor of Music Technology at the Wayne State University. He studied at Berklee College of Music (B.M.) and University of Florida (M.M. and Ph.D.) and has previously taught in Oberlin Conservatory, Temple University, Rutgers University Camden, and Community College of Philadelphia. Dr. Park's music and writings are available on MIT Press, Parma Recordings, ICMC, Spectrum Press, Visceral Media, SEAMUS, and No Remixes labels. He is the recipient of Knight Arts Challenge Detroit (2019) and the Kresge Arts Fellowship (2020). He also directs the Electronic Music Ensem- ble of Wayne State (EMEWS).
Chin Ting Chan
Composer Chin Ting (Patrick) CHAN has gained awards and recognitions from the Interdisciplinary Festival for Music and Sound Art, Soli fan tutti Composition Prize, American Prize, APNM, ASCAP, newEar, and New-Music Consortium. He has been featured in festivals such as ICMC, IRCAM's ManiFeste, June in Buffalo, Wellesley Composers Conference, and many others. He currently teaches audio programming at the University of Missouri—Kansas City.
Kari Johnson
Pianist Kari Johnson has performed at a variety of venues including the 2013 Seoul International Computer Music Festival, SEAMUS, the 2011 Thailand International Composition Festival, and ICMC 2014. Johnson has an affinity for new music performance, evident in her fearless interpretations and willingness to explore new techniques. Her playing has been praised for its "firm musicality" and "sensitivities [that are] rather extraordinary." She received her DMA in Piano Performance from UMKC in 2013.
Per Bloland
Per Bloland's compositions range from solo pieces to works for large orchestra, and incorporate video, dance, and custom built electronics. He has received awards and recognition from organizations including IRCAM, SEAMUS/ASCAP, Digital Art Awards of Tokyo, the Salvatore Martirano Competition, and ISCM. He is currently an Assistant Professor of Technology and Music Theory at Miami University, Ohio, and recently completed a Musical Research Residency at IRCAM in Paris. A portrait CD of his work is scheduled for release in fall 2015.
Ryan Packard
Ryan Packard is a percussionist, composer, and sound artist based in Chicago. His recent projects and collaborations explore the sonification of lived experiences through their accompanying objects and interpersonal relationships. A curiosity towards listening environments, physical space, and psychoacoustics drive the work as it seeks to promote a heightened state of consciousness even in the most understated spaces and moments.
Featured performances include appearances at Chicago's Museum of Contemporary Art, High Concept Laboratories, Galeria Labirynt, Experimental Sound Studio, Constellation Chicago, Elastic Arts, Random Walks Festival, B-Sides Festival, Montreál Nouvelles Musiques, the Frequency Festival, Visiones Sonoras, the Museo Universitario de Arte Contemporaneo, Oberlin Conservatory, Northwestern University, Scripps College, among many others.
He is a member of the new music ensembles Fonema Consort and Arkiteck Percussion Quartet, and bands including Skeleton$, Wei Zhongle, Nestle, ZRL, Gunwale, kiTTybOOst, SWAM, and 4eyes.
He can be heard on the following labels: Parlour Tapes+, New Focus Recordings, Kohlenstoff Records, Shinkoyo Records, Aerophonic Records, and No Index Records.
Ryan has a Masters of Music from McGill University and Bachelor's of Music from the Oberlin Conservatory of Music.
Scott L. Miller
Scott L. Miller (1966) is an American composer, best known for his electroacoustic chamber music and ecosystemic performance pieces. Inspired by the inner-workings of sound and the microscopic in the natural and mechanical worlds, his music is the product of hands-on experimentation and collaboration with musicians and performers from across the spectrum of styles. Three time McKnight Composer Fellow, recordings of his music are available on New Focus Recordings, Innova, and other labels, many featuring his long-time collaborators, the new music ensemble Zeitgeist (whose albums he produces). His music is published by the American Composers Alliance, Tetractys, and Jeanné. He is a Professor of Music at St. Cloud State University, Minnesota, where he teaches composition, electroacoustic music and theory. He is Past-President (2014-18) of the Society for Electro-Acoustic Music in the U.S. (SEAMUS) and presently Director of SEAMUS Records.
http://www.scottlmiller.net/
Nina C. Young
Nina C. Young (b.1984) writes music characterized by an acute sensitivity to tone color manifested in aural images of vibrant, arresting immediacy. Young's music has garnered international acclaim through performances by the American Composers Orchestra, Milwaukee Symphony Orchestra, Nouvel Ensemble Moderne, Either/Or, JACK Quartet, and Sixtrum. A recipient of the 2015 Rome Prize, a Charles Ives Scholarship, the Martirano Memorial Award, the Druckman Prize, and honors from BMI, Young has held fellowships at the Atlantic and Aspen Music Festivals, and the Tanglewood Music Center. A graduate of McGill and MIT, Nina is completing her DMA at Columbia University. She worked as a research assistant at the MIT Media Lab and CIRMMT and is currently an active participant at the Columbia Computer Music Center.
http://ninacyoung.com