The third volume of releases from the APNM (Association for the Promotion of New Music) focuses on works that incorporate the electronic medium. Techniques ranging from analog synthesis, manipulation of pre-recorded material, strictly computer generated material, and integration with live performance shape the works in this set. The APNM was founded in 1975 by Jacques-Louis Monod to provide a community for composers with a shared aesthetic sensibility. The organization presents concerts, promotion, and publishing services to its member composers.
Erik Lundborg's haunting Miss Anderson opens the program. Assembling material from a synclavier improvisation in 1987 by the composer, the work is expansive and atmospheric. A dense series of sustained harmonies morphs as internal voices are added, removed, and shifted, creating a seven minute chorale. Registral and timbral changes mark structural areas, notably the introduction of airy, gong-like songs near the five and half minute mark that lend the final ninety seconds of the work a disembodied character.
Ionel Petroi's Huit Danses Surprise features sounds from the DX7 synthesizer, processed with rapid frequency modulations. Quick, narrow oscillations of pitch in the introduction are reminiscent of the theremin, creating concentrated energy within each new pitch entrance. A more diverse textural landscape follows, with rhythmic articulations framing a series of contrasting gestures, and a sectional form carving out space to explore various timbral variations. The closing passage of the piece returns to the sound world of the introduction, albeit in intensified form.
Read More
Hiroya Miura's Chromatograph - Hommage to Švankmajer takes its inspiration from the work of a Czech master of stop motion animation, Jan Švankmajer. Fascinated by the ways that the viewer's perception of visual objects can be shaped by how an animator handles the transition from one frame to the next, Miura composed a work that emulates this process in sound. Focusing on the tremolo technique of mallet instruments, itself an illusion of sustain produced by stringing together many minute elements not unlike animation, Miura played with the rate of articulation and arrangement of material to experiment with ways of shading the composite result.
Louis Goldford's De la détente for fixed media, violin, and cello, is dedicated to Michael McElvain, a friend of Goldford's and pianist who tragically passed away. We hear processed excerpts of McElvain's voice, taken from voicemails Goldford saved, mixed with shards of material in the violin and cello. Goldford embeds glitchy, unstable textures throughout the piece, almost to suggest a fragile connection with someone who is no longer with us, piecing together fragments of sonic memory. Despite the melancholy context, we also hear hints of the casual, whimsical communication he shared with McElvain in Goldford's treatment of the voicemail recordings and the character of interaction between the acoustic instruments and the electronics.
Three Trees 1 by Michael Gogins is an algorithmically generated composition that uses a system Gogins designed in Java. The percolating modal material undulates through arpeggiated figures, reveling in bell-like timbres and varying levels of density. The coolness of the sounds and inexorable unfolding of material give the piece an otherworldly quality.
Peter Child's When the Sky Clears is written for computer generated sound and narrator, using Pure Data and relying on sounds that are drawn from the early vocabulary of electronic music, such as sinusoidal oscillators, filtered noise, and musique concrète. As such, no live performance is exactly the same. The Gertrude Stein-esque text is by visual artist Lina Viste Grønli, and plays with syntax, meaning, and the ambiguous nature of language, and in its climactic stanza, plays with the phrase "This is not America" in the context of the charged atmosphere during the Trump era. A recording of a storm and subsequent bird song follows, providing a hopeful coda.
Aine Nakamura's The koma is not for spinning is a sound collage of recordings of the composer's voice speaking in English and Japanese, and singing. Engaging with issues of multi-dimensional identity, home, and the natural world, Nakamura creates a ritualistic meditation that straddles diverse sources of expression.
The final work on the recording, Krists Auznieks' Avots, is written for fixed media with glockenspiel, and centers that instrument's fragile, innocent timbre as a focal point around which the electronics create swelling, atmospheric halos of sound. The glockenspiel plays constellations of luminous pitches, outlining similar contours with subtle variation. At the midpoint of the piece, the glockenspiel rests, revealing the undulating chords in the electronics, before returning with a scalar passage, surrounded by tintinnabulating tremolos.
– Dan Lippel
Association for the Promotion of New Music
APNM was founded in 1975 by Jacques-Louis Monod as a community of American composers with the purpose of sharing common musical values and creating a network of professional support. APNM fosters the compositional creativity of its members by offering performances of their music, publication services, and promotional visibility.
APNM offers publishing services through the Subito Music Corp. APNM composers are published, but fully maintain their copyright, keeping half of their royalties, and are free from any contractual obligations. APNM promotes its member catalog through its website.
APNM presents concerts of members' music at New York City venues at least twice per year, partnering with virtuosic performers and ensembles including members of Argento and Ensemble Pi. APNM holds an annual Composition Call for Scores Contest, seeking public submissions, particularly from emerging composers. Winners are rewarded with performance and membership.
Erik Lundborg
Erik Lundborg was born in Montana in 1948. He started composing at a young age, and at 15 got his first performances from the Helena Symphony. Coming East, he earned a BM degree from the NEC (1971) and MA and DMA degrees from Columbia University, and was a founding member of the Composers Ensemble.
He has worked in Hollywood as an orchestrator on films, including The Curious Case of Benjamin Button, The Golden Compass, Spider-Man 3, Talladega Nights, Matrix Revolutions, The Matrix Reloaded, and House on Haunted Hill, along with many others. He orchestrated a new version of NBC's Days of Our Lives and the TV news logo for Aktuellt on Sweden's TV 1. Lundborg also worked in the game industry and composed music for the videogame Enter The Matrix.
His works have been performed and recorded by the London Philharmonic, the Houston Symphony, the American Composers Orchestra, Speculum Musicae, St. Luke's Chamber Ensemble, The Group for Contemporary Music, Parnassus, Pittsburgh New Music Ensemble, Da Capo Chamber Players, New Music Consort and the Monday Evening Concerts, among others.
He has won fellowships from the Guggenheim Foundation, Meet The Composer/ New Residencies, the MacDowell Colony and three National Endowment for the Arts Fellowships. He's also received a Warner Bros./Nonesuch Commission, and a recording grant from the Martha Baird Rockefeller Fund for Music. He is a 2019 recipient of an award from the Bronx Council on the Arts for excellence in Music Composition, funded by the NYC Cultural Affairs and the New York State Council on the Arts.
Lundborg has taught composition and theory at the Manhattan School of Music, Bennington College, the University of Pittsburgh, Baruch College CUNY, Willamette University and taught composition in 2014 at Esther Boyer College of Music and Dance -Temple University in Philadelphia, Pennsylvania.
His music can be heard on the CRI, New World, Leonarda and Opus One labels and is published by the ACA and APNM. He serves as President of the APNM.
Ionel Petroi
Ionel Petroi is a prolific composer who has written more than 90 orchestral, chamber, ballet, opera and instrumental ensemble works (also with data-processing devices) and film music. After winning the prestigious First Prize in Composition, "Stevan Hristic" at the Belgrade Conservatory in 1983, Mr. Petroi moved to Paris, where he continued his postgraduate studies at the Conservatoire National Supérieur de Musique in Paris, winning the Premier Prix of 1988, in Composition. His main teachers there were Claude Ballif (composition) and Marius Constant (orchestration).
During his years of studying composition at the Conservatoire, Petroi was under the tutorship of many greats: Oliver Messiaen, with whom he studied and took his master classes in composition in 1985, Iannis Xenakis, with whom he studied in 1987, Pierre Boulez, with whom he studied in 1988, and Gyorgy Ligeti. In 1987 and 1989, his curiosity took him to IRCAM, where he furthered his musical explorations by learning about new technologies and finding many innovative ways of creating fresh sounds.
His works have been broadcast in France as well as many radio and television programs in Germany, Belgium, Holland, Switzerland, Luxembourg, Spain, Yugoslavia, Romania, Russia and the USA. His works are published by Universal Music Publishing Classical (Durand, Salabert, Ricordi) and IBOX. In 2019 Ivanka Stoianova wrote RELATIVE MAN: The Music of Ionel Petroi.
Besides being a prolific classical composer, Petroi is an active film composer. He has composed film scores for twenty films from various French, Canadian, Swiss, Belgian and American productions, some of which have been presented at festivals in Cannes, Venice, Chicago, London, Kiev, Toronto and Stuttgart.
Mayumi Sekizawa
A native of Japan, Mayumi Sekizawa is a marimbist who has performed as a soloist across the United States, France, Germany, Austria, China, Belgium and Japan. She has won many national and international solo competitions, including the first prize at the 1994 Classical Music Competition (Japan), Manhattan School of Music Concerto Competition in 1998 (USA), the first prize Grace Woodson Memorial Award of the Houston Symphony National Young Artist Competition in 2000 (USA), the third prize of the International Marimba Competition in 2001(Belgium) and IBLA Grand Prize Marimba Special Mention Award in 2003 (Italy). Ms. Sekizawa received both her bachelor and master's degrees in marimba from the Musashino College of Music, Japan. She also holds a master's degree and professional studies certificate in percussion from the Manhattan School of Music.
Pala Garcia
Pala Garcia is a critically acclaimed violinist, balancing a full performance schedule with her work as an educator and advocate of socially conscious artistry. A contemporary music specialist, she is the violinist of Longleash, an "expert young trio" (The Strad) and co-directs the Loretto Project, a new music festival and seminar now in its seventh season. In addition to her longstanding involvement as a teaching artist in Carnegie Hall's social impact programs, Pala also teaches at Hunter College and the Juilliard School's Prep Division, and is a doctoral candidate at the CUNY Graduate Center.
http://palagarcia.com
John Popham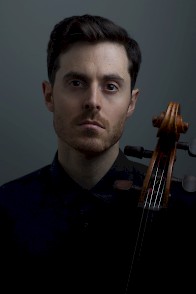 Cellist John Popham is a chamber musician and teacher based in Brooklyn, New York. His playing has been described as "brilliant" and "virtuosic" (Kronen Zeitung), "warm but variegated", and "finely polished" (The New York Times).
Currently a member of Either/Or Ensemble and LONGLEASH, Mr. Popham has performed internationally with groups including Klangforum Wien, Talea Ensemble, and the Argento Chamber Ensemble. He has appeared as soloist with the Louisville Orchestra, the String Orchestra of Brooklyn, the Red Light Ensemble, and the Kunstuniversität Graz Chorus.
Recent festival appearances include Brücken (Austria), Open Musik (Austria), IMPULS (Austria), the Vermont Mozart Festival, USINESONORE (Switzerland), Bay Chamber (Maine), the Contemporary Classical Music Festival (Peru), Lucerne Festival, and Klangspuren (Austria).
Dedicated to new music performance, Mr. Popham has worked with composers including Pierre Boulez, Tristan Murail, Steve Reich, Nils Vigeland, and Reiko Füting. The recipient of a Fulbright research grant, Mr. Popham spent the 2013/2014 academic year in Austria, where he studied the performance practice of Klangforum Wien and worked with leading figures in contemporary Austrian music: Beat Furrer, Georg Friedrich Haas, Klaus Lang, and Pierluigi Billone.
Mr. Popham is currently cello faculty of the Extension Division of Rutgers University. He received his BM and MM from the Manhattan School of Music where he was a student of David Geber and David Soyer and was awarded the Manhattan School of Music Full Scholarship. He has recorded for Tzadik, Carrier, New Focus, Albany, and Arte Nova records.
http://www.johnpatrickpopham.com
Michael Gogins
Michael Gogins was born in 1950 in Salt Lake City, Utah, and lived there till 1973, with many trips to mountains, desert, and unlocked university labs. His father was an inventor, his mother a fine artist and commercial artist. He has pursued poetry, photography, music performance, and music composition.
He has lived in Los Angeles, New York, Seattle, and now New York again. He received a B.A. in comparative religion from the University of Washington, 1984. While studying comparative religion, he also took seminars in computer music with John Rahn. Computer music gradually became his major interest. It also enabled him to make a living as a software engineer. In the late 1980s, he benefited greatly from Brad Garton's openness to non-student participation in the woof user group and concerts at the Columbia-Princeton Electronic Music Center.
Currently, he contributes code to Csound, maintains the VST opcodes for hosting VST plugins in Csound, maintains the Csound for Android app, and maintains the csound-extended package incorporating various facilities for algo- rithmic composition in JavaScript, C++, and Common Lisp. He writes and gives talks on computer music, and creates computer music. He has a special interest in algorithmic composition and is currently working to bring new developments in mathematical music theory into algorithmic composition software. He is married to Heidi Rogers, who before she retired owned Frank Music Company, a classical sheet music store in New York; they live on the Upper West Side of Manhattan and in the Catskills.
Peter Child
Peter Child grew up in East Anglia and received his first composition lessons from the English composer Bernard Barrell at age 12. After graduating from Reed College in 1975 and studying Karnatic music in Madras through Thomas J. Watson Fellowship (1975-76), he entered the graduate program at Brandeis University and earned his Ph.D. in musical composition in 1981. His later teachers include William Albright, Arthur Berger, Martin Boykan, Jacob Druckman (Tanglewood), and Seymour Shifrin. Child is presently Class of 1949 Professor of Music and a Margaret MacVicar Faculty Fellow at Massachusetts Institute of Technology.
Child has been awarded three Artists Fellowship from the Massachusetts Cultural Council, most recently in 2015. He was American Symphony Orchestra League-Meet the Composer "Music Alive" composer-in-residence with the Albany Symphony Orchestra in 2005-08 and composer in residence with the New England Philharmonic 2005-11. Recordings of Child's music have been released on BMOP/Sound, Lorelt, New World, Naxos, Albany, Innova, CRI, Neuma, Rivoalto and Centaur compact discs. His music has been premiered by numerous prominent festivals and ensembles in Europe and the United States, including Tanglewood, the Bergen International Festival in Norway, Britain's Lontano Festival of American Music in London, Collage New Music, the Boston Musica Viva, the Cantata Singers and Ensemble, and many more.
In recent years he has collaborated extensively with Norwegian visual artist Lina Viste Grønli, often writing new works that are featured at her exhibition openings.
Aine Nakamura
Aine E. Nakamura is a singer, composer, and performer, and currently resides in Berlin, Germany as an awardee of the Fulbright fellowship (2021-2022). She creates art of voice and body, a new performance language, through her focus on orality and body movements, and through stories. Her upcoming shows include a new work for site-specific performances at the Venice Biennale at its 50th International Theatre Festival. She has presented her one-woman performances at Berliner Festspiele 2022 Theatertreffen in Berlin (2022), the Gallatin Galleries NY (2021), A Concert of Electronic Music in honor of Mario Davidovsky (2019), and her compositions and installations at Dias de Música Electroacústica (2019), New York City Electroacoustic Music Festival (2018), October New Music Festival in Finland performed with Mikro Ensemblen (2018), and Abrons Arts Center with ICE (2019). She has given talks and lecture-recitals at University of Pittsburgh, McGill Schulich School of Music, and Humboldt University of Berlin.
Composer Annea Lockwood commented on her work: "Its intense vulnerability and the beautiful layering of voices—distant, close, together with [her] movements, flowing was very moving."
Russell Fisher
Russell Fisher is a percussionist, educator and composer. As an emerging voice in the contemporary music landscape, Russell has commissioned new works for many mediums. As a chamber musician, Russell has been featured in the Yale Percussion Group, Yale In New York Concert Series at Carnegie Hall, on the Brooklyn Bound Series, Sō Percussion Summer Institute, and the Oneppo Chamber Music Series at the Yale School of Music. Fisher is a co-founder of several chamber music groups including a percussion quartet, percussion duo, and viola-percussion duo. As a soloist, Russell has performed with the NYU Symphony Orchestra, Greater Bridgeport Youth Symphony, and NYU Chamber Music Ensemble.
Russell is an active member of the booming steel pan scene. He has performed in Panorama competitions with both Crossfire Steel Orchestra and CASYM Steel Orchestra. It has been his personal mission to continue to commission and perform new works for steel pan. Most recently, Russell commissioned Tanner Porter to write a percussion duo with a steel pan feature.
Hiroya Miura
Hiroya Miura, a native of Sendai, Japan, has been active as a composer and performer in North America. Acclaimed by Allan Kozinn of New York Times as "acidic and tactile," Miura's compositions explore "the continuous change of balance" amongst the traditions, players, instruments, and sound objects.
Miura composed works for various ensembles including American Composers Orchestra, Prague's BERG Orchestra, le Nouvel Ensemble Moderne, Momenta Quartet, and members of Reigakusha (gagaku ensemble based in Tokyo), which were presented in venues and festivals such as Lincoln Center's Alice Tully Hall, Carnegie Hall, Yomiuri Hall, Tanglewood, Ostrava Days (Czech Republic), and Havana Contemporary Music Festival (Cuba). He holds a D.M.A. degree from Columbia University, and he is Associate Professor of music at Bates College, where he teaches music theory and composition, and directs the college orchestra. He also serves as Artistic Director of Columbia University's IMJS/ Japanese Cultural Heritage Initiatives.
Louis Goldford
Louis Goldford is a composer of instrumental and mixed music based in New York City. His works are characterized by processes of emergence and approximation, interwoven psychoanalytic and existential formal models, and traversals of abstract resonances and virtual spaces which, at times, have involved data sonification and experimental approaches to orchestration. Louis is the recipient of a 2021 Fromm Commission from Harvard University. In 2019, Louis completed his Cursus at IRCAM, supported by the Fulbright Commission in France. Louis has been a Laureate of the Voix Nouvelles of Fondation Royaumont and a Laureate and resident composer of the Cité internationale des arts in Paris. Recent performances include those by the International Contemporary Ensemble, Ensemble Linea, Wet Ink, the Talea Ensemble, Yarn/Wire, Fonema Consort, the JACK Quartet, and Ensemble Dal Niente, among others. His works have been featured at Royaumont Abbey, IRCAM's ManiFESTE, Festival d'Aix-en-Provence, the Northwestern University New Music Conference, the International Computer Music Conference, June in Buffalo, and other international festivals. Louis is currently a Dean's Fellow at Columbia University, where he studies with George Lewis, Georg Friedrich Haas, Zosha Di Castri, Brad Garton, and Fred Lerdahl.
Krists Auznieks
Krists Auznieks has been praised for his "exhilarating... stunning... luminous" (San Francisco Classical Voice) music, possessing "astonishing complexity and beauty" (Broadwayworld), "other-worldly harmonies" (The New York Concert Review), and "old-fashioned elegance" (Herald Tribune). His quintet Piano was featured in The New York Times among the week's best classical music moments; he is also a recipient of Aspen Music Festival's Jacob Druckman Prize, International Rostrum of Composers 2021 Award, and the youngest composer to ever receive the Latvian Grand Music Award. In 2021 he was also named the Person of the Year in Latvian Culture.
Auznieks has been commissioned by Atlanta Symphony, Aspen Music Festival, American Composers Orchestra, Norfolk Chamber Music Festival, Bang on A Can, Swedish Radio, Kremerata Baltica, Yale Percussion Group, Cappella Amsterdam, Latvian Radio Choir, Kaleidoscope Chamber Orchestra (Los Angeles), Between Feathers (Vienna), and Sinfonietta Riga. He is currently working on a multi-media work for Canadian soprano Meghan Lindsay. In season 22/23 Auznieks will be a resident composer with the Latvian National Symphony Orchestra.
Auznieks' music has been performed at The Carnegie Hall, The Kennedy Center, The Walt Disney Concert Hall, The Royal Danish Theatre, Atlanta Symphony Hall, Prague Quadriennial, Beijing National Arts Centre, Shanghai City Theatre, Amsterdam's Muziekgebouw, The Southbank Center (London), Théâtre Maison-neauve (Montreal), The Kitchen (NYC), National Sawdust (NYC), Chassé Theater (The Netherlands), Cultuurcentrum Hasselt (Belgium), Théâtre De Nîmes (France) and featured in Gaudeamus Muziekweek (Holland), Aspen Music Festival, American Music Festival (Albany, NY), MATA 2017 (NYC), SO Percussion Day of Awesomeness, Arctic Arts Festival (Norway), European Capital of Culture Aarhus 2017 Festival (Denmark), and Chelsea Music Festvial (NYC).
His music has also been performed by Albany Symphony, Estonian National Symphony Orchestra, Sarasota Symphony, Latvian Radio Big Band, Contemporaneous, pianists Vicky Chow, Stephen Gosling, David Fung, Melvin Chen, conductors Robert Spano, Patrick Summers, Christopher Rountree, bassists Robert Black, and guitarist JIJI. Other recognitions include fellowships from Hermitage and AIR Serenbe residencies, NEXT Festival of Emerging Artists (NYC), Bennington Chamber Music Conference, American Academy of Fontainebleau and Norfolk Chamber Music Festival, The Woods Chandler Memorial Prize from Yale, awards from American Composer Orcestra's Earshot, The Chicago Ensemble's Discover America XI, Association for the Promotion of New Music, and Kaleidoscope Chamber Orchestra competitions.
He received his Doctoral and Master's degrees from Yale School of Music, and his undergraduate degree from The Royal Conservatory of The Hague. He has served on the faculty of Yale School of Music, Montclair State University, Latvian Music Academy, and has also taught for New York Philharmonic's Very Young Composers Program.