Since electronic music's early years, preferred technology has framed the repertoire and provided landmarks for its evolution. Many of these technologies can be traced to specific centers of musical activity, such as the RCA Mark II Sound Synthesizer which was so closely associated with the Columbia-Princeton Electronic Music Center. As electronic music technology became more widely accessible to the general population, the instruments for composition shifted to retail digital platforms. Robert Gross' chosen instrument is the Absynth semi-modular synthesizer, developed by German music software company Native Instruments. The electronic sounds on Chronicles are all made using the Absynth 5 synthesizer, and such, the sound of the recording and Gross' cultivated vocabulary on it are shaped by his relationship with this instrument.
Five of the works included are part of Gross' Chronicles series, three electro-acoustic pieces for instrument and synthesizer and two for electronics alone. The recording opens with Chronicles VIII for piano, performed by Jeanette Louise Yaryan. When not engaged in a direct call and response dialogue, Gross uses the electronics to erect a sci-fi style soundscape that alternately antagonizes and amplifies the performer protagonist. Gross straddles a line between sinister sounds and wryly comic ones, as select passages become dense with chromatic counterpoint. Chronicles XIII for guitar follows, and opens in a brooding character, mixing Gross' penchant for intervallic saturation with a characteristically guitaristic E phrygian hue to the material. A driving middle section follows with accented dyads and connecting figuration. Gross closes the piece with a reprise of the opening section, this time with more filigree before the texture diffuses into an ambiguous halo.
As with other similar series of electro-acoustic works, it is fascinating to see how Gross' approach changes as it is filtered through each individual instrument. The electronics in Chronicles V for horn imitate the more complex sonic envelope of a wind instrument, employing more swells and enveloping gestures from the synthesizer. Since the horn is a melodic instrument, the Absynth assumes the primary responsibility of framing the harmony. Chronicle V is also less rhythmically driving than the previous Chronicles, instead relying more on synchronous intersections of arrival points in the live and electronics parts.
Chronicles for synthesizer is for electronics alone and is freely post-tonal. We hear some similar gestures that were key components in the guitar and piano works, but liberated from the need to integrate a performer, Gross' material takes on a more phantasmagorical quality and the electronics are more multi-dimensional. Chronicles XIV is in memory of Charles Wuorinen who passed away in March 2020, and whose Time's Encomium for single synthesizer was a major inspiration for Gross. Wuorinen's work was written in at most three channels in two large parts over thirty minutes, and Gross emulates these structural restrictions in this ambitious work. Chronicles XIV shows Gross' electronic music writing at its most virtuosic, at times emulating a space age multi-stop organ with contrapuntal imitation, at others a relentless post-minimalist machine of overlapping rhythmic gestures. The piece closes with several low tolling chords, a final weighty remembrance of a composer who had such a profound influence on many.
The remaining works in this collection are no less ambitious, but add the component of the voice to Gross' use of the synthesizer. Nothing Has Changed is in a Reich-ian tradition of organizing vocal samples within an electronic texture and moving them around within the pulse to integrate the words as a component of the instrumental fabric. Gross wrote the work in response to the gun crisis in the United States, and to express his frustration. A bass ostinato pulsates under higher register passagework, as Gross applies various processing to the haunting phrase "nothing has changed" – the phrase becomes more and more obscure before returning to its unprocessed stated by the end of the piece, symbolizing, indeed, that nothing has changed.
Dressing Station (2020) is a setting for mezzo-soprano and synthesizer of a poem by George Green, a British soldier fighting in the Spanish Civil War, and memorializes those who resist fascism. Gross' use of electronics here is as a virtual orchestra for the straightforward delivery of the haunting text. The final work on the album is the audio opera Dissonance, scored for baritone, mezzo-soprano and synthesizer. The libretto is set at a memorial service and happens between the daughter of the deceased mother and her former promising piano student who had to leave the music field and works at the funeral home. Gross' approach prioritizes the text and plot, using the electronic orchestra to support the story and paint the content, and integrates more traditional classical textures to reinforce the piano component of the story. As one listens to the piece, it becomes apparent that the "dissonance" of the title refers to the daughter's relationship to her mother. The character Fitz sings, "Dissonance may not sound pretty, but it's alive. It means something is happening."
– Dan Lippel
Chronicles VIII recorded by Michael J. Quick, Idyllwild Arts Academy
Chronicles XIII recorded by Ryan Streber, Oktaven Audio
Daniel Lippel, Editing Producer
Nothing Has Changed recorded by Robert Gross
Chronicles V recorded by Christopher Griffin and Robert Gross
Chronicles recorded by Robert Gross
Dressing Station (Chronicles XVII) recorded by Howard Fredrics
Chronicles XIV (Chalres Wuorinen in Memoriam) recorded by Robert Gross
Dissonance recorded by Brandon Gibson, Brooke Clark Gibson, and Robert Gross
Cover image: HalGatewood.com, on Unsplash.com
Design & layout: Marc Wolf, marcjwolf.com
From Robert Gross:
"I would like to thank all the performers on this work without whom it would not be possible. I am deeply indebted to them. I would also like to thank all the staff and personnel at New Focus Recordings, who have made this release possible.  Finally, I would also like to acknowledge the ongoing support of my wife Rebecca and daughter Samantha also without whom it would not be possible."
Jeanette Louise Yaryan
Dr. Jeanette Louise Yaryan began performing and studying the piano at age three, winning numerous awards, scholarships, and competitions throughout the years. She holds two MM degrees from the Cleveland Institute of Music, and a DMA in Piano Performance from the University of Southern California. Professional endeavors have included performing at Carnegie Hall, Walt Disney Concert Hall, and Boston Court Theatre in Los Angeles. An accomplished soloist, she is also passionate about multidisciplinary performances, and enjoys incorporating varied elements in her work as an artist, including her original spoken word and musical arranging. Always interested in many styles of music, Jeanette is an avid chamber musician, studied Jazz, has worked extensively as a musical director for theatre productions, and worked for decades as a professional church pianist, organist, choir director, and vocal coach.
Currently, she is the Chair of the Music Department at the prestigious Idyllwild Arts Academy and Summer Program, an international boarding arts high school where Jeanette has taught private piano lessons, chamber music, advanced music theory, collaborative piano, multidisciplinary performance, vocal coaching, and musical theatre. She has been an invited pedagogue in China, Australia, Germany, and the UK, and has spoken at international conferences in Malaysia, Italy, Brazil, Scotland, and England, including at a conference for visually-impaired musicians.
Jeanette enjoys living in the artistic community of Idyllwild, California, with her cat, Luna. Her students know her as one who "loves math, and puns," and she adores travel, languages, "foodie" things, live comedy, art museums, and contemporary opera.
Daniel Lippel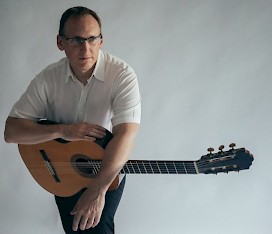 Guitarist Dan Lippel, called a "modern guitar polymath (Guitar Review)" and an "exciting soloist" (NY Times) is active as a soloist, chamber musician, and recording artist. He has been the guitarist for the International Contemporary Ensemble (ICE) since 2005 and new music quartet Flexible Music since 2003. Recent performance highlights include recitals at Sinus Ton Festival (Germany), University of Texas at San Antonio, MOCA Cleveland, Center for New Music in San Francisco, and chamber performances at the Macau Music Festival (China), Sibelius Academy (Finland), Cologne's Acht Brücken Festival (Germany), and the Mostly Mozart Festival at Lincoln Center. He has appeared as a guest with the St. Paul Chamber Orchestra and New York New Music Ensemble, among others, and recorded for Kairos, Bridge, Albany, Starkland, Centaur, and Fat Cat.
http://www.danlippel.com
Christopher Griffin
Christopher Griffin is principal horn of the Union Symphony Orchestra and third horn of the Western Piedmont Symphony. He is an active freelance musician and holds faculty positions at Wingate University, NC and Winthrop University, SC. He earned a doctor of musical arts from the University of Southern California, a double masters degree in music theory and horn performance from Temple University and the bachelor of music in horn performance from Auburn University. His primary horn instructors include Richard Todd, James Decker, Randy Gardner and Randall Faust. He is a life member of the International Horn Society.
Lori Joachim Fredrics
Soprano Lori Joachim Fredrics, a native of New York City, received a BM from William Paterson University of New Jersey and a MM in Voice Performance from The University of Texas at Austin.
A member of AGMA and A.E.A, Ms. Fredrics has performed many roles in opera, musical theatre and plays as well as appearing as a soloist in major international music festivals in the US, Canada, Scandinavia, Latin America and Asia in such diverse venues as the Seoul Opera House, The Banff Center for the Arts, Lincoln Center, The Barbican Centre in London and the Museo Naçional De Bellas Artes, Havana. She made her London opera directing debut in The Whitechapel Whirlwind at the Bloomsbury Theatre in 2005 and recently directed Semillas de Talento and the Teatro del Barrio in Manhattan.
Brandon Gibson
Baritone Brandon Gibson's solo concert repertoire includes many of Bach's sacred cantatas, Orff's Carmina Burana, Mozart's Requiem, Handel's Messiah. In recent seasons he has been a soloist with American Baroque Opera Company, The Dallas Bach Society, The Irving Symphony, Voces Intimae, Lovers Lane United Methodist Church, and the Plano Symphony and Civic Chorus, among others.
This past season, Brandon performed the twin roles of Apollon and Pluton in Marc-Antoine Charpentier's La descente d'Orphée aux enfers, and also repeated the role of Melchior in Menotti's Amahl and the Night Visitors. Other recent stage roles include the title character in The Mikado, and the roles of Zacharias and Simeon in Randall Thompson's The Nativity Ac- cording to St. Luke.
Brandon attended Rice University and Southern Methodist University where he earned his Bachelor's and Master's degrees, respectively, in vocal performance. In addition to his current focus on concert work, Brandon previously traveled and performed regionally with various opera companies, including Amarillo Opera, South Texas Lyric Opera, Opera in the Heights, et al. He has collaborated frequently with composer Robert Gross on new works, and enjoyed making new compositions part of his repertoire.
Brooke Clark Gibson
Hailed by Scott Cantrell of The Dallas Morning News as "a potent mezzo, impressively even from top to bottom ..." and an "impressive musical dramatist...," mezzo-soprano Brooke Clark Gibson has garnered critical praise for her dramatic sound and vivid character portrayals in opera and concert repertoire. Chester Rosson of Texas Monthly magazine wrote, "... Is there any role that she can't play?" A frequent recitalist and concert artist, Ms. Clark Gibson takes great joy in curating programs of an autobiographical nature. An earnest champion of composers and new works, she is greatly honored to premiere the role of Tricia in American composer Robert Gross' one-act chamber opera Dissonance released on the New Focus Recordings record label. Her extensive repertoire ranges from Santuzza (Cavalleria Rusticana) to Charlotte (A Little Night Music) to Verdi's Requiem and the dramatically orchestrated songs of Sibelius.
Ms. Clark Gibson has performed as a guest artist with such companies as the Dallas Symphony Orchestra, Fort Worth Symphony Orchestra, the Indianapolis Chamber Orchestra, Plano Symphony Orchestra, Indianapolis Opera, Amarillo Opera, Opera North, Opera in the Heights (Houston),The Dallas Bach Society, Plano Civic Chorus, Camerata Dallas Young Soloists Orchestra, Carmel Symphony Orchestra, Meadows Symphony Orchestra, Voces Intimae, Dallas Puccini Society, Lyric Stage (Irving), The Living Opera, Intimate Opera, Brevard Music Festival, among others. A frequent guest soloist at churches across the DFW Metroplex, Ms. Clark Gibson currently sings at Lovers Lane United Methodist Church, having recently served as LLUMC's Vocal Coach. She recently completed two years on the Independent Voice Faculty of Booker T. Washington High School for the Performing and Visual Arts (where she also served as Voice Coordinator during her second year). She maintains an active performance career, a full private voice studio, and continues to professionally stage direct. Ms. Clark Gibson received her Bachelor of Music in Voice with Honors from Butler University (Indpls., IN), and Master of Music in Voice from the Meadows School of the Arts at Southern Methodist University. She resides in Dallas with her husband, baritone Brandon Gibson and their daughter, Lily Grace.
Robert Gross
Robert Gross received his DMA in music composition at University of Southern California where he also received a graduate certificate in Scoring for Motion Pictures and Television. He also received an MA in Music for Film, Television and Theatre from the University of Bristol; an MM in Music Composition from Rice University; and a BM in Music Composition from Oberlin Conservatory. He has taught graduate and undergraduate level music theory at Rice University.
He was half of Blind Labyrinth, with the late Kenneth Downey, an experimental electroacoustic music duo, whose album Blasted Light was released on the Beauport Classical label in 2014.
Awards and honors include winner of the Project Extended Composition Competition for Variations on a Schenker Graph of Gesualdo for flute and electronics; winner of the Arch Composition Award for Concerto for Piano and Wind Instruments; co-recipient of the Harry Warren Award for Scoring for Motion Pictures and Television from University of Southern California; special recognition award, First Music Competition of New York Youth Symphony; Winner, tri-annual Inter-American Music Awards Composition Competition for Sonata for Solo Unaccompanied Violin, with the winning work published by C.F. Peters and featured on the cover of Pan Pipes magazine; orchestra work Halcyon Nights selected for Whitaker New Music Readings by American Composers Orchestra; twice ASCAP Victor Herbert Award recipient; Young American Composers' First Hearing Finalist with Civic Orchestra of Chicago.
He has presented papers at the national Society for Music Theory conference, the Texas Society for Music Theory Conference, the West Coast Conference of Music Theory and Analysis, and both national and regional chapters of Society of Composers, Inc. His post-tonal analyses have been published in Perspectives of New Music and Journal of Schenkerian Studies.
He is a Board Certified Music Therapist, with an MA in Music Therapy from Texas Woman's University. His music therapy articles have been published in Voices: A World Forum for Music Therapy and in Qualitative Inquiries in Music Therapy.
Craig Pospisil
Craig Pospisil is an award-winning playwright and filmmaker. He is the author of the plays Months on End, The Dunes, Life is Short, and Somewhere in Between, all published by DPS, and new works The Poles of Inaccessibility and Water/Music. His plays have been seen at Purple Rose, Barrington Stage, Bay Street, Stages West, City Theatre (Miami), the Road (Los Angeles), New World Stages, around the US, and in two dozen countries on six continents, and translated into Dutch, French, German, Greek, Mandarin and Spanish. In 2018 his plays Months on End and Life is Short were translated in Japanese and published by Jiritsu Shobo Publishers in Tokyo. Craig has written over 60 short plays, including It's Not You (Take Ten II), On the Edge (Best Ten-Minute Plays: 2005), There's No Here Here (Best American Short Plays 2014-2015), Happenstance (Best Ten Minute Plays: 2015) and Dissonance (Best American Short Plays 2010-2011). Craig was head writer for theAtrainplays, for which he wrote sixteen short plays and musicals, three of which, It's Not You, Tourist Attraction and The Best Way to Go are published by Playscripts in theAtrainplays, Vol. 1 & 2. It's Not You was translated into Cantonese and published in An Anthology of Contemporary American Short Plays in Beijing. Craig wrote, along with Arlene Hutton, James Hindman Gretchen Cryer and others, The Gorges Motel, which premiered at the 20th annual New York International Fringe Festival, and One Christmas Eve at Evergreen Mall, which opened at the 21st annual FringeNYC. His short film January was an official selection at the Bahamas, Berkshire, Big Apple, Hollywood Sky and Roma Cinema international film festivals, among others, and received Honorable Mention in Screenwriting from the American Filmatic Awards. A native New Yorker, Craig graduated from Wesleyan University, and received an MFA from New York University's Dramatic Writing Program. He lives in Brooklyn with his wife, Bloomberg TV news anchor, Alix Steel and their daughter.