The intrepid quartet loadbang exists between the margins defined by their unorthodox instrumentation and the unnameable music that lies at that intersection (baritone voice, bass clarinet, trombone, trumpet) inspires fantastical concoctions in composers. If this release, loadbang's third and second on New Focus, can be summed up in no other way, it is certainly a testament to the fact that composers approach this ensemble with a sense of freedom and otherworldly creativity they might not find in themselves with more conventional instrumentations. The deftness with which the ensemble fields these diverse scores and renders them expressive and moving is further testament to their virtuosity, musicianship, and committment. Taylor Brook's Ouaricon Songs: Volume 2 opens the recording, oscillating between moments of austere beauty evoking Hindustani music (Brook studied Indian classical music performance in Kolkata, and the practice finds its way into his music, particularly in his use of microtones) and sarcastic moments of levity, short fanfare bursts of material that sound like they found themselves lost in the wrong piece. The effect is a clash of musical identities — a schizophrenic dialogue that is held uneasily at bay for much of the work and seems to boil over in the last few minutes. Trombonist and composer Will Lang contributes a new work to this collection, his Sciarrino Songs, an ethereal and ephemeral four movement piece that centers around repeated, intoned pitches surrounded by gentle trills and wind sounds. Angélica Negrón's dóabin is inspired by a story of two San Diego identical twins in the 1970s who invented their own language to communicate in the absence of learning a language from their caretakers. Hocketing lines in the winds and electronic pads frame the invented syllables in the baritone, and children's voices in the electronics, occasionally colored in quasi-unison by the instruments, animate the twins' world with joy and fantasy despite their linguistic isolation from others. Reiko Füting's mo(nu)ment for C opens with meticulously choregraphed phrases of breaths and vocal syllables, and pitched material enters gradually as notes breathing into the texture. As the soundworld evolves, groups of repeated notes crescendo, ascending lines are passed through the ensemble, and the baritone voice floats above, in between, and around the ensemble. The foundation of pulsing breath sounds is never far away in this tightly wrought piece that develops its argument through repetition with variation, motivic development, and timbral accumulation. The impetus for Jeff Gavett's Musicorum et Cantorum is drawn from writings by medieval music theorist Guido d'Arezzo that posits fundamental distinctions between instrumentalistis and singers — Gavett sets out in this piece to render those distinctions irrelevant in various ways. Scott Wollschleger's What is the Word is a setting of Samuel Beckett's final poem, dedicated to a friend with aphasia, a disorder that disables an individual's ability to formulate and comprehend language due to brain damage. In the opening movement, we hear a steady chromatic ascent in the voice, intensifying the poem's stuttered utterances as they progress. In the second and third movements, Wollschleger manifests the affliction in the fragmentary presentation of both text and musical material, constructing glitchy, off-kilter machines in the ensemble that struggle to limp forward. The work finishes with a last gasp at being understood in the clarinet, rising chromatically in an echo of the opening movement before a final slap ends the piece, presumably in resignation to the power of this frustrating condition. Paula Matthusen's title track closes the recording, a cathartic layering of live recordings of loadbang from different points in time, suspended together in the listener's present moment of experience.
– D. Lippel
loadbang
New York City-based new music chamber group loadbang is building a new kind of music for mixed ensemble of trumpet, trombone, bass clarinet, and baritone voice. Since their founding in 2008, they have been praised as 'cultivated' by The New Yorker, 'an extra-cool new music group' and 'exhilarating' by the Baltimore Sun, 'inventive' by the New York Times and called a 'formidable new-music force' by TimeOutNY. Their unique lung-powered instrumentation has provoked diverse responses from composers, resulting in a repertoire comprising an inclusive picture of composition today. In New York City, they have been recently presented by and performed at Miller Theater, Symphony Space, MATA and the Avant Music Festival; on American tours at Da Camera of Houston, Rothko Chapel, and the Festival of New American Music at Sacramento State University; and internationally at Ostrava Days (Czech Republic), China-ASEAN Music Week (China) and Shanghai Symphony Hall (China).
loadbang has premiered more than 250 works, written by members of the ensemble, emerging artists, and today's leading composers. Their repertoire includes works by Pulitzer Prize winners David Lang and Charles Wuorinen; Rome Prize winners Andy Akiho and Paula Matthusen; and Guggenheim Fellow Alex Mincek. Not content to dwell solely in the realm of notated music, loadbang is known for its searing and unpredictable improvisations, exploring the edges of instrumental and vocal timbre and technique, and blurring the line between composed and extemporaneous music. To this end, they have embarked on a project to record improvisations and improvised works written by members of the ensemble. These recordings are designed, fabricated, and released in hand-made limited editions. loadbang can also be heard on a 2012 release of the music by John Cage on Avant Media Records, a 2013 release of the music of loadbang member Andy Kozar titled 'On the end...' on ANALOG Arts Records which was called 'virtuosic' by The New Yorker, a 2014 release on ANALOG Arts Records titled Monodramas, a 2015 release on New Focus Recordings titled LUNGPOWERED which was called 'new, confident, and weird' by I Care If You Listen and 'an album of quietly complex emotions' by The New Yorker, and a 2017 Bridge Records release titled Charles Wuorinen, Vol. 3, featuring the music of Charles Wuorinen.
loadbang is dedicated to education and cultivation of an enthusiasm for new music. They have worked with students ranging from elementary schoolers in the New York Philharmonic's Very Young Composers program and the Baltimore Symphony Orchestra's OrchKids Program to college aged student composers at institutions including Columbia University, Cornell University, Manhattan School of Music, New York University, Peabody Conservatory, Princeton University, University of Buffalo, and Yale University. They are in residence at the Charlotte New Music Festival, the Longy School of Music's summer program Divergent Studio, and all four members are on the instrumental and chamber music faculty of the Longy School of Music of Bard College in Boston.
Taylor Brook
Taylor Brook has studied composition with Brian Cherney in Montreal, Luc Brewaeys in Brussels, and George Lewis, and Georg Haas in New York. Brook has also studied Hindustani musical performance in Kolkata, India, with Pandit Debashish Bhattacharya. His music is often concerned with finely-tuned microtonal sonorities and toying with multifarious musical references and styles.
Brook writes concert music, music for video, and music for theater and dance. His work has been performed around the world and has been described as "gripping" and "engrossing" by the New York Times. Brook has won numerous awards and prizes for his compositions, including the MIVOS/Kantor prize, the Lee Ettelson award, and several SOCAN young composers awards including the grand prize in 2016. Brook has been a finalist in the Gaudeamus prize and was awarded honorable mention for the Jules Leger prize two years in a row. His music has been performed by ensembles and soloists such as the Nouvel Ensemble Moderne, Quatour Bozzini, JACK Quartet, MIVOS quartet, Talea Ensemble, Ascolta Ensemble, and many others.
Brook's current projects include a new piece for New Thread Saxophone Quartet and a new string quartet for the JACK quartet. Brook holds a master's degree in music composition from McGill University. He currently resides in New York City, where he is completing a doctorate in music composition at Columbia University and working as a freelance composer.
Reiko Füting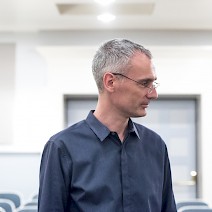 Reiko Füting was born in 1970 in Königs Wusterhausen in the German Democratic Republic. He studied composition and piano at the Dresden Conservatory (Germany), Rice University, Manhattan School of Music, and Seoul National University (South Korea). Some of his most influential teachers have been Jörg Herchet and Nils Vigeland (composition), and Winfried Apel (piano). In addition to being a composer, he is an avid performer who has appeared in Europe, Asia, and the United States. Since 2000, Füting has been teaching composition and theory at Manhattan School of Music, where he serves as the chair of theory department. He has also taught vocal accompanying at the Conservatory of Music and Theater in Rostock, Germany, and appeared as guest faculty and lecturer at universities and conservatories around the world.
Scott Wollschleger
Scott Wollschleger (b.1980, Erie, PA) is a Brooklyn-based composer of solo, chamber, and dramatic music. His distinct musical language explores themes of art in dystopia, the conceptualization of silence, synesthesia, and creative repetition in form. Wollschleger's music has been described as "evocative" and "kaleidoscopic" (The New York Times) and Alex Ross recently noted that Wollschleger "has become a formidable, individual presence" (The Rest Is Noise). Much of his music features a sense of "timeless lyricism", a quality that influential avant-garde jazz pianist and blogger Ethan Iverson described as "the highlight of the disc" in his enthusiastic review of Wollschleger's Brontal No. 3 on Red Light New Music's debut album Barbary Coast, a 2014 New Focus Recordings release. Wollschleger's concert works have been performed across the US and the world, including the International Music Institute at Darmstadt, the Festival of New American Music in Sacramento, the Bang on a Can Festival at the Massachusetts Museum of Contemporary Art, and the MATA Festival Interval Series. Following lightly in the footsteps of the New York School, Wollschleger received his Masters of Music in composition from Manhattan School of Music. Wollschleger's music has been supported by grants and awards from the New York Foundation for the Arts, the Yvar Mikhasho Trust for New Music, BMI, New Music USA, and the Society for New Music. His music is published by Project Schott New York.
13 May, 2018
Innovative ensemble loadbang celebrates the release of their newest album, "old fires catch old buildings", with a release event at Areté in Brooklyn on May 30 at 7:30 pm. The recording features works written for the group by Taylor Brook, Angelica Negron, Paula Matthusen, Scott Wollschleger, Reiko Futing and loadbang's own Jeff Gavett and Will Lang. Areté Venue and Gallery is a flexible …