Movses Pogossian's "Inspired by Bach" documents three new works that follow in the inescapable shadow of Bach's music for unaccompanied violin. Two of the works presented here (Saariaho and McIntosh), inspired as they are by Bach's pieces, incorporate elements which enhance the solo violin while Gabriela Lena Frank's preserves the unaccompanied format.
Saariaho's Frises for violin and live electronics opens with a drone over which lyricism and instability alternate in free, improvisatory passages. Electronic sounds emerge periodically, splashing the texture with glistening timbres. Saariaho writes that the second section, "Frise de Fleurs", is based on a ground bass — more active electronics establish a multi-dimensional texture. Delays define the electronic part in the third movement, processing more active and angular violin material. Saariaho writes that she aimed not to create symmetry in her development of this material, but instead constant metamorphosis. The final part, "Frise Grise", is eerie and processional, as Saariaho develops a passacaglia in the accompanimental left hand pizzicati on three strings, while the haunting melody is played on the fourth string and doubled down the octave in the electronics.
Gabriela Lena Frank's Suite Mestiza is inspired by the richness of the Andean culture in South America. Frank's movements of the suite are programmatic and colorful, each painting a picture of a different scene or character from the diverse landscape of the Andes. The imploring voice of a street vendor can be heard in the insistent double stops and the descending scale passages in the second movement, "Vendedora Cholita". The third movement evokes the high pitched plucked string instrument, the charango, humorously depicting it in the hands of a quirky elderly performer. Fleet fireflies ubiquitous in Peru are portrayed in the virtuosic final movement, "Luciérnagas".
Andrew McIntosh's seven movement Sheer for solo violin adds four assisting performers playing bowed wine glasses. The work opens with a vigorous fifteen second outburst that echoes the bariolage passagework in Bach's solo violin works — perhaps the aggression heard in these phrases is indicative of McIntosh's desire to break away from the master's all pervasive shadow. The rest of the movement is a meditation on sustained tones, an about-face from the initial forceful gesture. We hear echoes of Bach's implied counterpoint in the second and sixth movements as well, while the fourth movement is an exploration of intervals and their microtonal shadings, as if turning an object in one's hand and looking at it from all possible angles. The fifth movement opens as the first did, with a short burst of energetic, violinistic activity followed by a meditation on one pitch. Later in the movement, the bowed wine glasses provide pedal harmonies, liberating the solo violinist to return to the intense physicality of the opening gesture. The piece closes with a movement similar to the fourth, a meditation on pitch with bowed wine glass accompaniment.
The three works on this recording touch on aesthetics new and old, from Saariaho's incorporation of older formal techniques such as passacaglia within a context that integrates live electronics, Frank's colorful depiction of Andean life, and McIntosh's stark exploration of the essence of violin sound production, "Inspired by Bach" is a thoughtful and reflective look at contemporary approaches to composition for solo violin. Movses Pogossian's performances are lyrical and deeply expressive, and he is the ideal ambassador for this repertoire that marries experimentation with tradition, and exploration with communication.
– D. Lippel
Movses Pogossian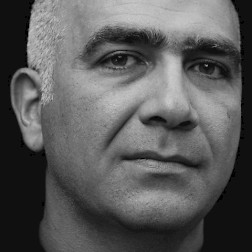 Armenian-born violinist Movses Pogossian made his American debut with the Boston Pops in 1990, about which Richard Dyer of the Boston Globe wrote: "There is freedom in his playing, but also taste and discipline. It was a ery, centered, and highly musical performance." He was a prizewinner at the 1986 Tchaikovsky International Competition, and the youngest ever first-prize winner of the 1985 USSR National Violin Competition, whose previous winners included David Oistrakh and Gidon Kremer. He has performed extensively as a soloist and recitalist in Europe, North America and Asia, and was artist-in-residence of the Los Angeles Chamber Orchestra during their 2016/17 season. An avid chamber musician, Pogossian has collaborated with such artists as Jeremy Denk, Kim Kashkashian and Alexei Lubimov, and with members of the Tokyo, Kronos and Brentano String Quartets. A committed champion of new music, he has premiered over seventy works, many of them written for him. He has worked closely with composers such as György Kurtág, Tigran Mansurian, John Harbison and Augusta Read Thomas. At Kurtág's invitation, Pogossian made his Darmstadt Festival debut in 2008, performing Kafka Fragments to critical acclaim. In Los Angeles, Pogossian is the Artistic Director of the Dilijan Chamber Music series, now in its fourteenth season, and frequently performs with the acclaimed series Monday Evening Concerts. He was a recipient of the 2011 Forte Award, given by the new-music organization Jacaranda for his outstanding contributions in this eld. Movses Pogossian's discography includes several CDs for solo violin, including the recently released recording of the Complete Sonatas and Partitas by J.S. Bach, Blooming Sounds, and In Nomine, as well as György Kurtág's Kafka Fragments, with soprano Tony Arnold.
In his review of Kafka Fragments, Paul Grif ths writes " . . . remarkable is Pogossian's contribution, which is always beautiful, across a great range of colors and gestures, and always seems on the edge of speaking—or beyond." In 2015, Pogossian's recording of composer Stefan Wolpe's Complete Works for Violin (Bridge Records) was included in the Top Ten list of the Sunday Times (UK), and in 2018, the Bridge label will release a lmed performance on DVD of chamber music by Arnold Schoenberg and Anton Webern. The centerpiece of this presentation is one of Schoenberg's most important works—his String Trio, Op. 45, performed by Pogossian, violist Kim Kashkashian and cellist Rohan de Saram—which was recorded for this DVD in Schoenberg's Brentwood home, in the very room in which it was composed. Pogossian's upcoming CD releases include another collaboration with Kim Kashkashian: a compilation of chamber works by Armenian composer Tigran Mansurian. Since earning advanced degrees in music from the Komitas Conservatory in Armenia and the Tchaikovsky Conservatory in Moscow, Pogossian has held teaching positions at a number of universities in the US, and is currently Professor of Violin Studies at the UCLA Herb Alpert School of Music. Deeply committed to both music education and community involvement, Pogossian proudly participates in the Music for Food Project, which raises awareness of world hunger, allowing performers and listeners alike to experience the powerful role which music can play as a catalyst for change.