Kathy Supove's "The Debussy Effect" featured on Second Inversion, Bandcamp Daily
Supove featured on Tribeca New Music Festival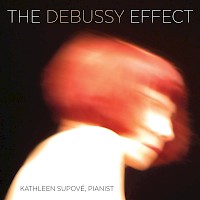 Kathy Supove's recent release of newly commissioned piano music, #TheDebussyEffect, was featured on Seattle's Second Inversion, a division of KINGFM, as well as in a review by Peter Margasak on Bandcamp Daily.
Second Inversion writes: "In fact, the whole album glistens. Supové brings personality, precision, charisma, and boundless creativity to each work, crafting a distinctly 21st century dialogue with the unforgettable work of Debussy. "
http://secondinversion.org/2016/11/21/album-review-the-debussy-effect-from-kathleen-supove/
And Margasak writes, "The exquisite results prove Supove's instincts were sharp both to conceive the project and to enlist composers that smashed the concept wide open."
https://daily.bandcamp.com/tag/kathleen-supove/
Supove's project involved commissioning several composers to react to Debussy's looming influence over several generations on new works for piano. By filtering current impressions of Debussy's legacy through contemporary aesthetics and technologies, we hear how his language has seeped into the unconscious sources of inspirations for composers, performers, and listeners.