"Young American Inventions" Second Inversion's Album of Week
Show hosted on Seattle's KING FM features eclectic new release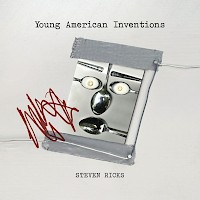 Second Inversion, a division of Seattle's KING FM radio station devoted to contemporary music, has featured Steve Ricks' eclectic and occasionally irreverent new release "Young American Inventions" as Album of the Week beginning June 15.
In an insightful review, Maggie Molloy writes, "Within just over an hour, the album skitters and jitters through the history of recorded sound, exploring the furthest reaches of American sonic culture. And in the end, Ricks abandons the electronics, the remixes, the recordings, and even the boom boxes, and instead writes for a single instrument—translucent, ethereal, and unplugged."
"Young American Inventions" will stream via Spotify in its entirety on Second Inversion until June 22.
The release was also reviewed in Salt Lake Magazine. Critic Ed Reichel praised Ricks' iconoclastic approach: "Ricks does his own thing. He doesn't follow; instead, he forges ahead and sets new boundaries and pushes the limits of how the concept of music can be defined."
http://www.saltlakemagazine.com/blog/2015/06/15/album-review-steven-ricks-young-american-inventions/