Composer/critic Kyle Gann has said, "Playing Bach's Well-Tempered Clavier in today's equal temperament is like exhibiting Rembrandt paintings with wax paper taped over them." The same may well be said of Bach played on the modern equal tempered guitar. On this recording, Daniel Lippel and John Schneider present three of Bach's most beloved works in the lautenwerk/plucked string repertoire, the first two lute suites and the Prelude, Fugue, and Allegro, in Kirnberger III temperament. Johann Kirnberger was a student of Bach's and a theorist, and developed a Well Temperament that included one pure third and a variable series of wider thirds through the circle of fifths. Well Temperaments balance the ability to navigate between and perform in all twelve keys with the preservation of the unique affect of each key as framed by the interval characteristics of their core harmonic areas.
BWV996 Suite in Eminor is the earliest work on the recording (written somewhere between 1708 and 1717) and also the most traditionally structured Baroque dance suite. Opening with a French Overture style Prelude followed by a short Fugue, the subsequent movements unfold in standard dance suite order, with an Allemande, Courante, Sarabande, Bourée, and Gigue. The unique characteristics of the Kirnberger temperament would be most apparent on E, B, and F# major chords, as they have wide major 3rds, as well as a C major chord, which has a pure 3rd.
BWV997 Suite in Cminor (1738-1741) is a hybrid form between a sonata and a suite, with an opening Prelude and expansive da capo Fugue, followed by two dance movements, a Sarabande and a Gigue with its Double. In this performance, the Gigue and Double are heard intertwined with one another, so the Double functions as the repeat of each section of the Gigue. Hearing this work in its original key of C minor (instead of the more common key it is usually heard on the guitar, A minor) highlights some colorful sonorities in Kinrberger -- the minor 3rd of the tonic chord is fairly compressed and the major 3rd in the VI chord Aflat major is wide.
The Prelude, Fugue, and Allegro in Eflat Major BWV998 was written in 1735 and also features an expansive da capo Fugue. An emphasis on three note groupings in each of the movements binds them together. Aflat major, the subdominant harmony in Eflat, has a wide major 3rd in Kirnberger and exerts a strong influence on the affect of the key due to how frequently it occurs.
– Dan Lippel
Produced by Dan Lippel and John Schneider 
Engineered and edited by John Schneider 
Mastered by Ryan Streber 
Artwork: Jasper McMahon 
Photos: Andrew Fingland (Lippel photo), Felix Salazar (guitar photo), Jose Luis Tamez (lautenwerk photo) 
Recorded at Earthstar Creation Center, Venice, CA Jan. 6-8, 2017 
Guitar by Walter Vogt
Daniel Lippel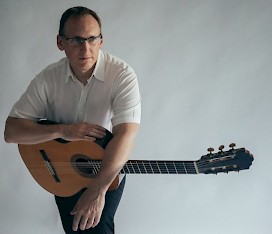 Guitarist Dan Lippel, called a "modern guitar polymath (Guitar Review)" and an "exciting soloist" (NY Times) is active as a soloist, chamber musician, and recording artist. He has been the guitarist for the International Contemporary Ensemble (ICE) since 2005 and new music quartet Flexible Music since 2003. Recent performance highlights include recitals at Sinus Ton Festival (Germany), University of Texas at San Antonio, MOCA Cleveland, Center for New Music in San Francisco, and chamber performances at the Macau Music Festival (China), Sibelius Academy (Finland), Cologne's Acht Brücken Festival (Germany), and the Mostly Mozart Festival at Lincoln Center. He has appeared as a guest with the St. Paul Chamber Orchestra and New York New Music Ensemble, among others, and recorded for Kairos, Bridge, Albany, Starkland, Centaur, and Fat Cat.
http://www.danlippel.com