All works recorded in the Miriam A. Friedberg Concert Hall, The Peabody Institute of the Johns Hopkins University - Baltimore, Maryland
the wreckage of flowers recorded October 2009
Fourteen Pieces and Five Fragments recorded March 2010
Recorded and engineered by Ed Tetreault at the Peabody Institute Recording Studio, Baltimore, Maryland, 2010
Produced by Michael Hersch and Ed Tetreault
All works published by 21C Music Publishing, Inc., New York, copyright 2003, 2004, 2007
All artwork by Nicholas Cairns, from the series, Excrescentia, ink on paper, copyright 2010
Photography: Miranda Cuckson by J. Henry Fair, Blair McMillen by Keiko Nagata, Michael Hersch by Richard Anderson
CD Liner Notes by Miranda Cuckson, copyright 2010
Graphic design and layout by ycArt Design Studio
Michael Hersch
A composer of "uncompromising brilliance" (The Washington Post) whose work has been described by The New York Times as "viscerally gripping and emotionally transformative music ... claustrophobic and exhilarating at once, with moments of sublime beauty nestled inside thickets of dark virtuosity," Michael Hersch is widely considered among the most gifted composers of his generation. Recent events and premieres include his Violin Concerto at the Lucerne Festival in Switzerland and the Avanti Festival in Helsinki; new productions of his monodrama, On the Threshold of Winter, in Chicago, Salt Lake City, and Washington D.C., and his I hope we get a chance to visit soon at the Ojai and Aldeburgh Festivals, where Mr. Hersch was a 2018 featured composer. Recent premieres include his 11-hour chamber cycle, sew me into a shroud of leaves, a work which occupied the composer for fifteen years, at the 2019 Wien Modern Festival. 2020/21 will see the premiere of his new opera, Poppaea, in Vienna and Basel as part of the Wien Modern Festival in a co-production with ZeitRäume Basel and Gare du Nord Basel / Netzwerk zur Entwicklung formatübergreifende Musiktheaterformen. During the 2019/20 season, Mr. Hersch has been named Composer-in-Residence with the Camerata Bern. In February 2020, his recent work Agatha saw performances in both Bern and Geneva.
Over the past several years, Hersch has written new works for the Orpheus Chamber Orchestra, Ensemble Klang, Saint Paul Chamber Orchestra, Alban Berg Ensemble Wien, and the Library of Congress. Other notable recent events include European performances by the Kreutzer Quartet of Images from a Closed Ward in the U.K. and Sweden, a recording of the work by the acclaimed FLUX Quartet, a work for solo violin commissioned by the New York Philharmonic, premiered at the orchestra's Biennial in 2014.
Recently Hersch has worked closely with violinist Patricia Kopatchinskaja, the violinist commissioning both his Violin Concerto, which premiered in 2015, and his chamber work ... das Rückgrat berstend, which premiered at New York City's Park Avenue Armory during the autumn of 2017. She recently recorded the concerto with the International Contemporary Ensemble (I.C.E.), and the duo with cellist Jay Campbell. Most recently, Kopatchinskaja performed one of the solo roles in the world premiere of Agatha in Bern.
Notable past performances include Night Pieces, commissioned and premiered by the Cleveland Orchestra, and a song cycle for baritone and piano, Domicilium, commissioned and premiered by Thomas Hampson and Wolfgang Rieger on San Francisco Performances. Hersch's second piano concerto, along the ravines, was given performances with the Deutsche Radio Philharmonie and the Seattle Symphony Orchestra, and as part of the George Enescu International Festival in Romania. Mr. Hersch's end stages was commissioned and premiered by the Orpheus Chamber Orchestra, his Zwischen Leben und Tod recently received it's European premiere, and A Forest of Attics, commissioned for the Network for New Music's 25th anniversary season, was selected as one of the year's most important classical music events by The Philadelphia Inquirer. The paper said of the work, "A Forest of Attics threw a Molotov cocktail into the concert: Everything before it paled in comparison ... Hersch has written some towering works in recent years; this is yet another."
Also a pianist, noted for his "astounding facility at the keyboard" (International Piano), Mr. Hersch has appeared around the world including appearances at the Ojai Festival, Aldeburgh Festival, the Festival Dag in de Branding in the Netherlands, the Warhol Museum, the Romaeuropa Festival, the Phillips Collection in Washington D.C., Cleveland's Reinberger Chamber Hall, the Festival of Contemporary Music Nuova Consonanza, the Network for New Music Concert Series, the Left Bank Concert Society, Festa Europea della Musica, St. Louis' Sheldon Concert Hall, and in New York City at Merkin Concert Hall, the 92nd St. Y - Tisch Center for the Performing Arts, and Carnegie Hall's Weill Recital Hall, among others.
Born in Washington D.C. in 1971, Michael Hersch came to international attention at age twenty-five, when he was awarded First Prize in the Concordia American Composers Awards. The award resulted in a performance of his Elegy, conducted by Marin Alsop in New York's Alice Tully Hall. Later that year he became one of the youngest recipients ever of a Guggenheim Fellowship in Composition. Mr. Hersch has also been the recipient of the Rome Prize, the Berlin Prize, the Goddard Lieberson Fellowship and Charles Ives Scholarship from the American Academy of Arts & Letters, and the President's Frontier Award from the Johns Hopkins University, among other honors.
https://www.michaelhersch.com/
Miranda Cuckson
Violinist Miranda Cuckson has combined a deep background in the classical repertoire with an adventurous and probing spirit to become an acclaimed, in-demand performer of music new and old. She performs worldwide as soloist and chamber musician, at venues including the Berlin Philharmonie, Carnegie Hall, Teatro Colón, Suntory Hall, Library of Congress, 92nd Street Y, Guggenheim Museum, Monday Evening Concerts in LA, and the Marlboro, Bard, Lincoln Center, West Cork, Bridgehampton, Music Mountain, Portland and Bodensee festivals.
She made her Carnegie Hall debut playing Piston's concerto with the American Symphony Orchestra. Her recent performances include premiering a violin concerto written for her by Georg Friedrich Haas, in Tokyo, Stuttgart and Porto, the New York premiere of Michael Hersch's concerto, and recent recitals at the Metropolitan Museum, Miller Theatre, Strathmore and St. Paul Chamber Orchestra's Liquid Music.
Her discography includes, most recently, violin music of Wolpe, Carter and Ferneyhough (Urlicht), and Bartók, Schnittke and Lutoslawski (ECM Records). The New York Times named her recording of Nono's La lontananza nostalgica utopica futura a Best Classical Recording of 2012. Her eleven lauded albums also feature the Korngold and Ponce concertos and music by Finney, Shapey, Martino, Sessions, Eckardt, Hersch, Xenakis, Glass, Mumford, Fujikura and more.
She is director of the non-profit Nunc, a member of collectives AMOC and counter)induction, and a performer and advisory council member at National Sawdust. She studied at The Juilliard School, where she received her doctorate and the Presser Award, and she teaches at Mannes College.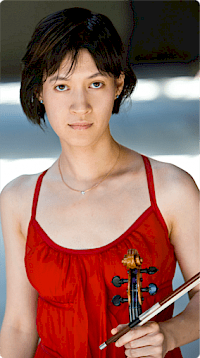 http://www.mirandacuckson.com/
Blair McMillen
Blair McMillen has established himself as one of the most versatile and sought-after pianists today. The New York Times has described him as "new music's torchbearer," his playing as "riveting," "prodigiously accomplished." Recent performances include Carnegie Hall, Moscow Conservatory, Miller Theatre, Bard Summerscape, (le) Poisson Rouge, the Aspen Music Festival, the Metropolitan Museum of Art, Caramoor, the Library of Congress, Casals Hall (Tokyo), the Institute for Advanced Study (Princeton), and Musica Antica e Nuova at Columbia University. Concerto appearances have included the American Symphony Orchestra, the Juilliard Orchestra on a tour of Japan, the Albany Symphony, and the Zankel Band in New York City.
Known for his imaginative and daring programming, Mr. McMillen's repertoire spans from late-medieval keyboard manuscripts to today's up-and-coming younger generation of composers. Recent recitals have included performances of selections from the Codex Faenza (some of the earliest-surviving keyboard music in the world, composed in the early 15th-century), a New York recital of piano music inspired by the art of improvisation, and a "Composer Portrait" concert of music by Esa-Pekka Salonen. His first solo CD Soundings, featuring music of Debussy, Scriabin, Liszt, and Bolcom, was released in 2004 to critical acclaim. More recent solo recordings include Powerhouse Pianists on Lumiere Records, Concert Music of Fred Hersch on Naxos, and Multiplicities: Born in '38 on Centaur.
Dedicated to new and pathbreaking projects, Mr. McMillen is intensely committed to commissioning and performing the music of today. He has premiered hundreds of pieces, and constantly works with both established and emerging composers in commissioning new works for the piano. Pianist for the Naumburg Award-winning Da Capo Chamber Players, he plays regularly with the American Modern Ensemble, the downtown NYC-based Avian Orchestra, St. Luke's Chamber Ensembles, and the Locrian Chamber Players, among others.
Raised in San Francisco and Charlotte, NC; Mr. McMillen holds degrees from Oberlin College, the Manhattan School of Music, and the Juilliard School. A past winner of the Aspen Music Festival's Time-Warner Award, he won the Gina Bachauer Competition and the Sony ES Grant for Musical Excellence while studying at Juilliard. Mr. McMillen serves on the piano and chamber music faculty at Bard College and Conservatory.