This collection of recent duos by composer Michael Hersch gives the listener a chance to hear the intense expressive contrasts so characteristic of his music in a profoundly intimate context. From jarring, closely spaced intervals, to delicate, ethereal harmonics, to bracingly virtuosic passagework, Hersch's voice projects strongly throughout this recording featuring three of his most frequent performer collaborators: Patricia Kopatchinskaja, Miranda Cuckson, and Jay Campbell, as well as the composer himself on the piano.
Kopatchinskaja commissioned Hersch specifically to write a work combining vocal and instrumental performance, and the result is a harrowing piece which marries storytelling to song. The speaking part in ...das Rückgrat berstend is precisely notated with extensive expression markings, delineating specific dynamics, durations, and character indications that engage in a form of word painting with spoken narrative form. The source text is by Christopher Middleton, and at Kopatchinskaja's request it was translated into German. The voice mostly is heard on its own while the strings answer and color the text in responsive fashion. Hersch's meticulous notation of the vocal part ensures that it fulfills a dual role, both as the raconteur of Middleton's angst ridden poetry but also as a third "instrument" in the composition. As with much of Hersch's music, the moments of repose in the work are not entirely restful -- a hollow unease lingers in the disembodied intervals.
Read More
Hersch joined violinist Miranda Cuckson for a duo performance at the Brooklyn venue National Sawdust in the fall of 2018. Drawing from his work for violin and piano (the wreckage of flowers), solo violin (the weather and landscape are on our side, Fourteen Pieces, Five Fragments), and solo piano (The Vanishing Pavilions), Hersch created a new evening-length piece - an excerpt from which appears on this recording - which further underscores the violent and meticulous nature of both the music and the performance of it. Athletic, urgent material contrasts with static, meditative sustained tones and vertical pillars of resonating sonorities in a cohesive work that deftly weaves together disparate compositions into a new work, and captures a palpable balance of focus and freedom from the moment of performance itself.
Each of the thirteen movements in Carrion-Miles to Purgatory is paired with a fragment from Robert Lowell's poetry collection, Lord Weary's Castle. The connections between Lowell's poems and Hersch's music are largely subconscious, but the poetry provided Hersch solace during the piece's composition - a time during which he was grappling with the recent death of a close friend. In calling for the spare use of vibrato throughout, Hersch indicates his interest in a sound world of maximum vulnerability, as demonstrated in the precarious unstable chords of the opening movements. Movement III is a distorted dirge, as discordant chords rock back and forth between the two instruments, and the monolithic quality of the rhythmic gestures in the preceding movements begins to loosen up in movement IV. Movement V recalls material from previous movements and prefaces material to be heard throughout the remainder of the piece. It stands in the middle of the composition like a summation and a foreshadowing, and immediately engages the listener in a meta-dialogue with the structure of the piece while one is listening to it. Movement VI is marked by luminous sustained dyads in the violin, out of which the cello emerges with unsettling ponticello utterances. Movement VII, "Ferociously," returns to the visceral, towering sonorities from Movement III, and reasserts Hersch's pattern of dichotomy between inward and strikingly outward music (underscored even further by the poignant, lilting melody in Movement VIII). Continuing along this pattern of contrasting energies, with newly inventive material in each subsequent movement, Hersch arrives at the last and longest movement of the work, an extended meditation on the material contained in the preceding movements. The work closes quietly, as we hear hymn-like material through a haze of resignation. Carrion-Miles to Purgatory marries the large scale structural gesture with the miniature character piece, and does so within the drastic frame of Hersch's expressive world, highlighting his capacity to write gripping material in this most inward looking of contexts, the instrumental duo.
– D. Lippel
...das Ruckgrat herstend
Recorded, edited, and mixed by Ryan Streber at Oktaven Audio. Mt Vernon, NY
Charles Mueller, editing assistant
Music for Violin and Piano
Recorded by Charles Hagaman and Garth MacAleavey at National Sawdust. Brooklyn, NY
Edited and produced by Ed Tetreault
Carrion-Miles to Purgatory
Recorded by Ed Tetreault at the Peabody Institute. Baltimore, MD
Edited and produced by Ed Tetreault
All works published by 21C Music Publishing, Inc./Michael Hersch Music
Cover photo by Mike Maguire
Sculpture Christopher by Christopher Cairns
CD liner notes by Christopher Halley ©2019, Miranda Cuckson ©2018. David Plylar ©2019 and Kay Redfield Jamison ©2019
Robert Lowell text fragments published in Collected Poems. Farrar, Straus and Giroux
ISBN-13: 9780374126179
Cover design by Tim Holt
Album design by ycArt Design Studio
Michael Hersch
A composer of "uncompromising brilliance" (The Washington Post) whose work has been described by The New York Times as "viscerally gripping and emotionally transformative music ... claustrophobic and exhilarating at once, with moments of sublime beauty nestled inside thickets of dark virtuosity," Michael Hersch is widely considered among the most gifted composers of his generation. Recent events and premieres include his Violin Concerto at the Lucerne Festival in Switzerland and the Avanti Festival in Helsinki; new productions of his monodrama, On the Threshold of Winter, in Chicago, Salt Lake City, and Washington D.C., and his I hope we get a chance to visit soon at the Ojai and Aldeburgh Festivals, where Mr. Hersch was a 2018 featured composer. Recent premieres include his 11-hour chamber cycle, sew me into a shroud of leaves, a work which occupied the composer for fifteen years, at the 2019 Wien Modern Festival. 2020/21 will see the premiere of his new opera, Poppaea, in Vienna and Basel as part of the Wien Modern Festival in a co-production with ZeitRäume Basel and Gare du Nord Basel / Netzwerk zur Entwicklung formatübergreifende Musiktheaterformen. During the 2019/20 season, Mr. Hersch has been named Composer-in-Residence with the Camerata Bern. In February 2020, his recent work Agatha saw performances in both Bern and Geneva.
Over the past several years, Hersch has written new works for the Orpheus Chamber Orchestra, Ensemble Klang, Saint Paul Chamber Orchestra, Alban Berg Ensemble Wien, and the Library of Congress. Other notable recent events include European performances by the Kreutzer Quartet of Images from a Closed Ward in the U.K. and Sweden, a recording of the work by the acclaimed FLUX Quartet, a work for solo violin commissioned by the New York Philharmonic, premiered at the orchestra's Biennial in 2014.
Recently Hersch has worked closely with violinist Patricia Kopatchinskaja, the violinist commissioning both his Violin Concerto, which premiered in 2015, and his chamber work ... das Rückgrat berstend, which premiered at New York City's Park Avenue Armory during the autumn of 2017. She recently recorded the concerto with the International Contemporary Ensemble (I.C.E.), and the duo with cellist Jay Campbell. Most recently, Kopatchinskaja performed one of the solo roles in the world premiere of Agatha in Bern.
Notable past performances include Night Pieces, commissioned and premiered by the Cleveland Orchestra, and a song cycle for baritone and piano, Domicilium, commissioned and premiered by Thomas Hampson and Wolfgang Rieger on San Francisco Performances. Hersch's second piano concerto, along the ravines, was given performances with the Deutsche Radio Philharmonie and the Seattle Symphony Orchestra, and as part of the George Enescu International Festival in Romania. Mr. Hersch's end stages was commissioned and premiered by the Orpheus Chamber Orchestra, his Zwischen Leben und Tod recently received it's European premiere, and A Forest of Attics, commissioned for the Network for New Music's 25th anniversary season, was selected as one of the year's most important classical music events by The Philadelphia Inquirer. The paper said of the work, "A Forest of Attics threw a Molotov cocktail into the concert: Everything before it paled in comparison ... Hersch has written some towering works in recent years; this is yet another."
Also a pianist, noted for his "astounding facility at the keyboard" (International Piano), Mr. Hersch has appeared around the world including appearances at the Ojai Festival, Aldeburgh Festival, the Festival Dag in de Branding in the Netherlands, the Warhol Museum, the Romaeuropa Festival, the Phillips Collection in Washington D.C., Cleveland's Reinberger Chamber Hall, the Festival of Contemporary Music Nuova Consonanza, the Network for New Music Concert Series, the Left Bank Concert Society, Festa Europea della Musica, St. Louis' Sheldon Concert Hall, and in New York City at Merkin Concert Hall, the 92nd St. Y - Tisch Center for the Performing Arts, and Carnegie Hall's Weill Recital Hall, among others.
Born in Washington D.C. in 1971, Michael Hersch came to international attention at age twenty-five, when he was awarded First Prize in the Concordia American Composers Awards. The award resulted in a performance of his Elegy, conducted by Marin Alsop in New York's Alice Tully Hall. Later that year he became one of the youngest recipients ever of a Guggenheim Fellowship in Composition. Mr. Hersch has also been the recipient of the Rome Prize, the Berlin Prize, the Goddard Lieberson Fellowship and Charles Ives Scholarship from the American Academy of Arts & Letters, and the President's Frontier Award from the Johns Hopkins University, among other honors.
https://www.michaelhersch.com/
Patricia Kopatchinskaja
Violinist Patricia Kopatchinskaja's versatility shows itself in her diverse repertoire, ranging from baroque and classical often played on gut strings, to new commissions and re-interpretations of modern masterworks. Kopatchinskaja's 2017/18 season commences with the world premiere of her new project Dies Irae at the Lucerne Festival where she will be 'artiste étoile'. Dies Irae is her second staged programme following the success of Bye Bye Beethoven with Mahler Chamber Orchestra in 2016, and uses the theme from the Latin Requiem Mass as a starting point for her new concept featuring music from Gregorian Chant and Early Baroque to Giacinto Scelsi and Galina Ustwolskaja. The North American premiere will take place at the Ojai Festival in June 2018 where Ms. Kopatchinskaja will be Music Director. György Ligeti's Violin Concerto is again a feature of Kopatchinskaja's season – she will perform it with the Mahler Chamber Orchestra at the Enescu Festival in Bucharest under Rafael Payare, Orchestra Sinfonica Nazionale della RAI, and Aurora Orchestra under Nicholas Collon as part of the Southbank Centre's Ligeti weekend where she will also perform the Horn Trio with Pierre-Laurent Aimard and Marie-Luise Neunecker. The Stravinsky Violin Concerto will also be a prominent work which she will perform with the London Philharmonic Orchestra under Alain Altinoglu in London, on tour around Europe, with Teodor Currentzis and the Tonhalle-Orchester Zürich and with Gustavo Gimeno and the Rotterdam Philharmonic Orchestra.
Last season's highlights included Kopatchinskaja as Artist in Residence at four major European venues and festivals: at the Berlin Konzerthaus, the Lucerne Festival, London's Wigmore Hall and the Kissinger Sommer Festival. She also embarked on two major European tours; with Orchestre Philharmonique du Luxembourg under Gustavo Gimeno and with Wiener Symphoniker and Musica Aeterna both under the baton of Teodor Currentzis. She performed the Ligeti Violin Concerto with Sir Simon Rattle and the Berliner Philharmoniker, Filharmonica della Scala under Andrés Orozco-Estrada, and the Finnish Radio Symphony Orchestra under Jukka-Pekka Saraste. She also made her debut with the Gothenburg Symphony and Peter Eötvös performing his Violin Concerto DoReMi. Continuing her regular collaboration with the London Philharmonic Orchestra, she appeared with them in London and New York under Vladimir Jurowski.
Chamber music is immensely important to Kopatchinskaja and she performs regularly with artists such as Markus Hinterhäuser, Polina Leschenko, Anthony Romaniuk and Jay Campbell appearing at such leading venues as the Berlin Konzerthaus, London's Wigmore Hall, Vienna Konzerthaus and Concertgebouw Amsterdam. She is also an Artistic Partner with The Saint Paul Chamber Orchestra and performs with the ensemble regularly, both in Saint Paul and internationally. They undertook a major European tour together in November 2016, to coincide with the release of a new CD recording of Schubert's Death and the Maiden. In 2017/18 she will partner with cellist Jay Campbell in an eclectic programme at New York City's Armory in October, and for a series of recitals around Europe with pianist Polina Leschenko including London's Wigmore Hall, Berlin's Boulez Saal and the Vienna Konzerthaus.
A prolific recording artist, the last few seasons have seen a number of major releases; an album of Kancheli's music with Gidon Kremer and the Kremerata Baltica, a disc of duos entitled TAKE TWO on Alpha Classics, a recording of Schumann's Violin Concerto and Fantasy with WDR Sinfonieorchester Köln under Heinz Holliger for Audite, and Tchaikovsky's Violin Concerto with Teodor Currentzis and Musica Aeterna on the Sony label. Kopatchinskaja's release for Naïve Classique featuring concerti by Bartók, Ligeti and Peter Eötvös won Gramophone's Recording of the Year Award in 2013, an ECHO Klassik Award and a 2014 Grammy nomination. Her latest release Death and the Maiden, for Alpha with The Saint Paul Chamber Orchestra has received great critical acclaim.
https://patriciakopatchinskaja.com/
Jay Campbell
Armed with a diverse spectrum of repertoire and eclectic musical interests, cellist Jay Campbell has been recognized for approaching both old and new works with the same probing curiosity and emotional commitment. His performances have been called "electrifying" by The New York Times; "gentle, poignant, and deeply moving" by The Washington Post; and on WQXR by Krzysztof Penderecki for "the greatest performance yet of Capriccio per Sigfried Palm". A 2016 recipient of the prestigious Avery Fisher Career Grant, Jay made his debut with the New York Philharmonic in 2013 and worked with Alan Gilbert in 2016 as the artistic-director for Ligeti Forward, a series featured on the New York Philharmonic Biennale at the Metropolitan Museum of Art. In 2017, he was be Artist-in-Residence at the Lucerne Festival with violinist Patricia Kopatchinskaja, where he gave the Swiss premiere of Michael Van der Aa's multimedia cello concerto Up-Close, and the world premiere of a new concerto by Luca Francesconi, conducted by Matthias Pintscher in Lucerne's KKL Auditorium and the Cologne Philharmonie.
Dedicated to introducing audiences to the music of our time, Mr. Campbell has worked closely with some of the most creative musicians of our time including Pierre Boulez, Elliott Carter, Matthias Pintscher, John Adams, Kaija Saariaho, and countless others from his own generation. His close association with John Zorn resulted in the 2015 release of Hen to Pan (Tzadik) featuring all works written for Campbell, and was listed in The New York Times year-end Best Recordings of 2015. Forthcoming discs include George Perle's Cello Concerto with the Seattle Symphony and Ludovic Morlot (Bridge), a disc of Beethoven, Debussy, Stravinsky and Pintscher (Victor Elmaleh Collection), and a collection of works commissioned for Campbell by David Fulmer (Tzadik). Equally enthusiastic as a chamber musician and teacher, Mr. Campbell is a member of the JACK Quartet, a piano trio with violinist Stefan Jackiw and pianist Conrad Tao, has served on faculty at Vassar College and has been a guest at the Marlboro, Chamber Music Northwest, Moab, Heidelberger-Fruhling, DITTO, and Lincoln Center festivals.
Miranda Cuckson
Violinist Miranda Cuckson has combined a deep background in the classical repertoire with an adventurous and probing spirit to become an acclaimed, in-demand performer of music new and old. She performs worldwide as soloist and chamber musician, at venues including the Berlin Philharmonie, Carnegie Hall, Teatro Colón, Suntory Hall, Library of Congress, 92nd Street Y, Guggenheim Museum, Monday Evening Concerts in LA, and the Marlboro, Bard, Lincoln Center, West Cork, Bridgehampton, Music Mountain, Portland and Bodensee festivals.
She made her Carnegie Hall debut playing Piston's concerto with the American Symphony Orchestra. Her recent performances include premiering a violin concerto written for her by Georg Friedrich Haas, in Tokyo, Stuttgart and Porto, the New York premiere of Michael Hersch's concerto, and recent recitals at the Metropolitan Museum, Miller Theatre, Strathmore and St. Paul Chamber Orchestra's Liquid Music.
Her discography includes, most recently, violin music of Wolpe, Carter and Ferneyhough (Urlicht), and Bartók, Schnittke and Lutoslawski (ECM Records). The New York Times named her recording of Nono's La lontananza nostalgica utopica futura a Best Classical Recording of 2012. Her eleven lauded albums also feature the Korngold and Ponce concertos and music by Finney, Shapey, Martino, Sessions, Eckardt, Hersch, Xenakis, Glass, Mumford, Fujikura and more.
She is director of the non-profit Nunc, a member of collectives AMOC and counter)induction, and a performer and advisory council member at National Sawdust. She studied at The Juilliard School, where she received her doctorate and the Presser Award, and she teaches at Mannes College.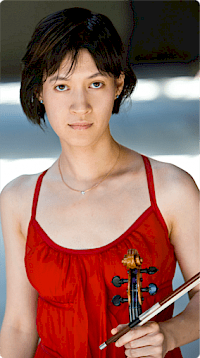 http://www.mirandacuckson.com/