There is a rich continuum of possibility when a composer references a pre-existing piece in a new composition. One can present the material literally, as in a set of variations, or one can subsume it entirely, using it as an unseen point of contact for the generation of material for the piece. On All Roads for piano and string quartet, Anthony Cheung leans towards the more obscured end of the spectrum as he uses Billy Strayhorn's poignant Lotus Blossom as a muse and a structural guide for the piece. The result is an infusion of sorts - the melodic and harmonic components of Strayhorn's iconic song have seeped into Cheung's composition, traced obliquely into momentary gestural contours and echoed in strains of distant memory. The pervasive melancholy in Strayhorn's original work is at the essence of All Roads, as heard in the searching quality of the opening movement and the subsequent "detours." But Cheung also pushes against its expressive edges, exploring which emotional corners the material will allow him to inhabit, such as the accumulating dialogue of swells in "Forking Paths," the restless figuration in "Estuary," and the insistent angularity of the final movement, "Convergence."
Elective Memory for violin and piano also has a pre-existing piece as its source of inspiration, Beethoven's Sonata op. 96. With the clever title (a composite of "selective memory" and Goethe's concept of "elective affinity"), Cheung also alludes to the bond between the composer and iconic Romantic poet that culminated in a series of meetings in 1812, the same year op. 96 was written. He embeds flashes of material from op. 96 into the work, allowing them to evolve in dialogue both between the violin and piano as well as with various elected affinities of his own, notably an earlier violin sonata he wrote at age 18. The result is a work that, despite direct references to op. 96, embodies Goethe's ruminative character more than the heroic teleology commonly associated with Beethoven's middle period.
In the two movement violin work Character Studies, dialogue takes place internally within the solo part. The first movement, "Dramatis Personae," features quick changes in character, imitating a stage actor playing multiple roles, shifting back and forth seamlessly between divergent personalities. The second movement begins linearly, steadily developing a shrouded, lyrical melodic idea before ephemeral arpeggios dance an airy ballet with textural interjections.
The nature of translation and its capacity to generate a palimpsest of meaning lies at the heart of All Thorn, but cousin to your rose, a setting of texts by Vladimir Nabokov, Alexander Pushkin, Edgar Allan Poe, and…Google Translate. Initially, Cheung planned to feed texts through Google Translate and set the resultant text, playing a modern game of telephone shaped by Big Tech. But he stumbled upon a polemical essay on translation by Nabokov, a topic that became a point of fixation for the Russian author. Nabokov's investigation into the shades of diligence and authenticity in translation, and his subsequent efforts in the medium, provide a rich source of text material for a multifarious vocal part, navigating between speech, sprechstimme, wordless vocalization, and conventional singing. Cheung did not entirely abandon his initial idea of co-opting Google Translate however. In the opening movement some of the text is the product of feeding a Shakespeare couplet into the algorithmic tool, translating it into multiple languages, and then back into English. The result is not unlike Cheung's progressive transformation of Strayhorn's Lotus Blossom, as it inherits increasing degrees of distance from the original that Cheung sets with sensitivity and wry humor.
Indeed, translation emerges as a conceptual through line on the album. From the wisps of subconscious remembrance in All Roads to the response to Beethoven's op. 96 in Elective Memory to the meta examination of reinterpretation itself in All Thorn, Cheung is fascinated with the subtle shifts in phenomena that happen through revisitation and recollection, using music as a metaphor to draw our attention to a process that is constantly happening all around us in big ways and small.
- Dan Lippel
All tracks recorded at Oktaven Audio, Mount Vernon, NY:
All Roads on June 4, 2019
Elective Memory and Character Studies on June 10, 2021
All thorn, but cousin to your rose on March 24, 2018
Recorded, edited, mixed and mastered by Ryan Streber of Oktaven Audio
Executive Producer: Anthony Cheung
Assistant Producer (All thorn, but cousin to your rose): Jacob Greenberg
All works are represented by PSNY (Project Schott New York), administered exclusively worldwide by European American Music Distributors Company
For All thorn, but cousin to your rose: excerpts from Vladimir Nabokov's Eugene Onegin Copyright © 1955 by Vladimir Nabokov, "The Art of Translation" Copyright © 1941 by Vladimir Nabokov, and "On Translating Eugene Onegin" by Vladimir Nabokov, used by permission of The Wylie Agency LLC
This project is supported by a grant from the Alice M. Ditson Fund of Columbia University, with additional funds from the University of Chicago and Brown University
Design and layout: Marc Wolf, marcjwolf.com
Cover photo: Thomas Fichter
Program Notes by Anthony Cheung and Matthew Mendez (All thorn, but cousin to your rose)
Anthony Cheung
Composer and pianist Anthony Cheung writes music that explores the senses, a wide palette of instrumental play and affect, improvisational traditions, reimagined musical artifacts, and multiple layers of textual meaning. Described as "gritty, inventive and wonderfully assured" (San Francisco Chronicle) and praised for its "instrumental sensuality" (Chicago Tribune), his music reveals an interest in the ambiguity of sound sources and constantly shifting transformations of tuning and timbre.
Anthony Cheung has been commissioned by Ensemble Modern, Ensemble Intercontemporain, Cleveland Orchestra (as the Daniel R. Lewis Young Composer Fellow), New York Philharmonic, Los Angeles Philharmonic, Frankfurt Radio Symphony Orchestra, Ensemble Musikfabrik, Scharoun Ensemble Berlin, AMOC, and the International Contemporary Ensemble, with additional performances by the Orchestre Philharmonique de Radio France, Chicago Symphony Orchestra MusicNOW ensemble, Minnesota Orchestra, Linea, wild Up, and Dal Niente. He has also written works for the Escher and Spektral Quartets, violinist Jennifer Koh, flutist Claire Chase, oboist Ernest Rombout, and pianists Gilles Vonsattel, Shai Wosner, and Joel Fan.
In addition to concert works, he has written music for film (null and void, after Guy Maddin), captioned sound sources (The Natural Word), and in collaboration with multiple poets (the echoing of tenses). His music has been programmed at festivals around the world, including Acht Brücken, Ultraschall, Cresc. Biennale, Présences, impuls, Wittener Tage, Ojai, Tanglewood, Aspen, Mostly Mozart, Transit, Heidelberger Frühling, Helsinki Festival and Musica Nova Helsinki.
His previous recordings include three portrait discs: Cycles and Arrows (New Focus, 2018), Dystemporal (Wergo, 2016), and Roundabouts (Ensemble Modern Medien 2014). As a performer and advocate for new music, he was a co-founder of the Talea Ensemble, performing as a pianist and serving as artistic director.
The recipient of a 2016 Guggenheim Fellowship, Anthony has also won awards from the American Academy of Arts and Letters and ASCAP, and first prize in the Sixth International Dutilleux Competition (2008), as well as a Rome Prize from the American Academy in Rome (2012). He received a BA from Harvard and a doctorate from Columbia University, and was a Junior Fellow at Harvard. He taught at University of Chicago from 2013-20, and is an Associate Professor of Music at Brown University.
Gilles Vonsattel
Swiss-born American pianist Gilles Vonsattel is the recipient of an Avery Fisher Career Grant and the Andrew Wolf Chamber Music Award, and winner of the Naumburg and Geneva competitions. He has appeared with the Munich Philharmonic, Orchestre Symphonique de Montréal, Boston Symphony, Chicago Symphony, and San Francisco Symphony, and performed recitals and chamber music at Ravinia, Tokyo's Musashino Hall, Wigmore Hall, Bravo! Vail, Chamber Music Northwest, La Roque d'Anthéron, Music@Menlo, the Lucerne festival, and Spoleto USA. He performs regularly as an artist member of the Chamber Music Society of Lincoln Center. He has performed with the Emerson, Ebène, Pacifica, Escher, St. Lawrence, and Danish quartets and has collaborated closely with composers such as Heinz Holliger, George Benjamin, Jörg Widmann, and Anthony Cheung. He received his bachelor's degree in political science and economics from Columbia University and his master's degree from The Juilliard School. He serves on the faculties of the University of Massachusetts Amherst and Bard College Conservatory of Music.
Escher Quartet
Acclaimed for their profound musical insight and rare tonal beauty, the Escher String Quartet "hold[s] the listener spellbound from first bar to last" (BBC Music Magazine). A former BBC New Generation Artist, the quartet has performed at the BBC Proms at Cadogan Hall and is a regular guest at Wigmore Hall. In its hometown of New York City, the ensemble serves as season artists of The Chamber Music Society of Lincoln Center.
Miranda Cuckson
Violinist Miranda Cuckson has combined a deep background in the classical repertoire with an adventurous and probing spirit to become an acclaimed, in-demand performer of music new and old. She performs worldwide as soloist and chamber musician, at venues including the Berlin Philharmonie, Carnegie Hall, Teatro Colón, Suntory Hall, Library of Congress, 92nd Street Y, Guggenheim Museum, Monday Evening Concerts in LA, and the Marlboro, Bard, Lincoln Center, West Cork, Bridgehampton, Music Mountain, Portland and Bodensee festivals.
She made her Carnegie Hall debut playing Piston's concerto with the American Symphony Orchestra. Her recent performances include premiering a violin concerto written for her by Georg Friedrich Haas, in Tokyo, Stuttgart and Porto, the New York premiere of Michael Hersch's concerto, and recent recitals at the Metropolitan Museum, Miller Theatre, Strathmore and St. Paul Chamber Orchestra's Liquid Music.
Her discography includes, most recently, violin music of Wolpe, Carter and Ferneyhough (Urlicht), and Bartók, Schnittke and Lutoslawski (ECM Records). The New York Times named her recording of Nono's La lontananza nostalgica utopica futura a Best Classical Recording of 2012. Her eleven lauded albums also feature the Korngold and Ponce concertos and music by Finney, Shapey, Martino, Sessions, Eckardt, Hersch, Xenakis, Glass, Mumford, Fujikura and more.
She is director of the non-profit Nunc, a member of collectives AMOC and counter)induction, and a performer and advisory council member at National Sawdust. She studied at The Juilliard School, where she received her doctorate and the Presser Award, and she teaches at Mannes College.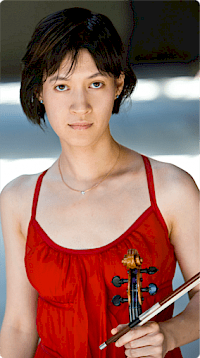 http://www.mirandacuckson.com/
Paulina Swierczek
Praised by the Boston Globe for "a rich voice that could go in a blink from speaking to soaring" as well as her "killer side-eye," soprano Paulina Swierczek is gaining acclaim as a vibrant story-teller, combining technical facility with impassioned communication. Paulina has appeared with the Boston Symphony Orchestra, the Alabama Symphony, the Albany Symphony, The Orchestra Now, the Broad Street Orchestra and the Little Orchestra Society. Operatic highlights include Brunnhilde (Die Walkure, Siegfried), The New Prioress (Les dialogues des Carmelites), Donna Anna (Don Giovanni), and the Countess Almaviva (Le nozze di Figaro). She is an alumnus of the Tanglewood Music Center ('17-'18), the Meistersinger Program at Pittsburgh Festival Opera and Fall Island Vocal Arts Seminar. A native Polish speaker, Paulina specializes in Polish art song and performs this wonderful repertoire frequently, notably at the Universities of Rochester and Pennsylvania this season as well as for Concerts in Red Hook.
Jacob Greenberg
Pianist Jacob Greenberg's work as a soloist and chamber musician has received worldwide acclaim. A longtime member of the International Contemporary Ensemble, he has performed throughout the Americas and Europe. His solo concert series, Music at Close Range, shows his equal commitment to classics of the repertoire.
Recent highlights include a guest performance of works of György Kurtág at the International Summer Courses in Darmstadt, Germany, under the composer's guidance; concerts at the Santa Fe Chamber Music Festival; Boulez's Sur Incises with the Seattle Symphony; and solo and concerto appearances with the International Contemporary Ensemble at Lincoln Center's Mostly Mozart Festival. Live performances have been heard on WQXR New York, BBC Radio 3, WFMT Chicago and Radio Netherlands.
As an orchestral player, Mr. Greenberg has appeared with the New York Philharmonic, Israel Philharmonic, and Australian Chamber Orchestra. He performs often with the Chicago Symphony's MusicNOW. A leading pianist of modern song, he has toured extensively with soprano Tony Arnold; their 2013 recording of Olivier Messiaen's Harawi has been singled out by critics. Mr. Greenberg is also recognized as a coach for contemporary opera.
In addition to his solo albums for New Focus Recordings, which feature works from the Baroque to many new commissions, he has recorded for the Nonesuch, Sony, Bridge, Naxos, Mode, Kairos, Centaur, Tzadik, and New Amsterdam labels. Mr. Greenberg is an award-winning record producer, and has completed discs for major domestic and international labels. He is the director of the International Contemporary Ensemble's in-house TUNDRA imprint. As a composer, he makes recorded pieces with spoken and sung texts. His podcast, Intégrales, explores meaningful intersections of music and daily city life.
Mr. Greenberg is on the faculty of the Tanglewood Music Center, and has taught at Hunter College, City University of New York, The Juilliard School, and the State University of New York at Buffalo. He is a graduate of Oberlin College, where he earned degrees in music and religion, and he completed his master's and doctoral degrees at Northwestern University, where he studied with Ursula Oppens. Please visit jacobgreenberg.net.
http://www.jacobgreenberg.net