Wang Lu's second release on New Focus, An Atlas of Time, embodies the intersection in her work between memory and collage. Like many foreign born composers living in the United States, Wang Lu draws on the sonic materials of her native country. But her approach emphasizes personal recollection over formal engagement with traditional music, turning the listener's attention away from a consciously curated dichotomy and towards her genuine and unique perspective. The result is a cartography of her own lived experience that shows up in found sounds, gestures that mimic speech patterns, and musical metaphors that capture the perspective of an artist who straddles different cultures.
The title work was commissioned by Frankfurt based Ensemble Modern and is heard here in a studio recording by the Boston Modern Orchestra Project. The five movement piece is exuberant and colorful and integrates electronics into the fabric of the pieces as a tool of evocation. In the opening movement, "Internationale (1989 Edition)," Wang Lu disorients the listener's sense of space, interrupting clangorous phrases marked by ringing brake drums and urgent descending glissandi with static pre-recorded materials and creaky techniques in the strings. Fragments of processed recordings of the socialist anthem Internationale in several languages are woven into the ensemble texture throughout the movement. "Molten Cathedral" features frightful, towering chords over a pedal point in the bass; vibrato laden violins play unsettling lines in the upper register before the sound of church bells closes the movement. At the beginning of the third movement, "Piccolo Trumpets: A Children's Broadcast," we hear a sample of a child singing a melody from the opening credits to a children's show. Wang Lu proceeds to transcribe and develop this motive throughout the ensemble, distorting it and transforming its character from innocent and playful to increasingly enigmatic, a subtle commentary on the propagandistic nature of the show. "Caravaggio's Descent" paints a murky scene, a steady dissolution of character represented by slow dripping pizzicato gestures; two keyboards in different microtonal tunings alternate chords for a surreal ending. The final movement, "Tombeau," features overlapping fanfare-like figures in the brass before rumbling chords in the low winds and strings join to create a dense, cathartic close.
Read More
The saxophone and electric guitar duo, Ryan and Dan, titled after its dedicatees (saxophonist Ryan Muncy and guitarist Dan Lippel), is atmospheric and environmental. Several strings on the guitar are detuned microtonally and the part calls for a saturation of reverb. The result is that over ringing sonorities and harmonics meld together into an amorphous wash, evoking the surreality of an underwater environment or a nocturnal wooded landscape. The saxophone part lives inside this sonic halo, adding subtle key clicks, trills, and swelling gestures that animate the texture. As the work evolves, recurring motifs are established — gradually the pace of the work is compressed, jumping between modular ideas and dispensing with the brief pauses that had separated them previously. Distortion in the guitar and growling saxophone multiphonics intensify the climactic section before the piece closes on an ethereal, disembodied open string guitar chord with a high harmonic, once again highlighting the microtonal tuning.
Double Trance for string quartet is inspired by Pierro della Francesca's Umbrian fresco, Madonna del Parto, which depicts two angels alongside a pregnant Madonna. The striking image triggered another memory of Wang Lu's — nuns singing a monophonic melody in a church in Trastevere. This melody is embedded in the ethereal texture of the piece, swimming through otherworldly harmonics, floating glissandi, and pointed pizzicato chords. Throughout Double Trance, the music breathes and sighs, an expressive manifestation of the emotional weight seen in a timeless fresco and heard in a time honored musical ritual.
Though it was written in 2017, Unbreathable Colors has taken on additional significance this year due to the coronavirus crisis. Wang Lu was struck by the untenable air pollution situation in China, a paradigm that often involves color coded warning systems, universal mask wearing, and a regular hindrance to natural behavior that bears an unsettling similarity to the predicament the world has now found itself in under the pandemic. This restricted bandwidth of activity is reflected in limitations Wang Lu has imposed on the violin, performed here by the piece's dedicatee, Miranda Cuckson. The piece largely focuses on two kinds of material: pizzicato arpeggios and plucked double stops, and delicate, bowed harmonics, both sustained and articulated in cross-string bowings. Quiet, delicate gestures are examined and considered, as if the world of the piece is playing itself out in imposed solitude. The final minutes of the work become increasingly rarefied, as the lens of the sound world becomes more and more focused.
The Boston Modern Orchestra Project is also heard on the final track of the recording, Siren Song. Like An Atlas of Time, Siren Song reflects the extroverted side of Wang Lu's artistry. The gestural language of the work is shaped from a transliteration of the ancient dialect of Wang Lu's hometown, Xi'an, which is characterized by registral leaps and glissando-like figures that clarify the meaning of spoken phrases. The result is boisterous and conversational, as quasi-linguistic figures are traded between instrument groups, and playful melodies are contorted for dark effect.
– Dan Lippel
Mastering and Editing: Ryan Streber
Executive Producer: Wang Lu
Producer: Daniel Lippel
Recording, Editing and Mixing: Jim Moses (Unbreathable Colors, Ryan and Dan, Double Trance), Joel Gordon (An Atlas of Time, Siren Song)
Cover Design: Polly Apfelbaum, Dan Cole
Design and Layout: Marc Wolf, marcjwolf.com
Tracks 1-5 (An Atlas of Time): recorded at WGBH, Boston, 02.13.2016
Session Producer: Wang Lu, Anthony Cheung, Joel Gordon
Editing Producer: Wang Lu
Track 6 recorded at Granoff Center recording studio at Brown University, 10.16.2017
Session Producer: Wang Lu, Anthony Cheung, Jim Moses
Editing Producer: Wang Lu, Daniel Lippel
Track 7 recorded live at Martinos Auditorium at Brown University, 02.10.2017
Session Producer: Wang Lu, Jim Moses
Editing Producer: Wang Lu, Jim Moses
Track 8 recorded at Granoff Center recording studio at Brown University, 02.16.2018
Session Producer: Wang Lu, Jim Moses
Editing Producer: Wang Lu, Miranda Cuckson
Track 9 recorded at WGBH, Boston, 02.13.2016
Session Producer: Wang Lu, Anthony Cheung, Joel Gordon
Editing Producer: Wang Lu
Wang Lu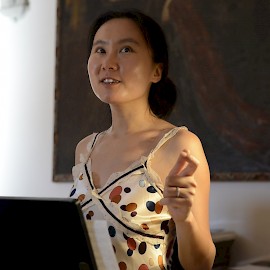 Composer and pianist Wang Lu (born 1982, Xi'an, China) writes music that reflects a very natural identification with influences from traditional Chinese music, urban environmental sounds, linguistic intonation and contours, and freely improvised traditions, through the prism of contemporary instrumental techniques and new sonic possibilities. She is currently an Assistant Professor of Music at Brown University, after receiving her doctoral degree in composition at Columbia University and graduating from the Beijing Central Conservatory of Music. Wang Lu's works have been performed internationally, by ensembles including the Ensemble Modern, Ensemble Intercontemporain, Alarm Will Sound, Minnesota Orchestra, American Composers Orchestra, Orchestre National de Lille, Holland Symfonia, Shanghai National Chinese Orchestra, Taipei Chinese Orchestra, Musiques Nouvelles, Le Nouvel Ensemble Moderne, International Contemporary Ensemble, Third Sound, Curious Chamber Players, Ensemble Pamplemousse, Argento, and Momenta Quartet, among others. Her most recent works have been written for the Stony Brook Contemporary Chamber Players, violinists Miranda Cuckson and Jennifer Koh, and pianist Joel Fan. Wang Lu received the Berlin Prize in Music Composition (Spring 2019 residency) and was a 2014 Guggenheim Fellow. She won the first prize at Le Nouvel Ensemble Moderne's Young Composers Forum in 2010 and shared the Tactus International Young Composers Orchestra Forum Award in 2008. She was selected for a Tremplin commission by IRCAM/Ensemble Intercontemporain in 2010 and the International Composition Seminar with the Ensemble Modern in 2012, and has also received two ASCAP Morton Gould awards. Her music was programmed on festivals such as the 2014 New York Philharmonic Biennial, MATA Festival, Cresc. Biennale in Frankfurt, Gaudeamus Music Week, Tanglewood, Cabrillo Music Festival, Beijing Modern, Pacific and Takefu festivals in Japan, Mostly Mozart, Aspekte Festival in Salzburg, Mizzou International Composers Festival, and the Havana New Music Festival. She has also been a resident at the Civitella Ranieri Foundation. Collaborations have included an installation at Brown University's Cohen Gallery with artist Polly Apfelbaum and an evening of poetry and music with Ocean Vuong.
https://www.wanglucomposer.com
Boston Modern Orchestra Project
The Boston Modern Orchestra Project (BMOP) is the premier orchestra in the United States dedicated exclusively to commissioning, performing, and recording music of the twentieth and twenty-first centuries. Recently hailed as "one of the most artistically valuable [orchestras] in the country for its support of music either new or so woefully neglected that it might as well be" by The New York Times, BMOP was the recipient of Musical America's 2016 Ensemble of the Year award, the first symphony orchestra in the organization's history to receive this distinction.
Founded by Artistic Director Gil Rose in 1996, BMOP has championed composers whose careers span nine decades. BMOP's distinguished and adventurous track record includes premieres and recordings of monumental and provocative new works such as John Harbison's ballet Ulysses, Louis Andriessen's Trilogy of the Last Day, and Tod Machover's Death and the Powers. A perennial winner of the ASCAP Award for Adventurous Programming, the orchestra has been featured at festivals including Opera Unlimited, the Ditson Festival of Contemporary Music with the ICA/Boston, Tanglewood, the Boston Cyberarts Festival, the Festival of New American Music (Sacramento, CA), Music on the Edge (Pittsburgh, PA), and the MATA Festival in New York.
BMOP/sound, BMOP's independent record label, was created in 2008 and has garnered praise from the national and international press; it is the recipient of six Grammy Award nominations and its releases have appeared on the year-end "Best of" lists of The New York Times, The Boston Globe, National Public Radio, Time Out New York, American Record Guide, Downbeat Magazine, WBUR, NewMusicBox, and others.
Gil Rose
Gil Rose is a conductor helping to shape the future of classical music. His dynamic performances and many recordings have garnered international critical praise. In 1996, Mr. Rose founded the Boston Modern Orchestra Project (BMOP), whose unique programming and distinguished performances have earned the orchestra fourteen ASCAP awards for adventurous programming as well as the John S. Edwards Award for Strongest Commitment to New American Music. Also one of the country's most inventive and versatile opera conductors, Mr. Rose founded Odyssey Opera, a new company dedicated to exploring eclectic and overlooked operatic repertoire, in 2013. He led Opera Boston as its Music Director starting in 2003, and in 2010 was appointed the company's first Artistic Director. Mr. Rose serves as the executive producer of the BMOP/sound label, and has led the longstanding Monadnock Music Festival in historic Peterborough, NH, since 2012.
Ryan Muncy
Praised for "superb" performances by The New York Times as well as his ability to "show off the instrument's malleability and freakish extended range as well as its delicacy and refinement" by The Chicago Reader, Ryan Muncy is a saxophonist who performs, commissions, and presents new music. His work emphasizes collaborative relationships with composers and artists of his generation and aims to reimagine the way listeners experience the saxophone through contemporary music. He is a recipient of the Kranichstein Music Prize awarded at the 46th International Summer Courses for New Music Darmstadt, the Claire Rosen and Samuel Edes Foundation Prize for Emerging Artists, a Fulbright Fellowship in France, and has participated in the creation of more than 125 new works for the instrument. His debut solo album Hot was released by New Focus Recordings in 2013 to critical acclaim, praised as "one of the year's best albums" (Time Out New York). Muncy is the saxophonist of the International Contemporary Ensemble (ICE), where he additionally serves as co-director of OpenICE, an outreach initiative which offers barrier-free experiences and free concerts around the world.
http://ryanmuncy.com/
Daniel Lippel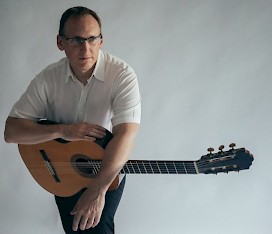 Guitarist Dan Lippel, called a "modern guitar polymath (Guitar Review)" and an "exciting soloist" (NY Times) is active as a soloist, chamber musician, and recording artist. He has been the guitarist for the International Contemporary Ensemble (ICE) since 2005 and new music quartet Flexible Music since 2003. Recent performance highlights include recitals at Sinus Ton Festival (Germany), University of Texas at San Antonio, MOCA Cleveland, Center for New Music in San Francisco, and chamber performances at the Macau Music Festival (China), Sibelius Academy (Finland), Cologne's Acht Brücken Festival (Germany), and the Mostly Mozart Festival at Lincoln Center. He has appeared as a guest with the St. Paul Chamber Orchestra and New York New Music Ensemble, among others, and recorded for Kairos, Bridge, Albany, Starkland, Centaur, and Fat Cat.
http://www.danlippel.com
Momenta Quartet
Momenta: the plural of momentum – four individuals in motion towards a common goal. This is the idea behind the Momenta Quartet, whose eclectic vision encompasses contemporary music of all aesthetic backgrounds alongside great music from the recent and distant past. The New York City- based quartet has premiered over 100 works, collaborated with over 120 living composers and was praised by The New York Times for its "diligence, curiosity and excellence." In the words of The New Yorker's Alex Ross, "few American players assume Haydn's idiom with such ease."
Miranda Cuckson
Violinist Miranda Cuckson has combined a deep background in the classical repertoire with an adventurous and probing spirit to become an acclaimed, in-demand performer of music new and old. She performs worldwide as soloist and chamber musician, at venues including the Berlin Philharmonie, Carnegie Hall, Teatro Colón, Suntory Hall, Library of Congress, 92nd Street Y, Guggenheim Museum, Monday Evening Concerts in LA, and the Marlboro, Bard, Lincoln Center, West Cork, Bridgehampton, Music Mountain, Portland and Bodensee festivals.
She made her Carnegie Hall debut playing Piston's concerto with the American Symphony Orchestra. Her recent performances include premiering a violin concerto written for her by Georg Friedrich Haas, in Tokyo, Stuttgart and Porto, the New York premiere of Michael Hersch's concerto, and recent recitals at the Metropolitan Museum, Miller Theatre, Strathmore and St. Paul Chamber Orchestra's Liquid Music.
Her discography includes, most recently, violin music of Wolpe, Carter and Ferneyhough (Urlicht), and Bartók, Schnittke and Lutoslawski (ECM Records). The New York Times named her recording of Nono's La lontananza nostalgica utopica futura a Best Classical Recording of 2012. Her eleven lauded albums also feature the Korngold and Ponce concertos and music by Finney, Shapey, Martino, Sessions, Eckardt, Hersch, Xenakis, Glass, Mumford, Fujikura and more.
She is director of the non-profit Nunc, a member of collectives AMOC and counter)induction, and a performer and advisory council member at National Sawdust. She studied at The Juilliard School, where she received her doctorate and the Presser Award, and she teaches at Mannes College.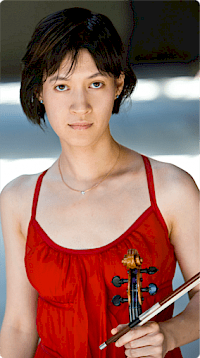 http://www.mirandacuckson.com/