Composer Richard Carrick's newest release, lanterne, is a compendium of music for compact spaces, a timely curation of recent pieces compiled amidst the extended COVID quarantine. Carrick's vision for how to write for small forces is an evocative and varied reminder of the way one can create sonic resonance with even the most sparing instrumentation. Among the sources of inspiration for these works are themes of space travel, limited and limitless possibilities, Debussy and Camus, and traditional Korean Gugak music.
The album opens with pianist Marilyn Nonken's performance of La touche sonore sous l'eau, a sensual solo piece that owes a debt to Debussy's Jeux without overtly referencing the iconic ballet. The texture features watery ascending and descending arpeggios and accented goal tones that activate the piano's resonance. Like Debussy, Carrick replaces the teleology of harmonic progressions with a multi-angled examination of textural gestures.
Two violin duos follow, both performed by String Noise (Pauline Kim and Conrad Harris, violins). Phosphène is built from a taut gesture wherein an ascending glissando played with heavy vibrato is stretched like a tight rubber band as it approaches the top of the slide. The second of the duos, Natural Duo, inverts the ascending gesture, interspersing a descending slide figure with brusque, accented notes. In both duos, repetition fulfills the function of increased emphasis and allows for additive textures that extend the rhythm and introduce embellishing material.
The one minute long une for flute and piano (performed by flutist Margaret Lancaster and Carrick on piano) unfolds as one single melody, intertwined between the two instruments. Inflected by microtones, metric displacement, and disjointed intervallic interjections, the brief piece presents itself as a quasi-primitivist dance and serves as a perfect introduction to the title work for solo bass flute, also performed by Lancaster. A focus on rhythmic structures similar to Gugak music can be heard here, developed through a repetition with variation approach to material. Techniques involving vocalizations and harmonics which articulate the overtone series lend lanterne an earthy focus, balanced by its propulsive presentation.
Read More
Sarang Ga for bass clarinet and piano (performed by Vasko Dukovski and Carrick) represents a more explicit mining of Korean influence, specifically the Pansori vocal tradition. It also contains music written in graphic notation, an area of exploration that has become an important component of Carrick's recent work, including his extended Graphic Series. The trajectory of the piece starts in the highest reaches, moving through a patient exploration of ornamental and embellishment gestures, through a low register reimagining of a Pansori melody that is alternatively brash and reflective, and closes with ecstatic, extended technique clarinet playing over a cacophonous din played inside the piano.
La Scéne Miniature for flute, piano, bass clarinet, and cello (heard in a concert recording at the Library of Congress by Carrick's ensemble Either/Or) takes a murder scene from Albert Camus' The Stranger as a point of inspiration. As in many other works on this album, Carrick prioritizes capturing the essence of expressive gesture over development in this evocative piece. We hear several different permutations of the four instruments in primary and secondary roles over the seven minute piece, culminating in a setting of an Algerian melody culled from Bartok's early 20th century ethnomusicological fieldwork.
The next three works on the program are drawn explicitly from Carrick's work with Korean traditional music. Danga features cellist John Popham with Carrick on piano; the title is a Pansori term for a short introductory piece — characteristic vocal inflections are transcribed for cello over tolling, bell-like piano chords. The solo violin work Seongeum, performed here by Lauren Cauley, is an extended manifestation of the same transcription principle of Pansori vocal gestures. Slides, overpressure, sul ponticello, grace notes, and several other ornamental techniques are used to powerful effect to capture the richness of this tradition of Korean singing.
sandstone(s), commissioned by the Pacific Rim Festival, is the only work on this recording that incorporates actual Korean instruments alongside Western instruments. Unlike many works for similar hybrid instrumentations that take a quasi-antiphonal approach, Carrick integrates the gestural and timbral language of the Western and Eastern instruments. The urgent, searing timbral quality of the Korean instruments is given enveloping harmonic support by the cello as the flute and violin engage in dialogue with the melodic material.
The final work on the album is the four movement string quartet, Space:Time, performed here by longtime Carrick collaborators, the Mivos Quartet, and funded by an award from the Fromm Foundation. Physical barriers to space travel are the thematic jumping off point for the work. Each movement experiments with musical parameters in slightly different ways. The first, "Claustrophobia," zeroes in on central pitches as a taut texture swirls around them, employing harmonic glissandi and closely spaced intervals to simulate the pressures brought to bear on enclosed spaces. The second, "Gravity," is a contrapuntal exercise; two pitches are volleyed across the ensemble in various registers as if to play with the physicality of weightlessness outside of the earth's atmosphere. The third, "Space Travel," is organized into a palindrome, as gradually accelerating wavelike gestures build towards a densely active center, before receding back to the relative calm of the opening. In a final coda that pays homage to composer Horatio Rădulescu, slow moving cantus firmus lines are embellished by intensifying swells.
-- Dan Lippel
Richard Carrick
Richard Carrick is a musician of wide-ranging vocations and proclivities, whose calling spans composition, performance, conducting, teaching artistry, education, lecturing, ensemble leadership, and curation. His reputation as an international leader in contemporary music rests on his tireless curiosity, intercontinental body of experience, and ceaseless exploration across disparate musical fields. His music is characterized by spatial depth and robust stasis; continual development and the evocation of profound human experiences.
Described both as "charming, with exoticism and sheer infectiousness" and "organic and restless" by The New York Times, Carrick's music is influenced by his multicultural background and experiences as well as his commitment to inspire professionals, audiences and youth through composition and live performance. His music spans beyond solo, chamber and orchestral compositions to include conceived works incorporating dance, graphic scores, multiple video projections, and group and conducted improvisation.
Carrick's music has been programmed and presented internationally at festivals including NYPHIL BIENNIAL, ISCM World Music Days- Switzerland, Library of Congress, Enescu Festival, Pacific Rim Festival, Miller Theatre, Mid-American New Music Festival, and Darmstadt Summer Festival, and performed by musicians including the JACK Quartet, Mivos Quartet, Nieuw Ensemble, Wet Ink Ensemble, New York New Music Ensemble, Hyperion Ensemble, Sequitur Ensemble, Musica Nova, Hotel Elefant, Marilyn Nonken, Taka Kigawa, Margaret Lancaster, Vasko Dukovski, Jennifer Choi, Tony Arnold, Magnus Andersson, Steven Schick, Rohan de Saram, and others. He is the recipient of numerous awards, including a 2015-16 Guggenheim Fellowship in Music Composition and a 2011 Fromm Foundation Commission.
Carrick is co-founder and co-artistic director of the contemporary music ensemble Either/Or, declared 'first rate' and 'a trustworthy purveyor of fresh sounds' by The New York Times, and winner of the 2015 CMA/ASCAP Award for Adventurous Programming. As conductor and pianist, Carrick has worked closely with many celebrated composers including Helmut Lachenmann, Jonny Greenwood, Chaya Czernowin, Elliott Sharp, George Lewis, Anna Thorvaldsdottir, Iancu Dumitrescu, Robert Ashley, Karin Rehnqvist and Raphael Cendo. Carrick conducting E/O's ambitious performance of "John Cage Party Pieces" premiered 125 scores by renowned composers from around the world.
A teaching artist of considerable skill and experience, Carrick was instrumental in the development and expansion of the New York Philharmonic's Very Young Composer program, in which he mentored hundreds of young composers to compose pieces to be performed by New York Philharmonic musicians (including pieces for full orchestra). His work in the program has expanded to include mentorship for young composers in Korea, Japan and the UK. As part of his work as a Guggenheim fellow, Carrick also founded a young composer program in both Israel and Kigali, Rwanda.
Carrick is the Chair of Composition at Berklee College of Music, where he directs the Neither/Nor Composer/Performer Ensemble, and teaches composing for dance and alternate approaches for structuring real-time music creation. He has presented masterclasses and lectures throughout the US, Canada, Holland, France, UK, Spain, Sweden, Germany, Israel, Rwanda, Japan and South Korea. Former posts include composition faculty at Columbia University and New York University.
His CD release, Cycles of Evolution, incorporates pieces commissioned and performed by Musicians of the New York Philharmonic, Either/Or, Sweden's Ensemble Son, Hotel Elefant and String Orchestra of Brooklyn. Carrick conducts or performs on all works on this CD, which includes his 'apocalyptic' multimedia work for performers and video, Prisoner's Cinema. Carrick's first recording, also on New World Records, the "rich, beguiling" (The New York Times) extended chamber composition Flow Cycle for Strings, translates psychologist Mihaly Csikszentmihalyi's 'flow' principle into sonic terms. Carrick's improvisation-based disc Stone Guitars (New Focus Recordings) garnered critical attention in both the new music and guitar worlds, causing American Record Guide to note 'it may change your perception of electric guitar'.
A US/French citizen born in Paris of French-Algerian and British descent, Carrick received his BA from Columbia University, MA and PhD from the University of California-San Diego working with Brian Ferneyhough, and pursued further studies at IRCAM and the Koninklijk Conservatorium. Scores distributed by Project Schott New York.
http://www.richardcarrick.com
Marilyn Nonken
Marilyn Nonken is one of the most celebrated champions of the modern repertoire of her generation, known for performances that explore transcendent virtuosity and extremes of musical expression. Upon her 1993 New York debut, she was heralded as "a determined protector of important music" (New York Times). Recognized a "one of the greatest interpreters of new music" (American Record Guide), she has been named "Best of the Year" by some of the nation's leading critics.
Marilyn Nonken's performances have been presented at such venues as Carnegie Hall, Lincoln Center, Miller Theatre, the Guggenheim Museum, (Le) Poisson Rouge, IRCAM and the Théâtre Bouffe du Nord (Paris), the ABC (Melbourne), Instituto-Norteamericano (Santiago), the Music Gallery (Toronto), the Phillips Collection, and the Menil Collection, as well as conservatories and universities around the world. Festival appearances include Résonances and the Festival d'Automne 4both, Paris) and When Morty Met John, Making Music, and Works and Process (all, New York), American Sublime (Philadelphia), The Festival of New American Music (Sacramento), Musica Nova (Helsinki), Aspects des Musiques d'Aujourd-hui (Caen), Messiaen 2008 (Birmingham, UK), New Music Days (Ostrava), Musikhøst (Odense), Music on the Edge (Pittsburgh), Piano Festival Northwest (Portland), and the William Kapell International Piano Festival and Competition. Highlights of recent seasons have included performances of Hugues Dufourt's Erlkönig, Morton Feldman'sTriadic Memories,Tristan Murai's complete piano music, and Olivier Messiae's "Visions de'l Amen" with Sarah Rothenberg. Composers who have written for her include Milton Babbitt, Drew Baker, Pascal Dusapin, Jason Eckardt, Michael Finnissy, Joshua Fineberg, Liza Lim, and Tristan Murail.
She has recorded for New World Records, Mode, Lovely Music, Albany, Metier, Divine Art, Innova, CRI, BMOP Sound, New Focus, Cairos, Tzadik, and Bridge. Her solo discs include "American Spiritual," a CD of works written for her, "Morton Feldman: Triadic Memories," "Tristan Murail: The Complete Piano Music," "Stress Position: The Complete Piano Music of Drew Baker," and "Voix Voilees," music of Joshua Fineberg and Hugues Dufourt. She appears as concerto soloist in David Rakowski's Piano Concerto (Gil Rose and the Boston Modern Orchestra Project), Roger Reynolds's "The Angel of Death (Magnus Martensson and the Slee Sinfonietta), and Jason Eckardt's "Trespass" (Timothy Weiss and the Oberlin Contemporary Music Ensemble).
A student of David Burge at the Eastman School, Marilyn Nonken received a Ph.D. degree in musicology from Columbia University. Her writings on music have been published in Tempo, Perspectives of New Music, Contemporary Music Review, Agni, Current Musicology, Ecological Psychology, and the Journal of the Institute for Studies in American Music. She has contributed chapters to "Perspectives on French Piano Music" and "Messiaen Perspectives 2: Techniques, Influence, and Reception" (both, Ashgate) and is currently writing a monograph on spectral piano music for Cambridge University Press. Director of Piano Studies at New York University's Steinhardt School, Marilyn Nonken is a Steinway Artist.
http://www.marilynnonken.com/
String Noise
String Noise, New York's most daring violin duo comprised of violinists Conrad Harris and Pauline Kim Harris, has expanded the repertoire with over 50 new works since their debut at Ostrava New Music Days in 2011. Nearly a decade later, they continue to break down the boundaries of traditional expectations and inspire innovative compositions, displaying formidable virtuosity, integrating multi-media art, electronics, improvisation, video projections, opera and dance. Premieres by String Noise include works by George Lewis, Christian Wolff, Michael Byron, David Behrman, Alvin Lucier, John King, Phill Niblock, Caleb Burhans, Catherine Lamb, David Lang, Petr Kotik, Du Yun, Annie Gosfield, Bernhard Lang, John Zorn, Greg Saunier, Alex Mincek, Tyondai Braxton, Richard Carrick, to name some.
John Popham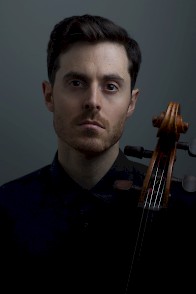 Cellist John Popham is a chamber musician and teacher based in Brooklyn, New York. His playing has been described as "brilliant" and "virtuosic" (Kronen Zeitung), "warm but variegated", and "finely polished" (The New York Times).
Currently a member of Either/Or Ensemble and LONGLEASH, Mr. Popham has performed internationally with groups including Klangforum Wien, Talea Ensemble, and the Argento Chamber Ensemble. He has appeared as soloist with the Louisville Orchestra, the String Orchestra of Brooklyn, the Red Light Ensemble, and the Kunstuniversität Graz Chorus.
Recent festival appearances include Brücken (Austria), Open Musik (Austria), IMPULS (Austria), the Vermont Mozart Festival, USINESONORE (Switzerland), Bay Chamber (Maine), the Contemporary Classical Music Festival (Peru), Lucerne Festival, and Klangspuren (Austria).
Dedicated to new music performance, Mr. Popham has worked with composers including Pierre Boulez, Tristan Murail, Steve Reich, Nils Vigeland, and Reiko Füting. The recipient of a Fulbright research grant, Mr. Popham spent the 2013/2014 academic year in Austria, where he studied the performance practice of Klangforum Wien and worked with leading figures in contemporary Austrian music: Beat Furrer, Georg Friedrich Haas, Klaus Lang, and Pierluigi Billone.
Mr. Popham is currently cello faculty of the Extension Division of Rutgers University. He received his BM and MM from the Manhattan School of Music where he was a student of David Geber and David Soyer and was awarded the Manhattan School of Music Full Scholarship. He has recorded for Tzadik, Carrier, New Focus, Albany, and Arte Nova records.
http://www.johnpatrickpopham.com
Eduardo Leandro
Eduardo Leandro teaches percussion at Stony Brook University in new York, where he is also the artistic director of its new music ensemble, the Contemporary Chamber Players. He taught at the Haute École de Musique de Genève and directed the percussion program at the University of Massachusetts at Amherst between 1999 and 2007. He has conducted some of the most important pieces of the twentieth century, including Schönberg's Pierrot Lunaire and Chamber Symphony, Ligeti's Piano and Chamber Concertos, Messiaen's Exotic Birds, Xenakis' Palimpsest, Boulez's Derives I, and several premieres for mixed ensemble.
As a percussionist Eduardo Leandro has performed with ensembles such as the Steve Reich Ensemble, Orpheus Chamber Orchestra and Bang-on-a-Can All Starts. He is part of the Percussion Duo Contexto, which was an ensemble in residence at the Centre Internacional de Percussion in Geneva for ten years. He played regularly with Ensemble Champ d'Action in Belgium, with Concertgebouw Orchestra in Amsterdam, and with Ensemble Contrechamps in Switzerland, under the direction of Pierre Boulez, Heinz Holliger, and David Robertson among others.
Eduardo Leandro was born in Belo Horizonte, Brazil. He attended the Sao Paulo State University, the Rotterdam Conservatory in the Netherlands, and Yale University, having studied percussion with John Boudler, Jan Pustjens, and Robert van Sice.