Composer Douglas Boyce releases his second recording of chamber music that draws inspiration from many sources — early music forms and techniques modernized for the present, dynamic chamber music interaction, and rich interpretations of poetry, painting, and philosophy. Boyce uses all these to create a multilayered tapestry of sound and ideas. This collection includes performances by counter)induction (the ensemble he co-founded), as well as Trio Cavatina, Beth Guterman Chu, Ieva Jokubaviciute and Schuyler Slack.
Douglas Boyce's Quintet l'homme armé is created from a 15th c. melody of the same name. The piece is roughly in 2 halves. The first opens full of a bright edginess, streaming freely from a manic clarinet, all shrieks and flourishes. The second explores a quieter side of the instruments — introspective, transparent. The clarinet's shrieks turn to moans. It is not that the intensity has bled out, it is still palpable. We now hear only its trace, a shimmering filament held taut.
Stretto Perpetuo is part of Boyce's large scale Book of Etudes project. Boyce works closely in collaboration with engineer Ryan Streber, and it shows. The precision and clarity of the recording spotlights the full timbral mastery of cellist Schuyler Slack: a heavy bow that is caustic, almost severe; a throaty and muscular pizzicato, a wonderfully bitey articulation that sounds like a bad scraped knee feels. Boyce balances the sharp edges with starry, gentle chord sequences for the piano. Pianist Ieva Jokubaviciute's wide panorama of tone — pastel, rounded tones for the highly-voiced chords, and steely hardness for the midrange punches — enlarges the piece such that it sounds like more than a duo. But the insistent ostinato returns, with its sleight-of-hand syncopations. Even a gossamer coda is infiltrated by that ostinato, seemingly trying to start something, only to spirit off into the distance.
Read More
Boyce's Piano Quartet No. 2 begins with writhing glissandi in the strings, punctuated with piano calls. They increase in volume and insistence, toward a breaking point, only to recede slowly. The gambits are varied — a jangling piano overtakes the writhing strings, a passage of high violin grows increasingly aggressive and subsumed by bouncing, insistent eighth notes, the whole lot subjected to "heavy messing" (Boyce's marking). The last farewell slowly unwinds over the last two minutes of the piece, leaving us in an alien, suspended world, full of memories.
Sails Knife-bright in a Seasonal Wind is dedicated to Boyce's son, a dreamy and dramatic four year old when the work was composed. In much of Boyce's work, motive is presented as a process; here motive stands as gesture, a statement of its own. The spareness of the work brings into relief the three very different characters of the violin, guitar and percussion, and allows for the varied timbres and combinations to speak clearly. Elsewhere, the instruments interact so tightly as to sound like a single organism. Especially arresting are moments when the sonic border between one instrument and another is unstable; another affecting moment happens about three minutes from the end, when an imitated line is slowly mapped onto violin and guitar.
Boyce's The Hunt By Night is the final piece in his wide ranging set of 21 Etudes. More than abstract music, it is an aesthetic, poetic conversation with the painting by Paolo Uccello (1470) and the poem by Derek Mahon that shares its name. This "modern caccia" is vibrantly alive. Along the way, roles change, instruments group and regroup, but the energy of the chase cannot be contained. The heat of the pursuers and the pursued is there, along with the sudden quiet moments of suspenseful waiting. Tempo markings "ill-advised" and "fully-fanged, target oriented" intensify the atmosphere. All of Boyce's Etudes assume virtuosity on the part of the players, and this is no different. These players swing us between the stylized dimensionality of the painting and the smooth space of the chase, all switchbacks and takeovers and leaps through the rhythmic patterning of the forest.
– Kyle Bartlett
Track 1 recorded live by Ars Laureate at the Armand Hammer Auditorium, Corcoran School of the Arts and Design, George Washington University, Washington DC. (15 Nov, 2020)
Track 2 recorded at In Your Ears Studio in Richmond, Virginia, (17 Nov, 2018) mixed and mastered by Ryan Streber, Oktaven Audio, Mt. Vernon West, NY
Tracks 3, 4, 5 recorded, mixed, and mastered by Ryan Streber, Oktaven Audio, Mt. Vernon West, NY; Piano Quartet No. 2 (4 Oct 2011), Sails Knife-bright in a Seasonal Wind (19 May, 2019), The Hunt by Night (1 Feb 2020)
Session producers: Carlos Chafin (Track 2) Ryan Streber (Tracks 3,4,5)
Editing producers: Ryan Streber and Douglas Boyce
Design and Layout: Douglas Boyce
Cover image: The Hunt by Night, 1470 (Paolo Uccello, 1397-1475)
The Hunt by Night is partially supported by grants from George Washington University
Douglas Boyce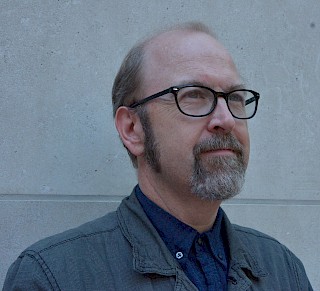 Douglas Boyce writes chamber music that draws on Renaissance traditions and modernist aesthetics, building rich rhythmic structures that shift between order, fragmentation, elegance, and ferocity. Regarding A Book of Songs (2006, in process), the Washington Post wrote "[they] can only be described as drop-dead beautiful. Easily the most captivating works on the program, these songs of love and death are extraordinarily well written and insightful." Regarding La Déploration, (2016) Corinna da Fonseca-Wollheim wrote that "...the violinist, cellist... and clarinetist... spread out throughout the crypt. Against vaporous harmonics and ghostly fragments of Renaissance music played by the strings, [a] warm, clear clarinet announced itself as very much alive as it sashayed in and out of blues territory and laughed in the face of their mournful keening."
https://www.douglasboyce.net
counter)induction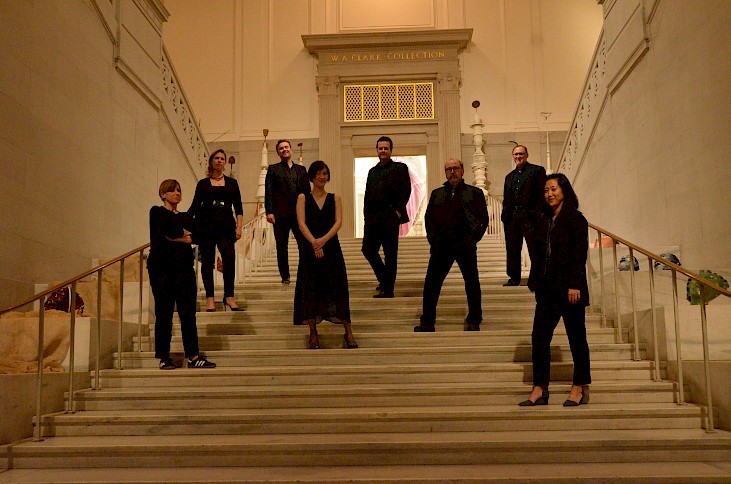 In its twenty years of virtuosic performances and daring programming, the composer/performer collective counter)induction has established itself as a force of excellence in contemporary music. Hailed by The New York Times for its "fiery ensemble virtuosity" and for its "first-rate performances" by The Washington Post, c)i has given critically-acclaimed performances at Miller Theatre, Merkin Concert Hall, the Philadelphia Chamber Music Society, Music at the Anthology, and the George Washington University. Since emerging in 1998 from a series of collaborations between composers at the University of Pennsylvania and performers at the Juilliard School, counter)induction has premiered numerous pieces by both established and emerging American composers; including Eric Moe, Suzanne Sorkin, Ursula Mamlok, and Lee Hyla. c)i has also widely promoted the music of international composers including Jukka Tiensuu, Gilbert Amy, Dai Fujikura, Diego Tedesco, and Elena Mendoza. Since its inception, c)i's mission has been straightforward: world-class performances of contemporary chamber music, without hype and without agenda other than a complete commitment to the most compelling music of our day.
http://counterinduction.com/
Benjamin Fingland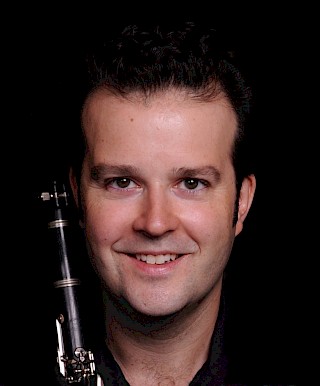 Benjamin Fingland interprets a diverse range of clarinet literature, with performances conveying "spiritedness and humor", "unflagging precision and energy", "eloquence and passion", "dazzling technique" (The New York Times) and playing described as "something magical" (The Boston Globe), "compellingly musical" (The New York Times) and "thoroughly lyrical…expert" (The Philadelphia Inquirer). A proponent of the music of our time, he works closely with living composers. In addition to being a founding member of the critically-acclaimed new music collective counter)induction, he plays with many leading contemporary performance ensembles: NOVUS NY, the International Contemporary Ensemble, the New York New Music Ensemble, the Network for New Music, the Argento Ensemble, the Locrian Chamber Players, and Sequitur. He is a member of the renowned Dorian Wind Quintet, which will soon celebrate 60 years of groundbreaking commissions and performances of wind chamber music. He has Bachelor and Master of Music degrees from the Juilliard School and is on the faculty of the Third Street Music School Settlement in New York City.
http://benjaminfingland.com
Miranda Cuckson
Violinist Miranda Cuckson has combined a deep background in the classical repertoire with an adventurous and probing spirit to become an acclaimed, in-demand performer of music new and old. She performs worldwide as soloist and chamber musician, at venues including the Berlin Philharmonie, Carnegie Hall, Teatro Colón, Suntory Hall, Library of Congress, 92nd Street Y, Guggenheim Museum, Monday Evening Concerts in LA, and the Marlboro, Bard, Lincoln Center, West Cork, Bridgehampton, Music Mountain, Portland and Bodensee festivals.
She made her Carnegie Hall debut playing Piston's concerto with the American Symphony Orchestra. Her recent performances include premiering a violin concerto written for her by Georg Friedrich Haas, in Tokyo, Stuttgart and Porto, the New York premiere of Michael Hersch's concerto, and recent recitals at the Metropolitan Museum, Miller Theatre, Strathmore and St. Paul Chamber Orchestra's Liquid Music.
Her discography includes, most recently, violin music of Wolpe, Carter and Ferneyhough (Urlicht), and Bartók, Schnittke and Lutoslawski (ECM Records). The New York Times named her recording of Nono's La lontananza nostalgica utopica futura a Best Classical Recording of 2012. Her eleven lauded albums also feature the Korngold and Ponce concertos and music by Finney, Shapey, Martino, Sessions, Eckardt, Hersch, Xenakis, Glass, Mumford, Fujikura and more.
She is director of the non-profit Nunc, a member of collectives AMOC and counter)induction, and a performer and advisory council member at National Sawdust. She studied at The Juilliard School, where she received her doctorate and the Presser Award, and she teaches at Mannes College.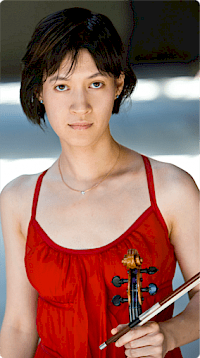 http://www.mirandacuckson.com/
Jessica Meyer
With playing that is "fierce and lyrical" and works that are "other-worldly" (The Strad) and "evocative" (New York Times), Jessica Meyer is a versatile composer and violist whose passionate musicianship radiates accessibility, generosity, and emotional clarity. Jessica has premiered pieces for solo viola internationally – expanding the repertoire for viola by championing new works while also composing her own. Meyer's compositions explore the wide palette of emotionally expressive colors available to each instrument while using traditional and extended techniques inspired by her varied experiences as a contemporary and period instrumentalist. Recent premieres include performances by the Grammy-winning vocal ensemble Roomful of Teeth, cellist Amanda Gookin for her Forward Music Project at National Sawdust, soprano Melissa Wimbish for her Carnegie Hall debut, Sybarite 5, PUBLIQuartet, and NOVUS NY of Trinity Wall Street under the direction of Julian Wachner. Equally at home with many different styles of music, Jessica can regularly be seen performing on Baroque viola, improvising with jazz musicians, or collaborating with other performer/composers.
https://jessicameyermusic.com
Caleb van der Swaagh
A versatile chamber musician and soloist, cellist Caleb van der Swaagh is an alumnus of Ensemble ACJW (now known as Ensemble Connect) – a program of Carnegie Hall, The Juilliard School, and the Weill Music Institute in partnership with the New York City Department of Education. Caleb is a first prize winner in the SAVVY Chamber Competition and is the recipient of the Manhattan School of Music Pablo Casals Award and the Tanglewood Karl Zeise Memorial Cello Prize and was also a grant recipient from the Virtu Foundation. As a chamber musician, Caleb has performed with the Borromeo String Quartet, The Knights, A Far Cry, and the Jupiter Symphony Chamber Players and has recently appeared at such festivals as the Chelsea Music Festival, Ottawa ChamberFest, Garth Newel Music Center, Music from Montauk, and Birdfoot Festival. Caleb's most recent release is the Carter Clarinet Quintet with Phoenix Ensemble on Navona and he has also appeared on recordings on Albany Records, Bright Shiny Things, Supertrain Records, Linn Records, and Avie Records.
An advocate of contemporary music, Caleb is a member of counter)induction and Ensemble Échappé as well as performing with other leading new music ensembles. Among many others, Caleb has premiered works by such composers as Beat Furrer, Ted Hearne, Iancu Dumitrescu, Christian Wolff, Roscoe Mitchell, and Georg Friedrich Haas. He also regularly performs his own compositions and arrangements.
A native New Yorker, Caleb graduated magna cum laude from Columbia University as part of the Columbia – Juilliard Exchange program with a degree in Classics and Medieval & Renaissance Studies. Caleb received his master's degree with academic honors from New England Conservatory and later studied at the Manhattan School of Music. His primary teachers are Bonnie Hampton, Bernard Greenhouse, Laurence Lesser, and David Geber. Caleb plays on a cello made by David Wiebe in 2012. For more information, visit www.calebvanderswaagh.com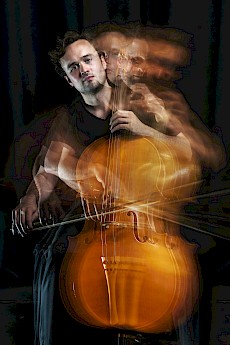 https://www.calebvanderswaagh.com/
Ning Yu
Praised for her, "taut and impassioned performance" by the New York Times, pianist Ning Yu performs with vigor and dedication for traditional and repertoire of the 20th and 21st century on stages across the United States, Europe and Asia. Ning brings virtuosity and adventurous spirit to a wide range of music, both in solo performances and in collaborations with some of today's most distinguished creative artists.
Working at the forefront of the current creative music scene in the US, Ning has given dozens of world premieres by esteemed composers such as Tristan Murail, Steve Reich, Terry Riley, David Lang, Michael Gordon, Enno Poppe, and collaborated with artists from different genres such as Sufjan Stevens, Glenn Kotche, Pete Swanson, and Bryce Dessner. She has performed with ensembles such as Bang on A Can All-Stars, ICE, Talea Ensemble, Signal Ensemble, counter)induction, and she is a member of the highly regarded piano/percussion quartet Yarn/Wire.
Ning appears in concert halls, international festivals, universities, and other non-traditional performance spaces. These venues include Lincoln Center, Carnegie Hall, Museum of Modern Art , Miller Theater, Guggenheim Museum, Brooklyn Academy of Music, Monday Evening Concerts in Los Angeles, Library of Congress, Issue Project Room, Pioneer Works, Contempo Concert Series at University of Chicago, the Kennedy Center, Kimmel Center, Köln Philharmonie in Germany, Muziekgebouw in Amsterdam, Kwe- Tsing Theater in Hong Kong, Spoleto Festival, Rainy Day Festival in Luxembourg, Ultima Festival in Norway, Transit Festival in Belgium, Edinburgh Festival in Scotland, Singapore International Arts Festival, Princeton University, Stanford University, Columbia University, Yale University, Brown University, and Eastman School of Music.
In theater, Ning performed with Mabou Mines' Dollhouse — a critically acclaimed production directed by Lee Breuer. She can be seen in the production's feature-film version, produced by ARTE France. Ning has also collaborated with director Moisés Kaufman and the Tectonic Theater Project on the development of the Tony Award–nominated play 33 Variations.
Ning is the winner of the Boucourechliev Prize at the Ninth International Concours de Orléans in France — a competition devoted to piano repertoire from 1900 to today. Together with other members of Yarn/Wire, the first-prize winner of Open Category of the International M-Prize Chamber Music Competition, and the prestigious "40 under 40 award" of the Stony Brook University for outstanding alumni.
Ning is a graduate of the Eastman School of Music (B.M. And M.M.A) and Stony Brook University (D.M.A.). She is assistant professor of piano and chamber music at the George Washington University in Washington, D.C. Ning currently resides in New York City with her husband and daughter. She is a Yamaha Artist.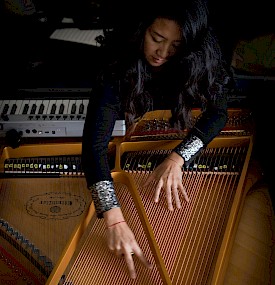 https://www.ningyupiano.com
Trio Cavatina
Pianist Ieva Jokubaviciute, violinist Harumi Rhodes, and cellist Priscilla Lee formed Trio Cavatina in 2005 at the renowned Marlboro Music Festival in Vermont. Deeply rooted in a strong sense of shared musical values, Trio Cavatina has rapidly emerged as one of today's outstanding chamber ensembles whose committed music-making prompted Harris Goldsmith to describe the trio, in his 2008 Musical America article, as offering 'potent, intense interpretations'. As the winner of the 2009 Naumburg International Chamber Music Competition, Trio Cavatina made its Carnegie Hall debut in 2010 with scintillating performances of two monumental Beethoven trios, Leon Kirchner's second trio, and the world premiere performance of 'Faces of Guernica' written for them by Richard Danielpour. They also made their San Francisco debut earlier that season at Herbst Theater (San Francisco Performances).
Daniel Lippel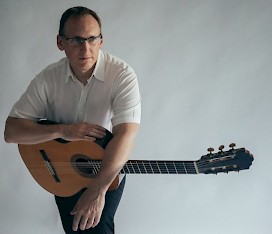 Guitarist Dan Lippel, called a "modern guitar polymath (Guitar Review)" and an "exciting soloist" (NY Times) is active as a soloist, chamber musician, and recording artist. He has been the guitarist for the International Contemporary Ensemble (ICE) since 2005 and new music quartet Flexible Music since 2003. Recent performance highlights include recitals at Sinus Ton Festival (Germany), University of Texas at San Antonio, MOCA Cleveland, Center for New Music in San Francisco, and chamber performances at the Macau Music Festival (China), Sibelius Academy (Finland), Cologne's Acht Brücken Festival (Germany), and the Mostly Mozart Festival at Lincoln Center. He has appeared as a guest with the St. Paul Chamber Orchestra and New York New Music Ensemble, among others, and recorded for Kairos, Bridge, Albany, Starkland, Centaur, and Fat Cat.
http://www.danlippel.com