Pianist Ning Yu (Yarn/Wire, counter)induction) releases her debut recording, "Of Being," featuring the premiere of works by Wang Lu, Misato Mochizuki, and Emily Praetorius that together form a conceptually powerful collection. With various embedded themes from humanity's impact on the natural world to the deceptive nature of temporality, the three works on this recording celebrate the process of translating an idea into a musical manifestation.
Wang Lu's Rates of Extinction is both a lament for mortally endangered species and a celebration of pianistic virtuosity. The opening movement begins with a repeated pulse, slowly layering different polyrhythmic material and characteristic motives upon it, "to represent the heart rates of different animals that went extinct around 2015." Messiaen-like bird calls interrupt the ominously insistent D5 that started the piece. Movement two begins more brilliantly, with a rapid repeated note figure in the highest register of the instrument. A pleading two-note motive emerges below as an expressive counterpart to the explosive bursts. Movement three reprises the "heartbeat" approach of movement one, with a primary pitch one step lower on C, tolling low bass notes and bell-like pitches in the high register. The fourth movement introduces the work's most extroverted music, again opening with insistent, Morse-code like repeated figures, around which dart angular, stabbing chords and fleet passagework. Wang Lu's ecosystem of sound takes a brief, introspective pause before the movement closes with a vigorous intensification of the previous material. The final movement of Rates of Extinction is more subdued, as sustained ethereal harmonies invite us to contemplate a future robbed of the vibrancy of species diversity.
Misato Mochizuki's Moebius-Ring is a musical manifestation of the mathematical paradox with the same name. Mochizuki writes, "we pass successively from the front to the back of the ring while remaining on the same side of the ribbon." The work is arranged into a series of variations, also based on repetitive pulsations. The stark processional opening leads through staggered off-kilter entrances, sequential chords, fast repeated notes in the high register, and percolating alternating textures marked by spiky accents. In each case, Mochizuki establishes a pattern and gradually deconstructs it, ultimately leading back to the repetitive pulsations that represent the inescapable starting point of the ribbon. After the piece is deconstructed down to one repeated note, Mochizuki begins to build the texture back up, first tentatively with harp-like ascending arpeggios, and then with a jaunty section featuring many of the motivic ideas from earlier in the work.
Read More
Emily Praetorius' four movement title work "navigates a space between suspended time and flowing time." The minimal musical material is designed to invite the listener to focus on subtleties like decay and intervallic relationships. By weaving phrases across large registral leaps and integrating different articulations like muted pitches and harmonics, Praetorius creates a delicate three-dimensional soundworld. Brief scalar flourishes and moments of increased density accelerate the perception of musical time, as the balance between suspension and flow shifts through the piece. The second movement opens in a more timbrally experimental space, with all of the pitches of an ascending scale sustained with the pedal, followed by a percussive hit on the body of the instrument and a scrape on the strings inside the piano. Silence frames these hybrid gestures as Praetorius introduces subtle variations, expanding the sense of the temporal canvas framing the music. We hear the material within a more rhythmically regular context towards the end of the movement, before several haunting string scrapes highlight otherworldly overtones to bring it to its close. The short third movement opens with floating descending passages reminiscent of wind chimes. As the music enters lower registers, it becomes louder and more impassioned, only receding in intensity once it turns and ascends back to where it started. The final movement hearkens back to Wang Lu's first movement, opening with repeated muted notes, alternating in different tempi and registers. Over the course of the movement, Praetorius integrates rolled chords, harmonics, and glissandi articulated with a slide on the string. As with previous movements, rhythmic regularity and density of material move the texture towards a peak, but the movement remains ritualistic and meditative.
Ning Yu's performances throughout are virtuosic and poetic. Taken together, the three works share striking similarities despite being generated from divergent sources of inspiration. "Of Being" is a poignant recording that documents significant new repertoire for piano that speaks to probing themes through sound.
– Dan Lippel
Ning Yu
Praised for her, "taut and impassioned performance" by the New York Times, pianist Ning Yu performs with vigor and dedication for traditional and repertoire of the 20th and 21st century on stages across the United States, Europe and Asia. Ning brings virtuosity and adventurous spirit to a wide range of music, both in solo performances and in collaborations with some of today's most distinguished creative artists.
Working at the forefront of the current creative music scene in the US, Ning has given dozens of world premieres by esteemed composers such as Tristan Murail, Steve Reich, Terry Riley, David Lang, Michael Gordon, Enno Poppe, and collaborated with artists from different genres such as Sufjan Stevens, Glenn Kotche, Pete Swanson, and Bryce Dessner. She has performed with ensembles such as Bang on A Can All-Stars, ICE, Talea Ensemble, Signal Ensemble, counter)induction, and she is a member of the highly regarded piano/percussion quartet Yarn/Wire.
Ning appears in concert halls, international festivals, universities, and other non-traditional performance spaces. These venues include Lincoln Center, Carnegie Hall, Museum of Modern Art , Miller Theater, Guggenheim Museum, Brooklyn Academy of Music, Monday Evening Concerts in Los Angeles, Library of Congress, Issue Project Room, Pioneer Works, Contempo Concert Series at University of Chicago, the Kennedy Center, Kimmel Center, Köln Philharmonie in Germany, Muziekgebouw in Amsterdam, Kwe- Tsing Theater in Hong Kong, Spoleto Festival, Rainy Day Festival in Luxembourg, Ultima Festival in Norway, Transit Festival in Belgium, Edinburgh Festival in Scotland, Singapore International Arts Festival, Princeton University, Stanford University, Columbia University, Yale University, Brown University, and Eastman School of Music.
In theater, Ning performed with Mabou Mines' Dollhouse — a critically acclaimed production directed by Lee Breuer. She can be seen in the production's feature-film version, produced by ARTE France. Ning has also collaborated with director Moisés Kaufman and the Tectonic Theater Project on the development of the Tony Award–nominated play 33 Variations.
Ning is the winner of the Boucourechliev Prize at the Ninth International Concours de Orléans in France — a competition devoted to piano repertoire from 1900 to today. Together with other members of Yarn/Wire, the first-prize winner of Open Category of the International M-Prize Chamber Music Competition, and the prestigious "40 under 40 award" of the Stony Brook University for outstanding alumni.
Ning is a graduate of the Eastman School of Music (B.M. And M.M.A) and Stony Brook University (D.M.A.). She is assistant professor of piano and chamber music at the George Washington University in Washington, D.C. Ning currently resides in New York City with her husband and daughter. She is a Yamaha Artist.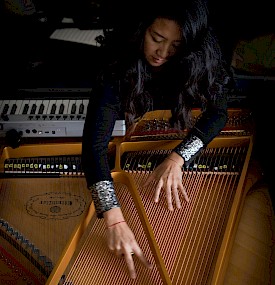 https://www.ningyupiano.com
Wang Lu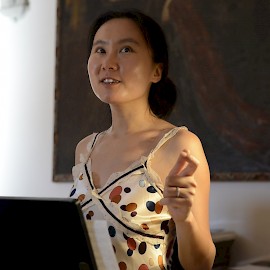 Composer and pianist Wang Lu (born 1982, Xi'an, China) writes music that reflects a very natural identification with influences from traditional Chinese music, urban environmental sounds, linguistic intonation and contours, and freely improvised traditions, through the prism of contemporary instrumental techniques and new sonic possibilities. She is currently an Assistant Professor of Music at Brown University, after receiving her doctoral degree in composition at Columbia University and graduating from the Beijing Central Conservatory of Music. Wang Lu's works have been performed internationally, by ensembles including the Ensemble Modern, Ensemble Intercontemporain, Alarm Will Sound, Minnesota Orchestra, American Composers Orchestra, Orchestre National de Lille, Holland Symfonia, Shanghai National Chinese Orchestra, Taipei Chinese Orchestra, Musiques Nouvelles, Le Nouvel Ensemble Moderne, International Contemporary Ensemble, Third Sound, Curious Chamber Players, Ensemble Pamplemousse, Argento, and Momenta Quartet, among others. Her most recent works have been written for the Stony Brook Contemporary Chamber Players, violinists Miranda Cuckson and Jennifer Koh, and pianist Joel Fan. Wang Lu received the Berlin Prize in Music Composition (Spring 2019 residency) and was a 2014 Guggenheim Fellow. She won the first prize at Le Nouvel Ensemble Moderne's Young Composers Forum in 2010 and shared the Tactus International Young Composers Orchestra Forum Award in 2008. She was selected for a Tremplin commission by IRCAM/Ensemble Intercontemporain in 2010 and the International Composition Seminar with the Ensemble Modern in 2012, and has also received two ASCAP Morton Gould awards. Her music was programmed on festivals such as the 2014 New York Philharmonic Biennial, MATA Festival, Cresc. Biennale in Frankfurt, Gaudeamus Music Week, Tanglewood, Cabrillo Music Festival, Beijing Modern, Pacific and Takefu festivals in Japan, Mostly Mozart, Aspekte Festival in Salzburg, Mizzou International Composers Festival, and the Havana New Music Festival. She has also been a resident at the Civitella Ranieri Foundation. Collaborations have included an installation at Brown University's Cohen Gallery with artist Polly Apfelbaum and an evening of poetry and music with Ocean Vuong.
https://www.wanglucomposer.com
Misato Mochizuki
Born in 1969 in Tokyo, Misato Mochizuki is amongst those composers who are equally active in Europe, North America and in Japan. After receiving a Masters degree in composition at the National University of Fine Arts and Music in Tokyo, she was awarded first prize for composition at the Conservatoire National Supérieur in Paris in 1995, and then integrated the "Composition and Computer Music" program at IRCAM (1996-1997).
In her very own combination of Occidental tradition and the Asiatic sense of breathing, Misato Mochizuki's style of writing developed exciting rhythms and unusual sounds of great formal and stylistic freedom. Her catalogue of works (published by Breitkopf & Härtel) consists of about 60 works today, including 16 symphonic compositions and 15 pieces for ensemble. Her works, which have been performed at international festivals such as the Salzburg Festival, the Biennale di Venezia, Lincoln Centre Festival, Music days in Donaueschingen, Berlin, Witten, Cologne, Lyon, Zurich, Toronto and so on, have received numerous awards; the audience prize at the Festival Ars Musica in Brussels for Chimera in 2002, the Japanese State Prize for the greatest young artistic talent in 2003, the Otaka Prize for the best symphonic world premiere in Japan in 2005 (for Cloud nine), the Grand Prize of the Tribune internationale des compositeurs in 2008 (for L'heure bleue), and the Heidelberg Women Artists' Prize in 2010. Her most outstanding productions include the orchestral portrait concert at Suntory Hall in Tokyo (2007 and 2019), the cinema concert at the Louvre with the music to the silent film Le fil blanc de la cascade by Kenji Mizoguchi (2007) and the portrait concerts at the Festival d'Automne in Paris, Muziekgebouw aan't IJ in Amsterdam (2010) or at Miller Theatre in New York (Columbia University, 2017).
Between 2011 and 2013 Misato Mochizuki was composer-in-residence at the Festival international de musique de Besançon and did lots of workshops and conferences as well as jury of the renowned young conductors' competition, for which she wrote a symphonic piece (Musubi II) for finalists.
Since 2007 she has been professor of artistic disciplines at the Meiji Gakuin University in Tokyo, and has been invited to give composition courses in Darmstadt, in Royaumont, in Takefu, at the Amsterdam Conservatory, Columbia University and so on. Within the framework of her activities, she continually reflects on the role of the composer in today's society and on the necessity to open oneself to it. In addition, Misato Mochizuki writes about music and culture in her own column every three months for the Yomiuri Shimbun (2008-2015), every week for the Nihon Keizai Shimbun (January to June 2018), most widely read daily newspapers in Japan. In November 2019, some of these writings were published as a book ("The composer's reflection on music and daily life", in Japanese, Kairyusha).
Emily Praetorius
Emily Praetorius is from Ojai, CA and is currently residing in New York City.
She has studied at Columbia University, Manhattan School of Music, and University of Redlands.