One of the consistent strains in Christopher Trapani's work is his attraction to what one might call the archeology of sonic exploration. His interest in diverse music cultures as fertile territory to explore microtonality, timbre, and rhythm frees his music to pursue an essential expression beyond the conventional confines of concert composition. The works on Horizontal Drift zero in on this component of Trapani's work, focusing on music he has written for unconventional instruments, some custom-made, others part of folkloric traditions typically found away from the concert stage. With the unique characteristics of these instruments as a frame, Trapani delves into a variety of tuning systems, from alternate fixed temperaments to just intonation, as well as a range of applications for electronics.
The opening work on the recording, Tārgul, is composed for the vioara cu goarna ("violin with horn" in Romanian), an instrument modeled after the stroh violin which was designed to help string instruments project for early recording technology. The vioara cu goarna has an edgy, brash sound; Trapani leans into its characteristic its clarion call, peppering Tārgul with unsettling short glissandi, sighing gestures, dry pizzicati, and angular riffs. The electronics are played through megaphones at the sides of the stage, imitating the brittle timbral quality of the instrument.
The title track is written for quarter-tone guitar and a Max module called the LoopSculptor which allows real-time manipulation of passages across several parameters. Trapani writes that the work was inspired by his hometown of New Orleans – indeed its languorous quality evokes the heavy, humid heat of the Delta and the paradox between the city's timeless inertia and its constantly shifting topography. Trapani deconstructs some characteristic Delta blues guitar gestures – particularly grace note slides and hammer ons – to construct an otherworldly meditation enhanced by the quarter-tone pitch language and wafting electronic loops.
Linear A was written for a clarinet tuned to the Bohlen-Pierce scale, a microtonal system that repeats at the twelfth instead of the octave. Like the title track, the electronics are oriented around loops that manipulate the material played by the live performer. The instrumental material in Linear A exhibits a wide range from subdued to virtuosic, inward to extroverted. The flexibility of Trapani's live electronics patch allows him to animate a soundscape with voices that create the illusion of independence, despite being generated from the same live sound source. This veneer of independence stands out even more so in relief when the final passage of the piece emerges, a four voice chorale harmonizing a wistful melody.
Lost Time Triptych was written as a companion piece to Gérard Grisey's Vortex Temporum for piano scordatura, in which four pitches are detuned by a quarter-tone. The three movements of the piece, each with subtitles borrowed from Bob Dylan, examine three different temporal relationships in music that Grisey termed "the subjective layers of time." The first is compressed, containing angular, stabbing chords. The second unfolds in "real" time, echoing the motivic play heard in Horizontal Drift, and ending abruptly. The third and final movement is spacious and resonant, inviting the listener to journey inside the exotic sonorities resultant from the detuned pitches.
Forty-Nine, Forty-Nine is the only work on the recording not performed by a human, though it is not strictly an electronic piece either. Instead, it's a player organ piece, the 31 equal tempered Fokker organ to be specific, as controlled by a program called Open Music sending marching orders via Midi. Forty Nine, Forty Nine takes the deepest dive into microtonal theory on the album, organizing the work around highlighting the just intervals that the 31 EDO tuning system best approximates. The piece is dramatic and bracing, and evokes Nancarrow in its mechanical virtuosity.

Tessaræ returns to the bowed string sound world of Tārgul, this time featuring the viola d'amore, a unique instrument in the Western concert tradition due to its sympathetic strings. Trapani explores connections with bowed string instruments with sympathetic strings in other cultures in a work that engages with traditional music more than the other music on the album. Though no specific stylistic restrictions are adhered to, we hear allusions to the drone textures and unfolding melodic exploration of Indian music as well as Turkish music, and a general restrained gestural vocabulary that conjures ritual music's patient pace of development.
– Dan Lippel
Produced by Christopher Trapani
Engineer: Ryan Streber (track 2) / Paul Geluso (tracks 4-6) / Camille Giuglaris (track 8) / Christopher Trapani (tracks 1, 3, 7)
Târgul recorded March 11, 2019 (Austin, TX)
Horizontal Drift recorded October 29, 2020 at Oktaven Audio (Mount Vernon, NY)
Linear A recorded May 14, 2021 (Providence, RI)
Lost Time Triptych recorded November 1, 2020 at James Dolan Music Recording Studio, NYU (New York, NY)
Forty-Nine, Forty-Nine recorded September 2, 2012 at Muziekgebouw aan 't IJ (Amsterdam, NL) Tesseræ recorded March 29-30, 2018 at CIRM (Nice, France)
Support for this CD has been graciously provided by the Alice M. Ditson Fund, a YoungArts Microgrant, and by the generous supporters of a Kickstarter campaign. 
Thanks to: Ryan Streber, Daniel Lippel, Juuso Nieminen, François Paris, Camille Giuglaris, Ross Daly, Joël Bons, Diemo Schwarz, Sander Germanus, Jackie Delamatre, Ben Cooper, Maximilian Haft, Serge Vuille, David Poissonnier, Giuliano Bracci, Jean Bresson, Daniele Ghisi, Andrea Agostini, Marco Fusi, Rick Whitaker, Marilyn Nonken, Turgut Erçetin, Esin Pektaş
CD design and layout by Chazwald Jones (New Orleans, LA)
All photos © Christopher Trapani, 2022 except page 2 photo by Katerina Duda
Christopher Trapani
Winner of the 2016-17 Luciano Berio Rome Prize, Christopher Trapani is a composer with a genuine international trajectory. He maintains an active career in the United States, in the UK, and in Continental Europe. Commissions have come from the BBC, the JACK Quartet, Ensemble Modern, and Radio France, and his works have been heard at Carnegie Hall, the Venice Biennale, Southbank Centre, Ruhrtriennale, IRCAM, Ravenna Festival, and Wigmore Hall.
Christopher's music weaves American and European stylistic strands into an organic personal aesthetic that defies easy classification. Snippets of Delta Blues, dance band foxtrots, Appalachian folk, and Turkish makam can be heard alongside spectral swells and meandering canons. As in Christopher's hometown of New Orleans, diverse traditions coexist and intermingle, swirled into a rich melting pot.
Christopher Trapani was born in New Orleans, Louisiana (USA). He earned a Bachelor's degree from Harvard, then spent most of his twenties overseas: a year in London, working on a Master's degree at the Royal College of Music with Julian Anderson; a year in Istanbul, studying microtonality in Ottoman music on a Fulbright grant; and seven years in Paris, where he studied with Philippe Leroux and worked at IRCAM with Yan Maresz. Since 2010, Christopher has lived in New York City, where he earned a doctorate at Columbia University, working with Tristan Murail, George Lewis, Georg Friedrich Haas, and Fred Lerdahl.
Christopher is the winner of the 2007 Gaudeamus Prize, as well as awards from the American Academy of Arts and Letters, ASCAP, and BMI, along with fellowships from Schloss Solitude and the Camargo Foundation. His scores have been performed by ICTUS, Yarn/Wire, ZWERM, Ekmeles, the BBC Scottish Symphony Orchestra, and the Spektral Quartet, amongst others.
http://www.christophertrapani.com
Maximilian Haft
Belgian-American violinist Maximilian Haft resides in Geneva, Switzerland and has lived in Europe since 2009. A multifaceted musician, Max specializes in contemporary repertoire and improvisation. He has performed across Europe, North America, South America, and the Middle East in formal concert settings, theatrical contexts, and spatial installations. As a soloist, Max has performed and premiered contemporary violin concertos with the North Netherlands Symphony Orchestra, The Geneva Chamber Orchestra, Collegium Novum Zurich, and the Kiev Symphony Orchestra. In Switzerland, Max has held the position of violin solo with Ensemble Contrechamps since 2015 and is a founding member of Ensemble Proton Bern. Max has a Bachelor's in Violin Performance from the New England Conservatory of Music in Boston where he studied with Masuko Ushioda†, and a Master's degree cum laude from the Royal Conservatory of The Hague, having studied there with Vera Beths. He is a native of Sacramento California, where he returns in the summer to teach chamber music to young aspiring musicians of his former youth symphony and as a performer with the Cabrillo Festival of Contemporary Music Orchestra in Santa Cruz.
Daniel Lippel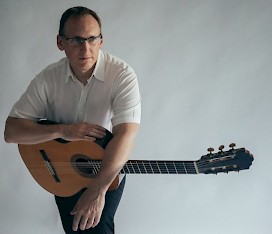 Guitarist Dan Lippel, called a "modern guitar polymath (Guitar Review)" and an "exciting soloist" (NY Times) is active as a soloist, chamber musician, and recording artist. He has been the guitarist for the International Contemporary Ensemble (ICE) since 2005 and new music quartet Flexible Music since 2003. Recent performance highlights include recitals at Sinus Ton Festival (Germany), University of Texas at San Antonio, MOCA Cleveland, Center for New Music in San Francisco, and chamber performances at the Macau Music Festival (China), Sibelius Academy (Finland), Cologne's Acht Brücken Festival (Germany), and the Mostly Mozart Festival at Lincoln Center. He has appeared as a guest with the St. Paul Chamber Orchestra and New York New Music Ensemble, among others, and recorded for Kairos, Bridge, Albany, Starkland, Centaur, and Fat Cat.
http://www.danlippel.com
Amy Advocat
Sought out for her "dazzling" (Boston Globe) performances with "extreme control and beauty" (The Clarinet Journal), Dr. Amy Advocat has performed with Alarm Will Sound, Boston Modern Orchestra Project, Sound Icon, Guerilla Opera, Firebird Ensemble, Callithumpian Consort, Collage New Music, Dinosaur Annex, and The New Fromm Players. She is a founding member of the duo Transient Canvas, who have released three critically acclaimed albums on New Focus and have toured internationally, including performances at New Music Gathering, Red Note Festival, Alba Music Festival. Their second album, Wired, was praised as "an eloquent testament to the versatile imagination they both display and inspire in others" by the San Francisco Chronicle, and their third, Right now, in a second was named a top local album of 2020 by the Boston Globe. Dr. Advocat is a proud endorsing artist with Conn-Semer and Henri Selmer Paris.
Marilyn Nonken
Marilyn Nonken is one of the most celebrated champions of the modern repertoire of her generation, known for performances that explore transcendent virtuosity and extremes of musical expression. Upon her 1993 New York debut, she was heralded as "a determined protector of important music" (New York Times). Recognized a "one of the greatest interpreters of new music" (American Record Guide), she has been named "Best of the Year" by some of the nation's leading critics.
Marilyn Nonken's performances have been presented at such venues as Carnegie Hall, Lincoln Center, Miller Theatre, the Guggenheim Museum, (Le) Poisson Rouge, IRCAM and the Théâtre Bouffe du Nord (Paris), the ABC (Melbourne), Instituto-Norteamericano (Santiago), the Music Gallery (Toronto), the Phillips Collection, and the Menil Collection, as well as conservatories and universities around the world. Festival appearances include Résonances and the Festival d'Automne 4both, Paris) and When Morty Met John, Making Music, and Works and Process (all, New York), American Sublime (Philadelphia), The Festival of New American Music (Sacramento), Musica Nova (Helsinki), Aspects des Musiques d'Aujourd-hui (Caen), Messiaen 2008 (Birmingham, UK), New Music Days (Ostrava), Musikhøst (Odense), Music on the Edge (Pittsburgh), Piano Festival Northwest (Portland), and the William Kapell International Piano Festival and Competition. Highlights of recent seasons have included performances of Hugues Dufourt's Erlkönig, Morton Feldman'sTriadic Memories,Tristan Murai's complete piano music, and Olivier Messiae's "Visions de'l Amen" with Sarah Rothenberg. Composers who have written for her include Milton Babbitt, Drew Baker, Pascal Dusapin, Jason Eckardt, Michael Finnissy, Joshua Fineberg, Liza Lim, and Tristan Murail.
She has recorded for New World Records, Mode, Lovely Music, Albany, Metier, Divine Art, Innova, CRI, BMOP Sound, New Focus, Cairos, Tzadik, and Bridge. Her solo discs include "American Spiritual," a CD of works written for her, "Morton Feldman: Triadic Memories," "Tristan Murail: The Complete Piano Music," "Stress Position: The Complete Piano Music of Drew Baker," and "Voix Voilees," music of Joshua Fineberg and Hugues Dufourt. She appears as concerto soloist in David Rakowski's Piano Concerto (Gil Rose and the Boston Modern Orchestra Project), Roger Reynolds's "The Angel of Death (Magnus Martensson and the Slee Sinfonietta), and Jason Eckardt's "Trespass" (Timothy Weiss and the Oberlin Contemporary Music Ensemble).
A student of David Burge at the Eastman School, Marilyn Nonken received a Ph.D. degree in musicology from Columbia University. Her writings on music have been published in Tempo, Perspectives of New Music, Contemporary Music Review, Agni, Current Musicology, Ecological Psychology, and the Journal of the Institute for Studies in American Music. She has contributed chapters to "Perspectives on French Piano Music" and "Messiaen Perspectives 2: Techniques, Influence, and Reception" (both, Ashgate) and is currently writing a monograph on spectral piano music for Cambridge University Press. Director of Piano Studies at New York University's Steinhardt School, Marilyn Nonken is a Steinway Artist.
http://www.marilynnonken.com/
Marco Fusi
Marco Fusi is a violinist/violist, and a passionate advocate for the music of our time. Among many collaborations with emerging and established composers, he has premiered works by Billone, Sciarrino, Eötvös, Cendo and Ferneyhough. Marco has performed with Pierre Boulez, Lorin Maazel, Alan Gilbert, Beat Furrer, David Robertson, and frequently plays with leading contemporary ensembles including Klangforum Wien, MusikFabrik, Meitar Ensemble, Mivos Quartet, Ensemble Linea, Interface (Frankfurt), Phoenix (Basel) and Handwerk (Köln); Marco has recorded several solo albums, published by Kairos, Stradivarius, Col Legno, Da Vinci, Geiger Grammofon. Marco also plays viola d'amore, commissioning new pieces and collaborating with composers to promote and expand existing repertoire for the instrument. A strong advocate and educator of contemporary music, Marco teaches Contemporary Chamber Music at the Milano conservatory "G. Verdi" and is currently Researcher in Performance at the Royal Conservatoire of Antwerp.