In her 2021 iteration of her ambitious commissioning project, Density 2036, Claire Chase invited three composers with unique voices to write new works, Matana Roberts, Wang Lu, and Ann Cleare. The three electro-acoustic works are varied in impact and aesthetic, but share a transportive quality, bringing the listener inside sonic spaces the composers have created specifically for these pieces.
In Auricular Hearsay, composer and multi-media artist Matana Roberts turned their attention to the mind states of performers. An interest in neurodivergent brain and thought patterns led Roberts to create a multi-media score that allowed visual and auditory information to interact with each other and guide performers through their own unique realizations of the piece (every performance is by design different). In particular, Roberts was interested in facilitating non-linear thinking, framing an open improvisation experience. Chase's performance, with collaborators Susie Ibarra on percussion and Senem Pirler on live electronics, is searching and patient, mining a range of timbral and expressive areas for hidden gems and allowing the momentum of the work to ebb and flow to energetic peaks and contemplative valleys.
Wang Lu's Aftertouch takes its name from a MIDI keyboard parameter that senses the amount of pressure being applied to a key. The analogy extends to Wang Lu's percolating electronics part, referencing techno with an incremental palette of percussion sounds, from airy to dense. Chase's flute takes wild virtuosic flights that are manipulated as if in a hall of mirrors, plays breathy material into reverberant delays, and mimics sounds from the animal kingdom with growls, gurgles, and menacing purrs. The piece closes with the electronics echoing microtonal descending glissandi in the flute, as a watery drone emerges.
Ann Cleare's anfa conjures the desolate Boglands in the center of Ireland. "Anfa" translates as "disturbance in the elements" in Irish, and Cleare was captivated by the troubled industrial and geological history of the bog region. This piece is a sort of paean to that region, an attempt to symbolically animate and revitalize it. The music takes the eerie landscape on its own terms; Cleare chooses to write for contrabass flute to explore the lowest registers, and the electronics allow those frequencies to establish a sustained presence even as Chase moves to contrasting material. Chase's flute participates in a kind of divination, pulling life out of the deep recesses of the sonic bog, willing it into renewal by seeking out the vibrations that will free it from stultification. The piece has several prominent stopping points, structural markers where we retreat to silence, only to resume the mystical process once again.
– Dan Lippel
Claire Chase
Flutist Claire Chase, a 2012 MacArthur Fellow, is a soloist, collaborative artist, and activist for new music. Over the past decade she has given the world premieres of over 100 new works for flute, many of them tailor-made for her. In 2014 she began Density 2036, a project to commission, premiere and record an entirely new program of pieces for flute every year until 2036, the 100th anniversary of the eponymous and seminal piece by Varese. Also in the 2014-15 season, Chase is music directing and playing as soloist in a series of performances of Salvatore Sciarrino's Il cerchio tagliato dei suoni for 4 flute soloists and 100 flute "migranti".
Chase has performed throughout the Americas, Europe and Asia, including debuts last season in Berlin, Frankfurt, Vienna, Paris, London, São Paolo and Guangzhou. She has released three solo albums, Aliento (2010), Terrestre (2012) and Density (2013). In 2014, she was selected as an inaugural Fellow of Project&, with which she will several new works exploring the relationship between language, music and social interaction over the next several years.
Chase was First Prize Winner in the 2008 Concert Artists Guild International Competition. She co-founded the International Contemporary Ensemble (ICE) in 2001 and serves as the organization's Artistic Director and CEO in addition to playing over fifty concerts a year as an ensemble member. ICE has premiered more than 600 works since its inception and pioneered a new artist-driven organizational model that earned the company a Trailblazer Award from the American Music Center in 2010. Chase was also honored with Crain's Business "40 under 40" Award in 2013.
In 2013, Chase founded The Pnea Foundation, a nonprofit organization dedicated to the advancement of the flute and its repertoire in the 21st century through commissions, community engagement, cross-cultural and interdisciplinary collaborations and advocacy. She lives in Brooklyn.
http://www.clairechase.net
Susie Ibarra
Susie Ibarra is a Filipinx composer, percussionist, and sound artist. Her interdisciplinary practice spans formats, including performance, mobile sound-mapping applications, multi-channel audio installations, recording, and documentary. Many of Ibarra's projects are based in cultural and environmental preservation: she has worked to support Indigenous and traditional music cultures, such musika katatubo from the North and South Philippine islands; her sound research advocates for the stewardship of glaciers and freshwaters; and she collaborates with The Joudour Sahara Music Program in Morocco on initiatives that preserve sound-based heritage with sustainable music practices and support the participation of women and girls in traditional music communities.
She is a recipient of the Foundation For Contemporary Arts Award in Music/ Sound (2022), a National Geographic Storytelling Fellowship (2020); United States Artists Fellowship in Music (2019); the Asian Cultural Council Fellowship (2018); and a TED Senior Fellowship (2014).
Susie Ibarra is a Yamaha, Vic Firth, and Zildjian Drum Artist.
Her album, Talking Gong ( New Focus Recordings 2021), features soloists and ensemble members Claire Chase ( bass, alto , flute and piccolo) and Alex Peh ( piano) , with its title piece commissioned by SUNY New Paltz when Ibarra was Davenport Composer in Residence 2018. The album is inspired by traditional Filipino southern gong music, Maguindanaon kulintang music and by birdsongs of the region.
Water Rhythms: Listening to Climate Change (2020) is a collaboration with glaciologist, geographer, and climate scientist Dr. Michele Koppes, which maps water rhythms from source to sink. Ibarra's composition is derived from field recordings of five global watersheds, including the Greenland ice sheet and glacier-fed rivers of the Himalayas. Water Rhythms is an acoustic story of human entanglements with a changing climate and landscape. The premiere of Water Rhythms was presented by Fine Acts Foundation and TED at Jack Poole Plaza, Vancouver, British Columbia, Canada and Innisfree Gardens, Millbrook, NY (2020). It has also been shown at The Countdown Summit, Edinburgh, Scotland (2021); as part of Nothing Makes Itself at the ARKO Art Center, Seoul, Korea (2021); and as a multi-channel sound installation at Fridman Gallery, Beacon, NY (2021) and the San Francisco Exploratorium (2022).
Ibarra's piece Fragility Etudes , was a commissioned film by Asia Society Triennial 2021 We Do Not Dream Alone. These compositions are rhythmic studies for solos and ensemble which reflects humanity's interdependence. Ibarra explores conduction, polyrhythms and concepts from the physics of glass. Fragility Etudes was filmed in residency and premiered at MASSMoCA in live performance 2021. The film is directed by collaborating multimedia artist Yuka C. Honda. September 2022 Ibarra conducted multi-ensemble Fragility Etudes in Zamane Festival Morocco. She was commissioned for a new work for percussion in which she created RITWAL solo percussion Susie Ibarra, for the UNDRUM Festival produced by Architek Percussion and Suoni Per Il Popolo 2021 for video which premiered in June 2021.
As a producer, Ibarra collaborates with Splice to create sound packs based in environmental sounds, traditional musical cultures, and her own extended percussion language. Sounds of the Drâa Valley Morocco is a sound pack featuring six traditional ensembles and soloists from South Saharan Morocco (2022). Ibarra has also collaborated with composer and bassist Richard Reed Parry on two sound packs and a new album of compositions focused on breath cycles and heart beats, Heart and Breath: Rhythm and Tone Fields (OFFAIR Records, 2022).
Senem Pirler
Senem Pirler (she/her) is a sound and intermedia artist, and educator based in Troy/Brooklyn, NY. Pirler's interdisciplinary work crosses over into sound engineering, sound art, performance, video art, movement, and installation.
Born in Turkey, she studied classical piano at Hacettepe State Conservatory and sound engineering & design at Istanbul Technical University (MIAM). She developed her artistry working as a composer and recording engineer before moving to the U.S. in 2010 to study Music Technology on a Fulbright Fellowship. Pirler earned her M.M. in Music Technology the Stephen F. Temmer Tonmeister Honors Track from NYU Steinhardt, and her Ph.D. in Electronic Arts from Rensselaer Polytechnic Institute. Her dissertation's title was Disruption, Dis/orientation, and Intra-action: Recipes for Creating a Queer Utopia in Audiovisual Space.
Pirler has exhibited and performed her work at international venues such as Experimental Media and Performing Arts Center/EMPAC (NY), Roulette Intermedium (NY), The Kitchen (NYC), Southbank Centre (London), Akademie der Künste (Berlin), LA Phil (CA), Baryshnikov Arts Center (NY), Montalvo Arts Center (CA), Mount Tremper Arts (NY), and Collar Works (NY).
Pirler has been awarded a NYSCA/NYFA Artist Fellowship in the category of Music/Sound in 2022 and the Malcolm Morse Award to honor the work of Pauline Oliveros and Deep Listening in 2018. Her work has been recognized by grants and residencies, including, most recently, Institute for Electronic Arts residency, PACT Zollverein residency, and Signal Culture residency.
Dr. Pirler joined the Bennington College faculty in Fall 2018.
Levy Lorenzo
Born in Bucharest, Filipino-American Levy Marcel Ingles Lorenzo, Jr. works at the intersection of music, art, and technology. On an international scale, his body of work spans electronics design, sound engineering, instrument invention, installation art, free improvisation, and classical percussion. Recent work explores the connection between sound and light. Lorenzo's work has been featured by the International Contemporary Ensemble, MoMA PS1, MIT Media Lab, STEIM (NL), pitchfork.com, slashdot.org, Philips, Bose, BBC, Burning Man, and The New York Times which named him an "electronics wizard". Visit the artist's portfolio at levylorenzo.com for featured performances and new inventions.
Matana Roberts
Matana Roberts [they/them] have been called "a major talent" (The Wire) and "the spokesperson for a new, politically conscious and refractory Jazz scene" (Jazzthetik). Their Coin Coin work has been widely and highly praised for its stylistic innovations and narrative power. Noted music critic Peter Margasak has written of Coin Coin: "Memory is a powerful thing, but it's so private, fluid, and unreliable that it can seem almost impossible to capture in a work of art—and history is often no more stable, once you look closely enough. Roberts has succeeded at evoking both, though, and gives [their] audience a long look at something ghostly, tragic, and beautiful. [They are] carving out [their] own aesthetic space, startling in its originality and gripping in its historic and social power."
A self-taught mixed media composer, the Chicago-born Roberts earned two degrees in performance from a smattering of American institutions but received their primary training from free arts programs in the American Public School System.
They are a past member of the Black Rock Coalition (BRC) and The Association for the Advancement of Creative Musicians (AACM). They have been a Van Lier Fellow, a Brecht Forum Fellow, a Copeland Fellow, a Jerome fellow, an ICASP fellow, an FCA awardee, and won the Alpert Award In The Arts.
Of their work, Matana says the following: "At my artistic core, I am firmly dedicated to creating a unique and very personal body of sound work that speaks to, and reminds people of all walks of life to reach, stand up, give voice, regardless of difference, created from mere labels of intellectual classification. In my ideal world the idea of 'difference' is an illusion designed only for modern economic division and elitist intellectual hierarchy. Through my life's work, I stand creatively in defiance."
Wang Lu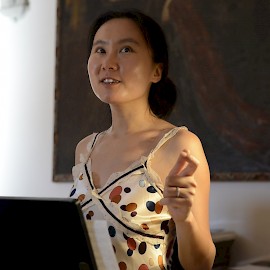 Composer and pianist Wang Lu (born 1982, Xi'an, China) writes music that reflects a very natural identification with influences from traditional Chinese music, urban environmental sounds, linguistic intonation and contours, and freely improvised traditions, through the prism of contemporary instrumental techniques and new sonic possibilities. She is currently an Assistant Professor of Music at Brown University, after receiving her doctoral degree in composition at Columbia University and graduating from the Beijing Central Conservatory of Music. Wang Lu's works have been performed internationally, by ensembles including the Ensemble Modern, Ensemble Intercontemporain, Alarm Will Sound, Minnesota Orchestra, American Composers Orchestra, Orchestre National de Lille, Holland Symfonia, Shanghai National Chinese Orchestra, Taipei Chinese Orchestra, Musiques Nouvelles, Le Nouvel Ensemble Moderne, International Contemporary Ensemble, Third Sound, Curious Chamber Players, Ensemble Pamplemousse, Argento, and Momenta Quartet, among others. Her most recent works have been written for the Stony Brook Contemporary Chamber Players, violinists Miranda Cuckson and Jennifer Koh, and pianist Joel Fan. Wang Lu received the Berlin Prize in Music Composition (Spring 2019 residency) and was a 2014 Guggenheim Fellow. She won the first prize at Le Nouvel Ensemble Moderne's Young Composers Forum in 2010 and shared the Tactus International Young Composers Orchestra Forum Award in 2008. She was selected for a Tremplin commission by IRCAM/Ensemble Intercontemporain in 2010 and the International Composition Seminar with the Ensemble Modern in 2012, and has also received two ASCAP Morton Gould awards. Her music was programmed on festivals such as the 2014 New York Philharmonic Biennial, MATA Festival, Cresc. Biennale in Frankfurt, Gaudeamus Music Week, Tanglewood, Cabrillo Music Festival, Beijing Modern, Pacific and Takefu festivals in Japan, Mostly Mozart, Aspekte Festival in Salzburg, Mizzou International Composers Festival, and the Havana New Music Festival. She has also been a resident at the Civitella Ranieri Foundation. Collaborations have included an installation at Brown University's Cohen Gallery with artist Polly Apfelbaum and an evening of poetry and music with Ocean Vuong.
https://www.wanglucomposer.com
Ann Cleare
Ann Cleare is an Irish artist working in the areas of concert music, opera, extended sonic environments, and hybrid instrumental design. Described as "an altogether different artform that draws from musical traditions, but pushes against and beyond them, articulating something that is at once about sound, but that is equally concerned with energy, motion, space, and the world itself," her work explores the static and sculptural nature of sound, probing the extremities of timbre, texture, color, and form. Exploring poetries of communication, transformation, and perception, she creates highly psychological and corporeal sonic spaces that encourage a listener to contemplate the complexity of the lives we exist within and "to hear the world differently."
A recipient of a 2019 Ernst von Siemens Composer Prize, her work has been commissioned and presented by major broadcasters and festivals. Recent projects have focused on creating experiential environments where sound is given a visual as well as sonic dimension. Such works include eyam i-v, a series of five attacca pieces, centered around clarinet and flute writing in various solo, ensemble, electronic, and orchestral settings and spanning just over two hours of music that is continuously transformed in shape, time, and motion around the listener; rinn, a time travel chamber opera involving a multichannel sonic sculpture that the singers and actors wear, interact with, and are amplified by; spatially choreographed chamber pieces such as I should live in wires for leaving you behind, anchor me to the land, and on magnetic fields; a newly-designed instrument that a musician simultaneously wears and plays in eöl; and surface stations, multi-layered theater pieces involving the staging of extended brass instruments, vocal ensemble, and visuals.
Ann is Assistant Professor of Music and Media Technologies at Trinity College Dublin. She is an artist-in-residence with Crash Ensemble.