Austro-Italian violinist Olivia De Prato has been an active performer in New York City's contemporary music community since moving there in 2005. As a member of critically acclaimed ensembles, the Mivos Quartet, Ensemble Signal, and Victoire, De Prato has been invoved in commissioning, premiering, and recording countless new compositions, with a range of figures spanning the diverse landscape of new music. STREYA is a document of some of that work, with a program of six beguiling pieces by figures from Manhattan School of Music composition department member Reiko Füting to avant-garde improviser extraordinaire Ned Rothenberg to Mannes School of Music faculty and composer/songwriter/bandleader Missy Mazzoli. The works and performances herein display De Prato's versatility as well as the flexible reach of programming in today's New York concert community. Samson Young's Ageha.Tokyo deftly merges extended timbres on the violin with electronics that mine a vocabulary that places the listener in a futuristic technological landscape. As the work opens we hear the violin struggling to come out of its cocoon so to speak, as its sound endeavors to fully project past self-imposed restrictions. Lowrie's Streya contains some of the most conventionally violinistic music on the recording. Lowrie is De Prato's viola partner in Mivos, and her husband, and displays his versatility as a composer with this music, in turns reminiscent of the solo violin music of Bartok and Ysaye while also exploring more fragile territory evocative of Sciarrino. Ned Rothenberg leans on his background as a free jazz clarinetist to generate a through composed piece that retains a sense of spontaneity. In his liner note, Rothenberg desribes the piece as akin to a short hike that extends itself into various new directions. The excursion that initially was intended to be a short walk has turned into something more — an adventure. In Wane, Taylor Brook takes advantage of multi-tracking possibilities by embellishing a lead violin part with four additional pre-recorded "shadow" violins, all tuned slightly differently (and all recorded by De Prato). When played together, an effect of what Brook calls an "amalgamated glissando" can be heard, coloring the primary violin in an unsettling halo of pitch. As the violin writing becomes more dense and virtuosic, one finds themselves in a disconcerting sonic hall of mirrors. Reiko Füting's Tanz.Tanz is based on an analysis of Bach's towering Chaconne in D minor from the Second Partita for unaccompanied violin. The analysis, by German musicologist Helga Thoene posits that Bach integrated hidden chorale tunes into the harmonic fabric of this iconic piece. Füting's title is inspired by a novel by Japanese author Haruki Murakami. The presence of a work inspired by Bach's canonic compositions for solo violin connects this collection to the long tradition of unaccompanied violin repertoire. Missy Mazzoli's Vespers for Violin draws material from her larger ensemble work Vespers for a Dark Age. Sampled keyboards, organs, voices, and strings "drenched in delay and distortion" provide the pre-recorded accompaniment to the solo violin part. Slithering glissandi begin the work, interspersed with quick scale bursts. Despite the wealth of source materials from the earlier work, the new piece is an entirely distinct composition that demonstrates Mazzoli's ease in navigating the worlds of experimental pop, indie classical, and corners in between. The work is an expansive coda to an album that casts a wide stylistic net through the prism of a treasured genre, works for solo violin.
- D. Lippel
Olivia De Prato
Internationally recognized as a soloist as well as a chamber musician, Austro-Italian violinist Olivia De Prato has been described as "flamboyant ... convincing" (The New York Times) and an "enchanting violinist" (Messaggero Veneto, Italy). She has established herself as a passionate performer of contemporary and improvised music, breaking boundaries of the traditional violin repertoire and regularly performs in Europe, South America, China and the United States.
Her solo and chamber music activities include appearances at the Wien Modern Festival, la Biennale di Venezia, the Lucerne Festival,, the Ensemble Modern Festival, June in Buffalo, the Bang on a Can Festival, the Shanghai New Music Week, and Lincoln Center Festival with Steve Reich and Brad Lubman. In 2010 and 2011 she toured Europe and South Africa with Grammy-award winner Esperanza Spalding and the Chamber Music Society ensemble on violin and viola.
De Prato is a member of the new music ensemble Signal and ensemble XXI Jahundert and is the co-founder and first violinist of the Mivos Quartet founded in 2008, which focuses on the performance of contemporary string quartets.
As a guest artist, she has presented solo and chamber music masterclasses for young musicians and composers at Brooklyn College, City University of New York, UC San Diego, Princeton University, New York University, University of Nevada Las Vegas, and internationally at Universidad Eafit (Colombia), Shanghai Conservatory (China), Universidad Salvador (Brazil), Yong Siew Toh Conservatory (Singapore), and MIAM University (Turkey).
De Prato has collaborated closely with composers such as Pierre Boulez, Anthony Braxton, Chaya Czernowin, Peter Eötvös, Luca Francesconi, Beat Furrer, Dai Fujikura, Michael Gordon, Helmut Lachenman, David Lang, George Lewis, Brad Lubman, Philippe Manoury, Benedict Mason, Meredith Monk, Krystof Penderecki, Bernard Rands, Steve Reich, Ned Rothenberg, Julia Wolfe, and Georg Friedrich Haas. At the Lucerne Festival Academy 2007 she worked closely with composer Peter Eötvös on his new Violin Concerto "Seven" conducted by Pierre Boulez.
Her discography includes recordings on Tzadik, New Amsterdam Records, Sunnyside Records, New Focus Recordings, Mode, Cantaloupe, Porter Records, and Harmonia Mundi. In 2018 Olivia released her debut solo album "Streya" on New Focus recordings and one of the works was nominated for a grammy 2019.
In 2019 she received the Dwight und Ursula Mamlok Prize for 'Interpretation of contemporary music' with the Mivos String Quartet.
Olivia De Prato studied at the University of Music and Arts in Vienna and received her Bachelor of Music in Violin Performance from the Eastman School of Music. She received her Master of Music as a member of the first graduating class from the Contemporary Performance Program at the Manhattan School of Music.
She is currently based in Vienna and New York City.
http://www.oliviadeprato.com/
Samson Young
Composer Samson Young received his PhD in composition from Princeton University and his music has been presented at various festivals including Manchester International Festival (UK), Internationale Ferienkurse für Neue Musik Darmstadt (Germany), Austin's Fusebox Festival (Texas), and the Lucerne Festival (Switzerland).
Victor Lowrie
Victor Lowrie is a versatile violist, improviser and composer based in New York City. As a passionate advocate of new music, he has appeared as a soloist, chamber musician and educator throughout the United States, South America, Europe and Asia. Victor is a founding member of the Mivos Quartet, and performs regularly with Ensemble Signal, Slee Sinfonietta and the Wet Ink Ensemble among others. He can be heard on recordings from Carrier, New Amsterdam, Kill Rock Stars, New Focus Recordings, and Tzadik Records. As a composer, Victor writes for soloists and chamber ensembles, combining a ever-evolving personal sense of melody and harmony with explorations into improvisation and electronics. He earned his Bachelor of Music performance from San Francisco State University, and was the inaugural graduating class of the Master in Contemporary Performance program from the Manhattan School of Music. Victor grew up on the idyllic central coast of California and currently lives in Brooklyn with his wife Olivia and their son.
Ned Rothenberg
Composer/Performer Ned Rothenberg has been internationally acclaimed for both his solo and ensemble music, presented for the past 33 years on 5 continents. He performs primarily on alto saxophone, clarinet, bass clarinet, and the shakuhachi - an endblown Japanese bamboo flute. His solo work utilizes an expanded palette of sonic language, creating a kind of personal idiom all its own. In an ensemble setting, he leads the trio Sync, with Jerome Harris, guitars and Samir Chatterjee, tabla, works with the Mivos string quartet playing his Quintet for Clarinet and Strings and collaborates around the world with fellow improvisors. Recent recordings include this Quintet, The World of Odd Harmonics, Ryu Nashi (new music for shakuhachi), and Inner Diaspora, all on John Zorn's Tzadik label, as well as Live at Roulette with Evan Parker, and The Fell Clutch, on Rothenberg's Animul label.

Taylor Brook
Taylor Brook has studied composition with Brian Cherney in Montreal, Luc Brewaeys in Brussels, and George Lewis, and Georg Haas in New York. Brook has also studied Hindustani musical performance in Kolkata, India, with Pandit Debashish Bhattacharya. His music is often concerned with finely-tuned microtonal sonorities and toying with multifarious musical references and styles.
Brook writes concert music, music for video, and music for theater and dance. His work has been performed around the world and has been described as "gripping" and "engrossing" by the New York Times. Brook has won numerous awards and prizes for his compositions, including the MIVOS/Kantor prize, the Lee Ettelson award, and several SOCAN young composers awards including the grand prize in 2016. Brook has been a finalist in the Gaudeamus prize and was awarded honorable mention for the Jules Leger prize two years in a row. His music has been performed by ensembles and soloists such as the Nouvel Ensemble Moderne, Quatour Bozzini, JACK Quartet, MIVOS quartet, Talea Ensemble, Ascolta Ensemble, and many others.
Brook's current projects include a new piece for New Thread Saxophone Quartet and a new string quartet for the JACK quartet. Brook holds a master's degree in music composition from McGill University. He currently resides in New York City, where he is completing a doctorate in music composition at Columbia University and working as a freelance composer.
Reiko Füting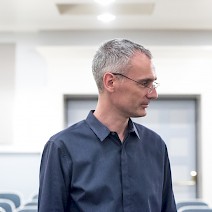 Reiko Füting was born in 1970 in Königs Wusterhausen in the German Democratic Republic. Füting has collaborated with a wide range of musicians, ensembles, and orchestras, with a special interest in vocal ensembles and ensembles performing on period instruments. His compositions are primarily released on the New Focus Recordings label in New York City and exclusively published by Verlag Neue Musik Berlin.
Since 2000, Füting has taught composition and theory at Manhattan School of Music, where he currently serves as Dean of Academic Core and Head of Composition. He has also taught vocal accompanying at the Hochschule für Musik und Theater Rostock and has served as a guest faculty and lecturer at universities and music conservatories throughout Europe, the Americas, and Asia.
Füting studied composition and piano at the Hochschule für Musik Dresden, Rice University in Houston, Manhattan School of Music in New York City, and Seoul National University. Some of his most influential teachers have been composers Jörg Herchet and Nils Vigeland, and pianist Winfried Apel.
"With my music, I aim to explore the psychological nature of memory, as it is projected onto the compositional device of musical quotation. By realizing this device in the entire musical spectrum of assimilation and dissimilation, integration, disintegration, and segregation, while moving freely between clear borders and gradual transitions, quotation and memory may function as a means to reflect upon contemporary artistic, cultural, social, and political phenomena."
http://www.reikofueting.de
Missy Mazzoli
Missy Mazzoli was recently deemed "one of the more consistently inventive, surprising composers now working in New York" (The New York Times) and "Brooklyn's post-millennial Mozart" (Time Out New York). Her music has been performed all over the world by the Kronos Quartet, eighth blackbird, pianist Emanuel Ax, Opera Philadelphia, LA Opera, Cincinnati Opera, New York City Opera, Chicago Fringe Opera, the Detroit Symphony, the LA Philharmonic, the Minnesota Orchestra, the American Composers Orchestra, JACK Quartet, cellist Maya Beiser, violinist Jennifer Koh, pianist Kathleen Supové, Dublin's Crash Ensemble, the Sydney Symphony and many others. Her second opera, Breaking the Waves, a collaboration with librettist Royce Vavrek commissioned by Opera Philadelphia and Beth Morrison Projects, premiered to great acclaim in Philadelphia in September 2016 and as part of New York's Prototype Festival in January 2017. The work was described as "among the best 21st-century operas yet" (Opera News), "savage, heartbreaking and thoroughly original" (Wall Street Journal), and "dark and daring" (New York Times). From 2012-2015 Missy was Composer-in-Residence with Opera Philadelphia, Gotham Chamber Opera and Music Theatre-Group, and in 2011/12 was Composer/Educator in residence with the Albany Symphony. Missy was a visiting professor of music at New York University in 2013, and later that year joined the composition faculty at the Mannes College of Music, a division of the New School.
10 Dec, 2018
We're always honored to see our albums make it onto year-end best of lists, and we'll compile all of them on this page as they come in. Sequenza21 - Best Instrumental and Recital CDs of 2018: Jacob Greenberg's "Hanging Gardens" with Tony Arnold and Josh Modney's "Engage" both made the list 5 Against 4 - Best Albums of 2018: Christopher Trapani's "Waterlines" made the list at #33 National …
07 Dec, 2018
Congratulations to Du Yun and Missy Mazzoli on both being nominated for a Grammy in the category of Best Contemporary Classical Composition! Du Yun is nominated for Air Glow, performed by International Contemporary Ensemble, off her album "Dinosaur Scar" on the TUNDRA imprint Missy Mazzoli is nominated for Vespers for Violin, performed by Olivia De Prato, off De Prato's album …
21 Oct, 2018
Several New Focus releases are listed under various categories on the 2018 Grammy's ballot. Voting for the first round is open now, and goes until October 31st. If you are a voting member, thank you for considering these recordings: TUN011: Du Yun: Dinosaur Scar Best Chamber Music/Small Ensemble Performance: #88 Best Contemporary Composition: #49 for Air …
05 Apr, 2018
A music video for a track from violinist Olivia De Prato's "Streya", Missy Mazzoli's Vespers for Violin was featured on on Deceptive Cadence, a program on NPR Classical, with a review from Tom Huizenga. "The music is less ambiguous, though deliciously disorienting in its own right. Mazzoli extracted strings, voices and organ sounds from her 2015 suite Vespers for a New Dark Age, suffused them …
04 Mar, 2018
OLIVIA DE PRATO: STREYA ALBUM RELEASE CONCERTOlivia De Prato (co-founder and first violinist of the Mivos Quartet) performs works from her debut solo album, "Streya" This concert celebrates the March 2, 2018 release of Olivia De Prato's debut solo album, Streya, on New Focus Recordings. De Prato will perform the album in its entirety, plus additional works by guest artist Missy Mazzoli, who …