The album opens with a Lippel composition, For Manny, which is anchored by a rhythmically ambiguous seventeen beat cycle that can be divided in several ways. Planed harmonies float above a repeating three note bass figure before a slithering melody weaves through the internal groupings of the pulse. A contrasting middle section featuring an off-kilter figure in acoustic guitar and bass and angular squeals in the electric guitar is written to be performed additively; the performers leave out much of the written material in the first few rounds of the section, dropping in hints as place markers and adding wry commentary. As the section grows, the obscured pieces of the puzzle begin to become audible, and in the last two iterations, we hear the phrase in its entirety. Bruce ignites the da capo with a searing distorted electric guitar solo before a limber Douds solo leads into a reprise of the opening, subtly infected by material from the middle section.
The first of three free improvisations follows, Free #2, performed by Plank, Bruce, and Lippel. Textures emerge from prevailing and often repeated material, and evolve serendipitously. Free #2 was recorded in upstate New York in 2017, during a short tour the trio did that codified some of their shared sensibilities.
Dan Bruce contributes the album's most structurally ambitious works, taking advantage of the unique space created by the presence of acoustic nylon string guitar and electric guitar (often with effects) to create long term motivic relationships. Inner Androids, which adds Anderson's trombone, is Bruce's musical exploration of the debate between the philosophies of Idealism and Materialism. Each member of the ensemble is struggling between "free will" (improvisational sections) and automated response (represented by the drone). Arco bass and trombone introduce the drone in a wavering unison while the acoustic guitar plays a series of searching voicings. The introduction of the first melodic theme establishes the rhythmic pulse. This transitions to a new section as the acoustic guitar and bass represent the "drone" by supplying a percolating pad of static harmonies while trombone and electric guitar play a soulful unison melody. Anderson is featured in an unstructured improvised section, which offers the most "freedom" for the musicians. The electric guitar playfully supports the bone solo, while short bursts of mechanical sounds are beginning to break through. Eventually the guitar gives way to the drone, bringing the tune back to the somber music from earlier and providing a haunting backdrop for a final melodic restatement.
Free #5, played by Plank, Douds, and Lippel, unfolds over a straight eighth note groove, with conversational lines bouncing back and forth between guitar and bass.
Adaptation Dance, another Bruce original, brings saxophonist Noa Even into the fold for an infectious funk groove that builds, and then comes apart, over a number of repetitions. A transitional arpeggiated duo passage in the guitars ushers in a fluid Plank solo before a climactic free section over the initial groove featuring Even's avant-garde influenced wailing. Bruce explains, "I wanted to write a funk tune for a social function or dance in which the participants do not understand how to read or react to social cues. It is my way of examining humans' need to fit in, and learning how to embrace the fact that sometimes you don't need to. It's also a musical expression of how I feel inside when my wife makes me dance."
In Free #8, Even, Bruce, and Lippel occupy different musical spaces, as if talking near, but not with, each other. Even explores subtle, punctuated extended techniques on her horn, Bruce repeats a wistful, melodic phrase, and Lippel skitters around in prismatic, modernist phrases. Dialogue finally arrives at the end of the improvisation when Even's imploring cries are echoed by bent notes in Lippel's guitar.
Aidan Plank's Open Glimpse contains the most expansive music on Off Brand. After a solo bass introduction, the A section consists of a mixed meter ground bass figure supporting a modal, contrapuntal melody. Bruce enters for an electric guitar solo over a B section that shifts its emphasis to a groove based pedal point.
Lippel's composition Hard Boiled Donut was inspired by a quote by the legendary Argentinean-American composer Mario Davidovsky about how composition involves bringing two dissimilar things together (like a hard-boiled egg and a donut). In this piece, the donut is the disjointed hybrid ensemble textures in the A section and the slinking lines of the jazz waltz in section B are the hard-boiled egg. After a free improvisation on the "donut" material, they are combined to form a "hard-boiled donut," in which the holes are filled in by the passagework from the B section. Davidovsky passed away at the age of 85 a few days before this tune was written.
Plank's four movement Quartet for Bela, heard here in a duo setting with Lippel, is inspired by the Hungarian composer Béla Bartók. The first and third movements feature halting unison melodies that capture a gruff component of Bartók's musical persona. The second and fourth movements are more reflective, written in contrapuntal lines, as if to nostalgically recall music that had never been written.
-- D. Lippel/D. Bruce
Track 2 recorded by Jeremy Backofen at Kirton Farm Studios, Germantown, NY 3/17
All other tracks recorded by Eric Koltnow at Tri-C Studios, Cleveland, OH (tr. 9-12 on 12/2015, all other tracks 9/2019)
Mixed and mastered by Brian Schwab schwabmusic.com
Design and layout by Matt Perko mattperko.com
Thanks to Adam Pierce (studio) and Moppa Elliott (bass)
Dan Bruce
Dan Bruce is a recent transplant to Ohio after spending a decade as an important member of Chicago's jazz community. He is active throughout the Midwest and nationally as a performer, recording artist, composer and educator. He has performed on more than twenty-five albums as a sideman, and has released two albums, A Single Thread and Earthshine, as a leader. As a performer and recording artist, Bruce has had the opportunity to work with a number of eminent musicians including Seamus Blake, Ali Jackson, Dan Wall, Lynn Seaton, Rose Colella, The Cleveland Jazz Orchestra, and Marquis Hill.
http://danbrucemusic.com
Daniel Lippel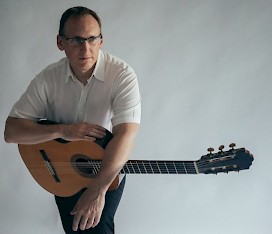 Guitarist Dan Lippel, called a "modern guitar polymath (Guitar Review)" and an "exciting soloist" (NY Times) is active as a soloist, chamber musician, and recording artist. He has been the guitarist for the International Contemporary Ensemble (ICE) since 2005 and new music quartet Flexible Music since 2003. Recent performance highlights include recitals at Sinus Ton Festival (Germany), University of Texas at San Antonio, MOCA Cleveland, Center for New Music in San Francisco, and chamber performances at the Macau Music Festival (China), Sibelius Academy (Finland), Cologne's Acht Brücken Festival (Germany), and the Mostly Mozart Festival at Lincoln Center. He has appeared as a guest with the St. Paul Chamber Orchestra and New York New Music Ensemble, among others, and recorded for Kairos, Bridge, Albany, Starkland, Centaur, and Fat Cat.
http://www.danlippel.com
Aidan Plank
Aidan Plank is a bassist living in Northern Ohio. He currently serves as bassist for the Cleveland Jazz Orchestra, Cleveland Jazzworks, and Dan Bruce's Beta Collective. Aidan's own ensemble, Pulse, explores original compositions by its members as well as a diverse range of music composed by well-known and obscure jazz composers. As an educator Aidan serves as the jazz bass instructor at Kent State University and at Cuyahoga Community College's Jazzfest Academy. Aidan has also served as a clinician and adjudicator at the Maplerock Jazz Festival (2016) at Ashland University and at the Lakeland Jazz Festival (2018) at Lakeland Community. College.
Performance highlights include performances with: Dan Wall, Joe Lovano, David Berkman, Tim Armacost, Tierney Sutton, Vanessa Rubin, Gerald Clayton, John Fedchock, Bill Dobbins, Bruce Johnstone, Joe Maneri, Steve Davis, Jamey Haddad, Michael Philip Mossman, Carl Allen, Randall Woolf, Terence Blanchard, The Cleveland Orchestra, Judi Silvano, Bruce Arnold, and others. Aidan was featured on NPR's "Jazz Night in America" radio show on their May 16, 2019 broadcast: "Cleveland's Joe Lovano Comes Home". Aidan has performed at Carnegie Hall, Severance Hall, The Knitting Factory (NYC), Spectrum (NYC), Elastic Arts (Chicago), and Blossom Music Center. Aidan is a graduate of Cleveland State University.
Noa Even
Noa Even is a Cleveland-based saxophonist dedicated to sparking deeper interest in the arts of today through the performance of contemporary music. She is a co-founder and the Executive Director of Cleveland Uncommon Sound Project, a non-profit organization aimed at strengthening the artistic engagement of the Northeast Ohio community by championing the creation and performance of new music. Her duos, Ogni Suono and Patchwork, collaborate regularly with composers and provide educational experiences for students of all ages. They have been featured as guest artists at many notable festivals and concert series, including the Singapore Saxophone Symposium, Bowling Green New Music Festival, NEOSonicFest, Omaha Under the Radar, SEAMUS, Outpost Series, Permutations, and Frequency Series. Noa has also presented numerous master classes and clinics at schools across the country and abroad. She teaches at Kent State University and holds a DMA in contemporary music from Bowling Green State University. Noa is a Conn-Selmer and Vandoren artist.
Chris Anderson
Chris Anderson has played trombone with fine musicians in idioms spanning classical, Latin, jazz and gospel. In addition to writing and performing many different styles of music, Chris has won various local and national competitions and has performed with groups including the Canton Symphony Orchestra, the Cleveland Chamber Symphony, the Cleveland Jazz Orchestra and the Jazz Heritage Orchestra. Chris currently works with the Cleveland Metropolitan School District through the All-City Arts Program. In addition, he is an instructor at The Music Settlement and Cuyahoga Community College. Among recordings Chris has contributed to Dave Morgan's The Way of the Sly Man.