Sustenance is a concept album including several new chamber pieces involving guitar. All the larger pieces are linked together by electronic "passages" by composer Peter Gilbert and in two cases with guitar improvisations by Dan Lippel. These "passages" manage the transitions between musical spaces, erecting a sort of musical architecture that the album rests on. Music is architecture in time; ritual is architecture in time; music is ritual.
Recorded 3/05-8/05 in Huntington, Long Island, and New York City, and 1/07 at William Paterson University, NJ
Recording Engineer/Editing/Post-Production: Ryan Streber
Producers: Peter Gilbert, Daniel Lippel, John Link
Cd Layout Design: Ellen Butters
Sustenance Variations was commissioned by Armin Kelly and Guitars International, and premiered at the Cleveland Institute of Music by Flexible Music
"Sustenance" was partially funded by a grant from the Yvar Mikhashoff Trust. 
Personnel:
Shende: Elizabeth Weigle, soprano; Daniel Lippel, guitar
Webb and Silverman: Flexible Music
Link: Jeffrey Irving, percussion; Daniel Lippel, guitar
Pereira: Erin Lesser, flute; Jeffrey Irving, percussion; Daniel Lippel, guitar
Oh: Erin Lesser, flute; Daniel Lippel, guitar
Passages: Peter Gilbert, electronics; Daniel Lippel, guitar (Passage IV and V)
Daniel Lippel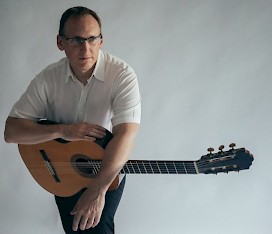 Guitarist Dan Lippel, called a "modern guitar polymath (Guitar Review)" and an "exciting soloist" (NY Times) is active as a soloist, chamber musician, and recording artist. He has been the guitarist for the International Contemporary Ensemble (ICE) since 2005 and new music quartet Flexible Music since 2003. Recent performance highlights include recitals at Sinus Ton Festival (Germany), University of Texas at San Antonio, MOCA Cleveland, Center for New Music in San Francisco, and chamber performances at the Macau Music Festival (China), Sibelius Academy (Finland), Cologne's Acht Brücken Festival (Germany), and the Mostly Mozart Festival at Lincoln Center. He has appeared as a guest with the St. Paul Chamber Orchestra and New York New Music Ensemble, among others, and recorded for Kairos, Bridge, Albany, Starkland, Centaur, and Fat Cat.
http://www.danlippel.com